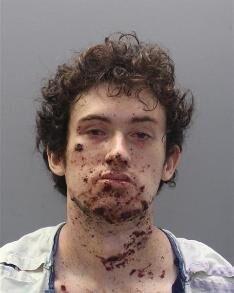 A Richlands, Virginia, man, who authorities said was injured in 2020 by his own illegal explosives, will serve seven years in federal prison.
Cole Carini, 24, pleaded guilty in January in U.S. District Court in Abingdon to possessing and manufacturing an unregistered explosive device.
"When he stockpiled bomb-making materials and actually designed and manufactured an improvised explosive device designed to cause significant harm, the defendant put the safety of the community at risk and committed a serious federal crime," acting United States Attorney Daniel P. Bubar said Thursday in a news release.
Bubar said he hopes the sentence sends a message to the public that such behavior will not be tolerated.
Carini suffered serious injuries to his hands and fingers when explosive devices he had at his property in the Richlands area detonated. Bubar said the devices could have caused additional damage or injuries if law enforcement officials hadn't discover them.
On June 3, 2020, Carini went to a hospital in Richlands after suffering injuries, including shrapnel wounds to his neck and throat. Carini told authorities his injuries were caused by a lawn mower accident at his home.
Agents found the grass was overgrown, and it didn't appear a lawn mower had recently been used. During their search of his bedroom, agents said they found evidence of an explosion, including flesh.
The agents also discovered drawings of improvised explosive devices, significant quantities of Triacetone Triperoxide, which is an explosive substance used in the creation of improvised explosive devices, exploded and unexploded components of pipe-bomb devices, fusing and a partially constructed pressure-cooker explosive device similar to that used in the Boston Marathon bombing, prosecutors said.
This isn't the first time Carini has faced explosive charges.
"Carini was known to them as being someone who had previously made explosive devices and had been on probation for explosions violations up until Sept. 2019," an agent wrote.
On Jan. 1, 2016, 911 calls were made by Carini's neighbors in Richlands, who said they heard loud noises and their windows vibrated, according to the Sheriff's Office. Deputies were dispatched, and they discovered materials used to make bombs, as well as pipe bombs, in an outbuilding on a property on Holy Road, where Carini lived with his mother.
Carini was charged in 2016 with two counts of possessing or manufacturing explosive materials. Those charges were later dismissed, according to court records. Those same records show Carini had only minor traffic offenses until June 2, 2020.