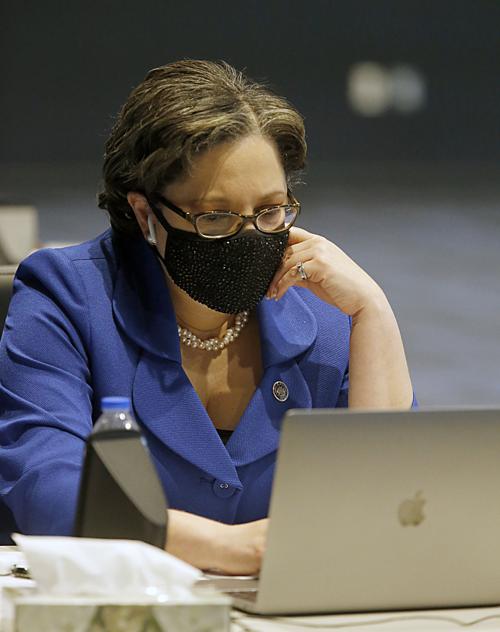 Legislation to strengthen Virginia's laws against sexual and workplace harassment is in trouble in the legislature, with opposition coming from some Democratic senators. The powerful Virginia Chamber of Commerce previously had concerns about how the legislation would affect employers, but now says it is neutral.
A Senate version of the legislation died on Feb. 5 after three male Democratic senators joined Republicans to kill it in a floor vote. That followed a contentious Feb. 3 hearing in which Sen. Jennifer McClellan, D-Richmond, the bill sponsor, repeatedly asked male senators to stop interrupting her.
A House bill from Del. Vivian Watts, D-Fairfax, remains alive and awaits a hearing in the Senate General Laws and Technology Committee.
Backers of the legislation include Gov. Ralph Northam, Attorney General Mark Herring, the National Women's Law Center, the ACLU of Virginia and NARAL Pro-Choice Virginia.
Current state law makes workplace and sexual harassment illegal, but does not define what they are. The legislation is aimed at providing a clear definition using what advocates believe are the strongest elements of federal law.
The lack of definitions has led to confusion by employers and courts, said Andrea Johnson, director of state policy at the National Women's Law Center. So, she said, the bills are trying to avoid bad federal precedent, like a court ruling in which a man groping a woman's breast in the office was not deemed sexual harassment because it only happened one time.
The legislation defines workplace harassment, which is based on protected classes like race, religion or age. Workplace harassment includes sexual harassment, which the bill defines — like federal law does — as quid pro quo harassment or a work environment so hostile that it affects an employee's job.
The original intent of the bills was not to address when employers would be liable for harassment. But because of concerns by the Virginia Chamber of Commerce, the bills were amended to address that with language the chamber felt would protect employers.
While backers of the legislation had concerns about importing that language, based on federal standards, into Virginia law, some of them still believe the legislation would be an improvement.
The legislation would apply to businesses with five or more employees. Some Democratic senators have been opposed, even with the chamber's concern about employer liability addressed.
McClellan's bill came under scrutiny at the Feb. 3 meeting of the Senate Judiciary Committee, where Democratic senators who are lawyers posed hypothetical questions about how the bill would affect employers.
"I just want this bill to go away," Sen. Chap Petersen, D-Fairfax City, who owns a small law firm with his wife, said at the hearing.
Petersen asked what would happen under the bill if his wife asked men in the office to move furniture around. "Is that workplace harassment?" he said.
McClellan, a Democratic candidate for governor, was suggesting a representative of the Attorney General's Office address the question when Petersen interrupted her. "Let me finish," McClellan told him.
"I don't need to talk to the Attorney General's Office," Petersen later said in the hearing. "For one, they don't own businesses."
After further debate and explanation on what constitutes sexual harassment, McClellan said of Petersen: "Clearly, he does not believe what I say."
Petersen replied that he had tried discrimination cases.
"I've been in a federal court litigating them to a jury. So I don't need to be lectured about what these cases mean."
"The questions from the committee showed why there needs to be a clear definition of harassment in the law," McClellan said in a statement for this story.
Edward Mullen, a lobbyist for the chamber, said at the hearing that the chamber worked with the Attorney General's Office on a suitable amendment related to employer liability.
"With this amendment, we withdraw objection to the bill," Mullen said at the hearing.
Two days later, Petersen, Sen. Lynwood Lewis, D-Accomack, and Sen. Joe Morrissey, D-Richmond, voted with Republicans to send the bill from the Senate floor back to committee, killing it because there was no more time before the crossover midpoint. Lewis is a lawyer and Morrissey a disbarred lawyer.
The chamber issued a statement for this story saying it is neutral on Watts' bill: "Based on an amendment regarding employer liability, we agreed not to advocate further on the bill. Our primary goal was to ensure the proper balance for when an employer should be held liable for the actions of an employee."
Advocates say the COVID-19 pandemic is yet another reason for a strong Virginia law against sexual harassment and workplace harassment. Women, especially Black and Latina women, may be anxious to keep a paycheck and less likely to report harassment.
"This bill is addressing aspects of the law that have historically hurt women of color," Johnson said.