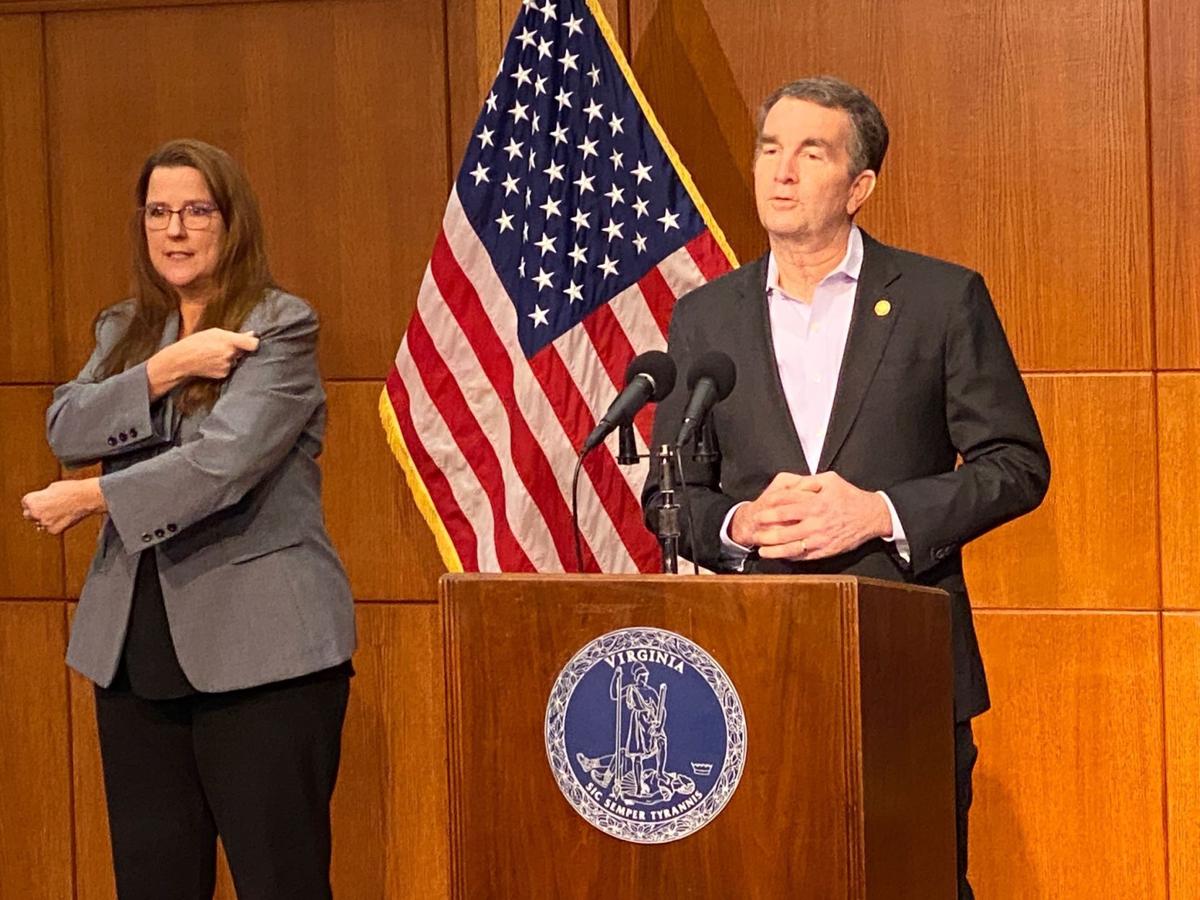 RICHMOND — Gov. Ralph Northam announced Wednesday the loosening of some public COVID-19 restrictions, including the lifting of a stay-at-home curfew and an expansion of alcohol sales.
Northam said COVID-19 trends in the state suggest the holiday-time surge has assuaged, and that faster vaccine delivery, combined with antibodies people who have been infected with COVID-19 developed, could result in about half of Virginians being immune to the virus by late spring.
Contributing to that are increases in vaccine supply coming from the federal government. Northam said the state hopes to receive about 50,000 additional vaccine doses per week once federal officials approve the Johnson & Johnson vaccine. Shipments could arrive as early as next week.
"Now almost two months past Christmas, and with thousands of Virginians vaccinated, we're finally seeing COVID-19 numbers fall and vaccination numbers rise," Northam said. "That means we can start to consider how to slowly safely ease some of the measures we put in place before the holidays."
Over the last week, Virginia averaged 1,908 new COVID-19 per day, according to state data. The numbers reflect a stark departure from the infection rates seen at the start of the year, when the state surpassed 6,000 cases per day averaged over a week.
In December, Northam issued a modified order asking people to stay home from midnight until 5 a.m. Northam lifted that curfew Wednesday.
Alcohol sales
Alcohol sales will now be allowed up to midnight, ending the 10 p.m. cutoff imposed in the lead up to the holiday season. Restaurants must still close by midnight.
The state is also expanding the number of people who can attend a public or private gathering outdoors, from 10 to 25. The limit will remain 10 people at indoor gatherings.
Entertainment venues currently are capped at 30% capacity or 250 people, whichever is lower. That limit will remain the same for indoor venues, but limits for outdoor venues will go up to 1,000 people or 30%, whichever is lower.
"We're appreciative of the work the governor and his staff are doing on this," said Todd "Parney" Parnell, chief operating officer of the Richmond Flying Squirrels.
"We're appreciative of the step forward. We're grateful that we think everyone's recognizing that the entertainment and sports business and our venues are going to be really critical and important to the healing processes of communities all over the commonwealth of Virginia."
He added: "I think it's important that he moved off of the 250, because the 250 is a difficult number for so many people. The thousand minimum right now, everybody can start their planning process."
Virginia businesses celebrated Northam's announcement.
"Hopefully it will allow restaurants, those who handle events, and recreational businesses to bring in more revenue," said Nicole Riley, the Virginia state director for the National Federation of Independent Business.
"It might just give them the boost they need until the day all restrictions are lifted."
Summer camps will be able to reopen starting May 1, with mitigation measures for safety.
The new rules will go into effect March 1 and will remain in place for at least a month, with the possibility of further-loosened restrictions after that if positive trends continue, Northam said.
State Health Secretary Dan Carey said cases are falling in every region in Virginia, but warned of higher COVID-19 trends in the state's Tidewater region. The positivity rate there - the number of people testing positive among everyone tested - is 12.4%, compared with 7% for all other regions.
Federal vaccination efforts
Also Wednesday, Northam said the administration has been working with the eight different pharmacies offering vaccines in Virginia through federal partnerships.
Those doses are not under the purview of the Virginia Department of Health, and thus not available through the state's preregistration process.
Danny Avula, the state's vaccine coordinator, said the state has been working with individual pharmacies to make sure that they "honor" the state's preregistration list to "streamline access."
Those pharmacies include CVS, Walgreens, Walmart, Albertsons, K-VA-T Food City, Retail Business Services' Giant and others.
"Not all, but most of those pharmacies have said they are willing to work off of those lists," Avula said.
Avula said that to avoid delays, the state has encouraged pharmacies to book their appointments independently and focus on people 65 and older. In a few days, he said, local health districts and pharmacies will begin working off of the state's preregistration list.
"I think a few days from now we're really going to be able to make sure that those preregistration lists are honored and that's filtering into pharmacy appointments across the state," Avula added.
The state on Feb. 16 launched its statewide preregistration site in Virginia to connect Virginians to available vaccine doses. More than half a million Virginians have preregistered through the state's form, while an additional 1.2 million had previously registered through local health departments.
(804) 649-6254
Twitter: @MelLeonor_
Zach Joachim contributed to this report.