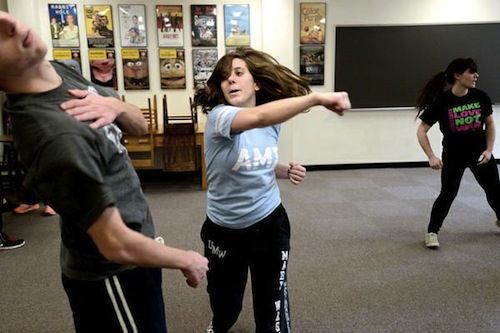 With theater students looking on, Casey Kaleba punched co-instructor Megan Behm in the stomach before putting her in a headlock.
Behm escaped the hold and punched him repeatedly in the face, before Kaleba turned to the students and said, "Now you give that a shot."
Kaleba is a professional stage fighting choreographer certified by the Society of American Fight Directors and teaches UMW's newest senior seminar for theater students, "Stage Combat."
This is the first time the class has been offered at UMW. And for the 18 students enrolled in "Stage Combat," the course isn't just a fun elective. At the end of the class students will have the opportunity to perform for the Society of American Fight Directors and receive professional stage combat certification.
The students don't have books for the course and wear workout clothes to the classroom, which is bare except for theater posters on the walls and a whiteboard that goes unused.
The sole cost for the class is the fee to take the end certification.
Kaleba has previously taught at the University of Maryland, George Mason University and masters programs in theater, and first worked with UMW's productions 10 years ago when they put on "Dangerous Liaisons." He returned to work on more recent plays "Romeo and Juliet," "Moon Over Buffalo" and "Spring Awakening."
He said that even though he was asking students to perform fighting choreography in shows at UMW, there was no instruction to back those skills up.
For Kaleba, though, the fight instruction isn't just about technique. It's about further understanding characters.
"These are extreme choices made by characters in extreme situations," he said. "There's an ethical responsibility in presenting that. It doesn't mean you can't have fun… but think about what it means to punch someone in the face."
Fight partners in the class Maggie McGraw, a senior, and Scott Houk, a freshman, practiced a scene between Ophelia and Fortinbras in "Living Dead in Denmark."
During class the partners mimed choking each other, and Houk flipped McGraw onto her back, but she rebounded and kicked him.
They went through the scene again in slow motion and worked out how she should land based on the way he stood when throwing her onto the ground.
Kaleba periodically stopped the fighting to show students "how not to hurt your partner."
He showed them how to hit a shoulder so there's no risk of dislocating it, and which foot to put forward when getting punched in the stomach to avoid inadvertently cracked ribs.
Kaleba showed students how not to react early and throw themselves into a punch they know is coming.
"Those are just bad life choices," he joked. "Make sure there isn't any disconnect between the action and what it does to the body. The physics have to line up."
McGraw and Houk also worked on sounds, clapping hands and hitting their chests to mimic the crack of a fist against flesh.
Theater is McGraw's hobby.
A business major, she said the class helps her relieve stress and is applicable to life outside theater.
On a recent trip to New York, she felt more confident by herself because she knew how to act intimidating and how to throw a punch.
"We're not sitting in a chair," Houk said. "It's almost like P.E. class."
When Kaleba's not teaching at UMW, he stays busy with productions. Currently he's also choreographing a fight scene for a production of "Hamlet," prepping blood effects for "Titus Andronicus" and working with "The Threepenny Opera" at Signature Theatre in Arlington.
Greg Stull, director of the department of theatre and dance, said having a nationally known fight director such as Kaleba at UMW is "an extraordinary opportunity for students."
He and Kaleba are talking about offering a similar course next year, also for professional certification. Next year's course, though, would tackle different aspects of combat such as sword fighting.
Classmates Kieran Shaw and Ford Torney, both juniors, took on the characters of Charles and Orlando respectively in "As You Like It."
Torney said that through practicing the fight scene, he and Shaw tried to find out more about their characters.
"Charles is a wrestler, he's angry," Torney said. "And Orlando, he's trying to impress Rosalind."
Both Torney and Shaw want to be professional actors after college.
"This is a really useful skill," Shaw said. "And the certification at the end is huge."
Lindley Estes: 540/735-1976