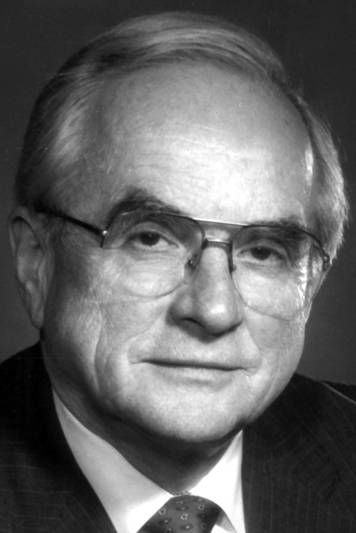 Charles Spurgeon Rowe, editor and co-publisher of The Free Lance–Star for 48 years, died Friday, March 13, 2015, in Vero Beach, Fla.
Born May 28, 1925, he was the son of Josiah P. Rowe Jr. and Genevieve Bailey Rowe.
He attended Fredericksburg public schools and was valedictorian of the James Monroe High School Class of 1941. He attended Washington and Lee University for two years before enlisting in the U.S. Navy as an apprentice seaman at age 17. He served in the Pacific in World War II as combat information officer aboard the USS Stafford, a destroyer escort that participated in the Battle of Okinawa and the occupation of Japan. After active duty, he served in the Naval Reserve, retiring in 1975 with the rank of captain.
After the war he returned to Washington and Lee, where he was president of the student body and managing editor of the student newspaper. Graduating with Phi Beta Kappa honors in 1947, he attended the university's law school for two years until his father's death in 1949, at which time he and his brother, Josiah P. Rowe III, assumed leadership roles at The Free Lance–Star—Charles as editor and co-publisher, Josiah as general manager and co-publisher.
He spent many years working with national newspaper organizations, serving on the boards of directors of the Virginia Press Association, the Southern Newspaper Publishers Association, the American Newspaper Publishers Association and the American Society of Newspaper Editors. He was national president of the Associated Press Managing Editors Association and vice chairman of The Associated Press.
He was a fearless believer in freedom of the press and in the critical role of an editorial page in the community. His commitment to his profession resulted in his selection to the Virginia Communications Hall of Fame and recognition by the Society of Professional Journalists with its George Mason Award for service to Virginia journalism. He served four times as a Pulitzer Prize juror.
In the fall of 1972, Mr. Rowe was a member of the first group of U.S. newspaper editors to visit China after President Nixon opened up relations with that nation earlier that year.
Because of a firm belief that journalists should not play a major role in institutions that their publications might report or comment upon, Mr. Rowe avoided major involvement in local affairs; his one exception was a term as chairman of the board of the Central Rappahannock Regional Library.
From 1984 to 1994, he was a member of the board of trustees of Washington and Lee University. A longtime supporter of the university, he and his brother created the Josiah P. Rowe Jr. Scholarship for journalism students in memory of their father.
Upon his retirement from The Free Lance–Star in 1997, Mr. Rowe established residence in Vero Beach, Fla., but continued to maintain a home in Fredericksburg.
He is survived by his wife, Lee Pelham Rowe; his brother, Josiah P. Rowe III of Fredericksburg; three children: Ashley R. Gould (Jeffrey) of Nashville, Tenn., Charles S. Rowe Jr. (Jennifer) of Fredericksburg and Timothy D. Rowe (Lori) of Chapel Hill, N.C.; two stepchildren: Laura A. Huntsman (Stephen LeMenager) of Pennington, N.J., and Kathleen J. Huntsman of Fredericksburg; and 11 grandchildren: Taylor Gould (Charlotte), Lindsey Gould, Scott Gould, Julia Rowe, Dana Rowe, William Rowe, Abe Rowe, Margaret Rowe, Jeremy LeMenager, Alden Newcomb and Emily Newcomb. Mr. Rowe's marriages to Margaret C. Durrett and Mary Ann Huntsman ended in divorce.
A memorial service will be held Saturday, March 21, at 11 a.m. at St. George's Episcopal Church in Fredericksburg. The family will receive friends in the Church House of the The Presbyterian Church, 304 George St., Fredericksburg,  on Friday from 5 to 7 p.m.
The family requests that expressions of sympathy take the form of donations to a favorite charity.