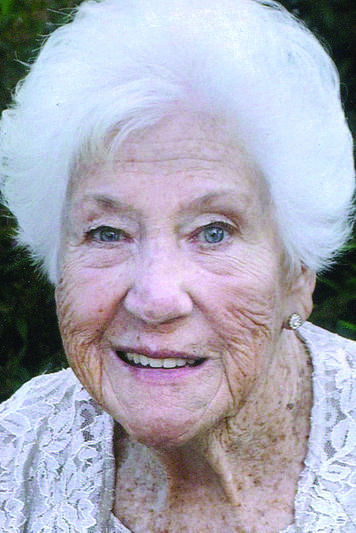 Phyllis Joanne Trivett, 85, a lifetime caregiver and servant of others, born and raised in Richmond,Va., went to be with the Lord on the evening of Friday, Feb. 5, 2016, surrounded by her family and many loved ones.
Phyllis is survived by her loving stepmother, Murriel Baker of Michigan; siblings Judy Planz of Lynchburg, Va., Edward Warren Baker and wife Janet, loving sister-in-law and friend of Stafford County, Va., Joan Cornell, Kathleen Baker Clement and husband Terry, Elizabeth Van Houten and John Baker all of Michigan; her children, Warren C. Trivett and wife Sue of Chatham, Va., Rodney M. Trivett of Asheville, N.C., Frank M. Trivett of Ringgold, Va., Pennie Trivett Lowe and husband Jerry of Danville, Va., Linda Trivett VanLandingham and husband David of Fredericksburg, Va., Timothy Trivett and wife Colleen of Colonial Beach, Va., Judy Trivett Voit and husband Patrick of Fredericksburg, Va., Jeff Trivett and wife Cathy of Myrtle Beach, S.C., Daniel Trivett and wife Tracey of Colonial Beach, Va., Christina Trivett Grigsby and husband Darren of King George County, Va., and Michael Trivett and wife Karen of Fredericksburg, Va.; 31 grandchildren, Leanna Allen, Michael "Mikie" Trivett, Kristen "Krissy" Trivett Humphrey, James Powell, Lloyd Powell, Victoria Powell "Grams Favorite," Danielle Trivett Howeth, William "Will" Trivett, Samantha Trivett Jackson, Charles Trivett, Lisa Perry and son Aspen, Nicholas Perry, Timothy Trivett Jr., Jason Trivett, Kenneth "KJ" Baldacci, Brandon VanLandingham, Lindy Lowe Haynes, Steven Lowe, Frank Trivett Jr., Brian Trivett, Terry Trivett, Kristina Trivett, Tonna Brubaker Trivett, Warren C. Trivett III, Cindy Trivett, Rodney Kip Trivett, Ben Trivett, Jennifer Trivett, Crystal Owen, Christine Trivett and Heidi Trivett; 43 great-grandchildren; two great-great-grandchildren; and many, many friends and loved ones.
Phyllis was preceded in death by her grandfather, James Henry Planz; grandmother Minnie Belle Planz; mother Matilda Planz; father William Edward Baker; brothers James Baker and Jack Baker; sister Joyce Martinsen; son Robert Nelson Trivett; grandson Christopher Trivett; first-born son, Baby Boy Trivett; and several special aunts.
A viewing will be held from 6 to 8 p.m. Thursday Feb. 11, at Covenant Funeral Service, Fredericksburg, Va.
A Celebration of Life will be held at noon Friday, Feb. 12, at Encounter Church of God, 12240 Five Mile Road, Fredericksburg, VA 22407. Interment will follow the service in Historyland Memorial Park, King George, Va.
In lieu of flowers, donations may be made to Colonial Beach Volunteer Fire Department, 312 Colonial Ave., Colonial Beach, VA 22443; or Loisann's Hope House, 902 Lafayette Blvd., Fredericksburg, VA 22401.