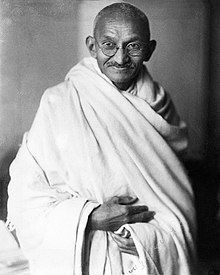 WHILE touring India in 1959, Dr. Martin Luther King, Jr. visited Mani Bhavan, the house where Mahatma Gandhi had lived in Mumbai. It was in this home that Gandhi launched his Indian movement for truth and nonviolence, called satyagraha.
The home had been turned into a museum, and the upstairs room where Gandhi had slept still held his mattress and shoes. When King visited, he asked if he could spend the night in that room, saying, "I am not going anywhere else. I am going to stay here, because I am getting vibrations of Gandhi."
The curators pulled two cots into the room, and Rev. King and his wife, Coretta Scott King, spent the night next to Gandhi's mattress. Soon after, King told All India Radio that he had decided to adopt Gandhi's methods of civil disobedience as his own.
Gandhi's philosophy of satyagraha inspired development of our own civil rights movement. Dr. King returned from his trip to India committed to employing a Gandhian strategy of nonviolence.
But Dr. King was not the only civil rights leader to follow Gandhi's philosophy. While Dr. King was introduced to Gandhi and his practice of nonviolent protest in the late 1940s, James Farmer started following the teachings of Gandhi as early as 1940. Farmer employed the techniques and practice of satyagraha in the first civil rights sit-in in Chicago in 1942.
Dr. Farmer founded CORE, the Congress of Racial Equality, and was recognized as one of the big four leaders of the civil rights movement. He was also the architect of the 1961 Freedom Rides to desegregate interstate bus travel, and Fredericksburg was the first stop on that fateful trip.
Farmer was a native of this part of Virginia, and in the 1980s he served as distinguished professor of history and American studies at Mary Washington College, where he was awarded an honorary doctorate of humane letters in 1997.
In 1999, President Clinton awarded Farmer the Presidential Medal of Freedom. Farmer, who passed away the same year, was known for his impressive debating skills, civil rights, and dedication to the Gandhian policy of satyagraha. It was Farmer who first brought Gandhi's teachings of satyagraha to the American civil rights movement.
Early CORE documents demonstrate that Farmer and CORE members worked on employing satyagraha in the United States as early as 1941. A history of CORE recounts that "in the fall of 1941 a number of University of Chicago and theological seminary students [who later became CORE members] … followed with keen interest the Gandhi movement in India, and were greatly influenced in their thinking by the power of the nonviolent method as expounded by Gandhi and as practiced by the Indian National Congress."
The students studied "the problem of racial tension and examined ways in which the nonviolent method might be adapted to deal with racism here in America."
This history is remarkable in that early members of CORE, working with Dr. Farmer, were able to see the success of satyagraha even before its ultimate success in achieving India's independence in 1947, two decades before the principles of nonviolence were put into action in the Freedom Rides.
Other materials from the civil rights era document the impact that Gandhi had on the movement.
Mohandas K. Gandhi, known around the world as "Mahatma" or "great soul" left a lasting legacy in not only leading his own nation to independence, but also influencing freedom fighters around the world.
This is a legacy that we are proud to trace through our own region and country.
Dr. P. Anand Rao is professor of communication and chair of the Department of Communication and Digital Studies at the University of Mary Washington. He will speak on Gandhi as part of UMW's Crawley Great Lives Series at 7:30 p. m. on Thursday, March 11. The Zoom webinar can be accessed at umw.edu/greatlives.