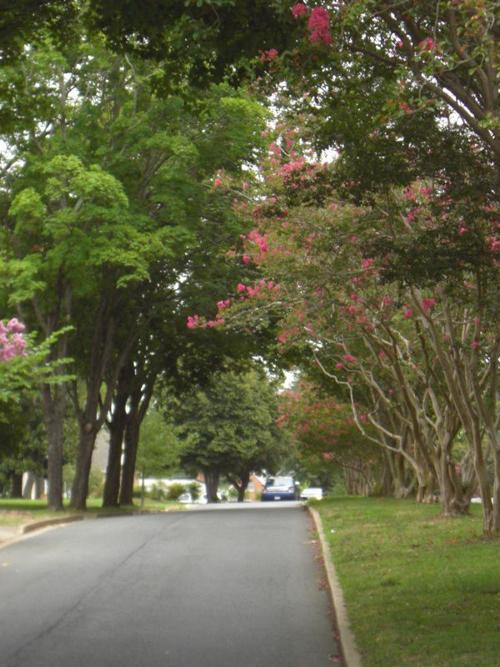 MEMBERS of Fredericksburg's Clean and Green Commission say the 59 pink crepe myrtles that currently adorn seven Hanson Avenue medians should be replaced as they die off with larger "canopy trees" that will better sequester the city's carbon emissions.
But residents who live in the area are strongly opposed to replacing their beloved crepe myrtle trees. In fact, nearly 300 of them signed a petition to "preserve and perpetuate the historic landscape of the Hanson Avenue median … from U.S. Route 1 to Fall Hill Avenue."
"People used to stop and take pictures of the trees, take grills out to the median and barbecue," said Mayo Carter, who circulated the petition to save the crepe myrtles and has offered to pay to replace two missing trees that were hit by drunk drivers. "So we want to point out that the trees are more than just a pretty face."
Indeed, the petition, which was delivered to members of the City Council prior to this week's meeting, points out several compelling reasons why their beloved blooming trees should not be replaced. "The iconic crepe myrtle median is an integral part of the neighborhood's charm and history. Preservation of neighborhood and community character along with visual appeal are all goals supported by the city's Comprehensive Plan," the petition states.
It goes on to note that the crepe myrtles also "provide a pollen source for several native bee species as well as for honey bees. Moreover, since crepe myrtles bloom during the summer months when other pollen sources are scarce, they have great potential to alleviate stress on pollinators due to food shortages."
Residents also complain that they were not asked for their input on this major change proposed for their neighborhood earlier in the process.
"They have dragged their feet on planting replacement crepes for two years, while other trees have continued to be planted in other areas of the city," Kevin Brown, who lives a block over from Hanson Avenue, told The Free Lance-Star. "Now we find out that they have some sort of vision/plan to replace the crepes in the median with large canopy trees à la what they tried to plant on Washington Avenue. No one reached out to the neighborhood to solicit input on this drastic transformation, which is Washington Avenue all over again."
Both sides of the crepe myrtle dispute point to science to make their case. But crepe myrtles also sequester carbon to some degree and in addition, their rosy blooms support local pollinators while providing an aesthetically pleasing backdrop to this city neighborhood. Furthermore, the people who live in that neighborhood love the crepes and are adamantly opposed to replacing them.
This should be an easy decision for City Council members: Replace the crepe myrtles on Hanson Avenue with more of the same when necessary, and plant larger canopy trees somewhere else in the city.