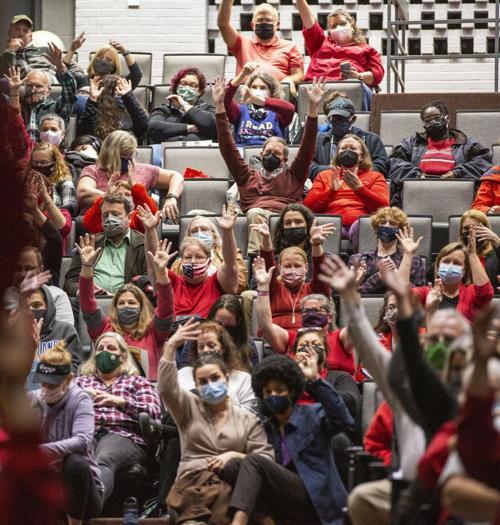 AT THE Nov. 15 Spotsylvania County School
Board meeting, I passed out my "I Read Banned Books" T-shirts, signed up to speak, and found my spot in the auditorium. Once the public comments began, I found myself nodding and clapping for the views that I agreed with.
By the second speaker, I realized that the woman I was seated next to was on the other side of the issue. And I wondered if I should move to a different seat—not because I was opposed to sitting next to someone with different views, but because I was anxious about the social awkwardness of sitting through more than three hours as we attempted to ignore each other.
When she corrected the pronunciation of "Abuismail" for someone, I asked her to repeat it, and she smiled and told me she was Rabih Abuismail's sister.
And so that Monday night was very different from what I expected.
Because I sat next to her and she was so willing to chat, I began to get a glimpse of some of her perspectives and those of her brother. By being afforded the unique opportunity to view some of the speakers through her lens, my perspective on the issue began to broaden.
First, I do not now believe that Abuismail's agenda was ever to remove LGBTQ books from the shelves. That may be the wish of others, but it is not his. His trigger is pedophilia, especially those books that might glorify sex or violence against kids.
That was his sister's question about "33 Snowfish," which I had read. "Is it glorified?" Indeed, the book passage he read at the end of the meeting is a sex scene between a male teacher and a female student. LGBTQ isn't Abuismail's trigger: statutory rape is.
That's absolutely not to diminish the importance of speaking up to defend LGBTQ books, which is so important. I was so grateful to see the outpouring of support from the community for our LGBTQ youth and so proud of those youth for coming out to stand up for their views. Abuismail's sister was, too, smiling and applauding their signs. It was lovely to discover that on this point we had strong, common ground.
The conversation that most of the people on the other side wish to have is a worthy conversation: if we can agree that Penthouse does not belong in a high school library periodical section, then we recognize that some material is not appropriate for a high school library.
There is a line past which almost everyone can agree that something is inappropriate. And there is a line before which almost all of us would agree that something is appropriate.
We need to find these lines and discuss the gray area in between them and how to handle this gray area: content labels, content warnings, discussion points, lists. We should entertain the idea that maybe not everything is perfect within the current system.
The oncoming ideological war that we are so fearful of is not simply going to go away because the school board voted to rescind the motion. It will not simply go away by saying "there is a process already in place" and "trust the librarians."
I agree with both of those statements, but where I see a system that I trust, others see a system that they distrust, a system that has let through certain books that they are certain we would agree should be pulled if we would just read them.
If we don't find a way to begin to listen to the other side and work toward common solutions, we're just going to be making national news again. If we want people on the other side to listen and understand, we must also listen and understand and ask questions to pinpoint where our views diverge.
Because books foster empathy but so do conversations.
Bernadette Chimner lives in Spotsylvania with her husband and two kids. She graduated from American University with a degree in Peace and Conflict Resolution and is a voracious reader.