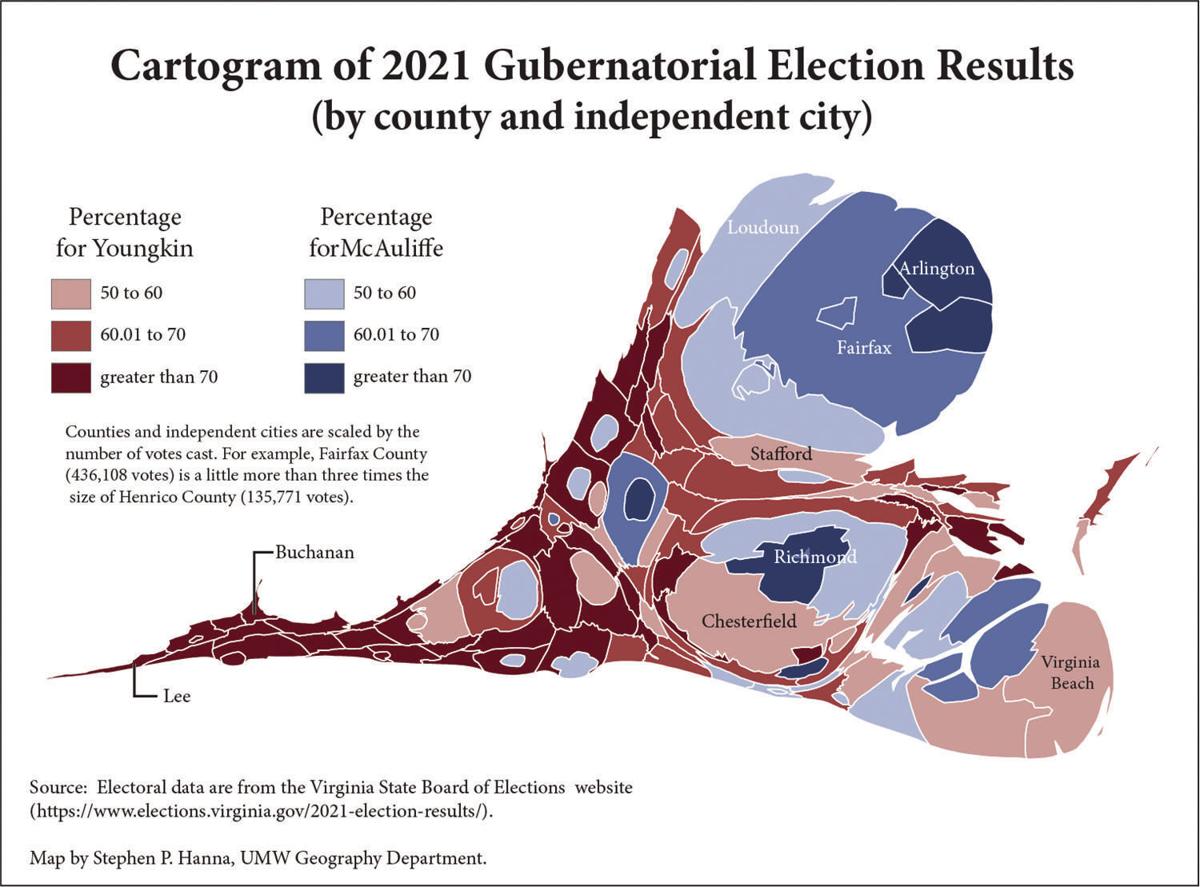 GLENN Youngkin demonstrated that you cannot get all that many people to hate vanilla.
Throughout the 2021 gubernatorial campaign, the first-time candidate offered himself as a largely generic pro-business Republican, not overly pro-Trump but not opposed to him either. While Youngkin talked about election integrity, a favorite Republican issue this year, he did not campaign on the claim that the 2020 presidential election was stolen. Nor did Youngkin hit the hustings as a pro-life cultural warrior, as have so many previous statewide Republican candidates.
Terry McAuliffe handed Youngkin two gifts that worked wonders for a candidate seeking to be vague: the first was a largely one-note Democratic message that Youngkin was Trump clone. Despite the repetition, the charge neither stuck nor energized Democratic voters, as Youngkin deftly avoiding saying or doing things to confirm that line of attack. In fact, Youngkin did all he could to make sure that voters saw some daylight between the Republican gubernatorial candidate and the former president, while still avoiding a rift with the mercurial Trump.
The second McAuliffe gift—that debate gaffe suggesting that parents do not have much of a role to play in their children's education—also helped Youngkin turn the conversation away from himself. By focusing on McAuliffe's statement and contrasting it with his own general point that parents have a role to play when it comes to education, Youngkin created opportunities for anyone irritated about anything relating to public education to vote Republican.
Even on the policy that consumed the Youngkin campaign, he concentrated on what was wrong with the status quo and that pivotal McAuliffe statement. By focusing on his opponent rather than himself, Youngkin did not have to provide page after page of his own policy specifics. He did not have to defend them, either.
Mad about mask mandates? Vote Youngkin. Mad about vaccine standards for students and staff? Vote Youngkin. Irritated by teachers' unions? Vote Youngkin. Believe the schools are unsafe? Vote Youngkin. Feel the schools overreacted to COVID? Vote Youngkin. Object to the books in the school library? Vote Youngkin. Angered by the idea of Critical Race Theory? Well, there's a candidate for that and his name in Youngkin.
Of course, the largely made-up matter involving CRT—which is not taught in K-12 schools in Virginia—was about as relevant to Virginia education as talk about "death panels" was to the Affordable Care Act. But attacks that generate fear or anger work politically, particularly if the candidate on the defensive has already made some enemies (as any incumbent politician would have done).
To consider Youngkin's statewide win visually, consider the cartogram, a special illustration that adjusts the sizes of political jurisdictions to account for the number of voters cast within them, that accompanies this column. The deep red of the rural counties showed that Youngkin retained his party's strength in the most pro-Republican parts of the Commonwealth.
More importantly, the Republican's ability to maintain his vanilla image and the failure of the McAuliffe campaign's Youngkin-equals-Trump strategy to excite Democratic voters ensured that huge margins in rural areas would not be offset by losses in northern Virginia, the Richmond suburbs, and the Hampton Roads area.
While off-year election turnout is always lower than that of a presidential year, the decline in the number of Democratic votes in the larger electorates of northern Virginia was much steeper than the decline in votes cast for Republicans. McAuliffe might have won Fairfax County, but he received 123,000 fewer votes than Biden did. In contrast, Youngkin's vote total in Fairfax was only 10,000 less than Trump's.
Similar trends occurred in the Richmond suburbs. Republicans picked up Chesterfield County, where McAuliffe received about 37,000 fewer votes than Biden but Youngkin's vote total only declined by 17,000 from Trump's total count.
The Youngkin vanilla model may be tough to replicate in future elections. Virginia Republicans were so desperate for a win this year that they devised a nomination process to ensure that a fully pro-Trump Republican would not be the nominee. And they selected a first-time candidate who was not serving in elective office, and so did not have to take sides on allegations of rigged vote-counting in 2020, the Jan. 6 insurrection at the U.S. Capitol, and the congressional efforts to impeach Trump.
Many Republican organizations outside the commonwealth will not be as indulgent about one's less-than-enthusiastic feelings about Trump, or as open to outsiders, as Virginia Republicans were this year.
Even now, vanilla remains the word. It is still not clear what will transpire in Richmond come January. Will Youngkin govern like fellow Republican Larry Hogan of Maryland? Or will Youngkin turn out to be, as McAuliffe claimed, a Trump acolyte? There are few clear indicators of what will happen next, other than the fact that vagueness will be difficult to maintain once one becomes governor.
Stephen J. Farnsworth is a professor of political science at the University of Mary Washington, where he directs the Center for Leadership and Media Studies. Stephen P. Hanna is a professor of geography at UMW. Cassandra Atkinson is a political science major at UMW.