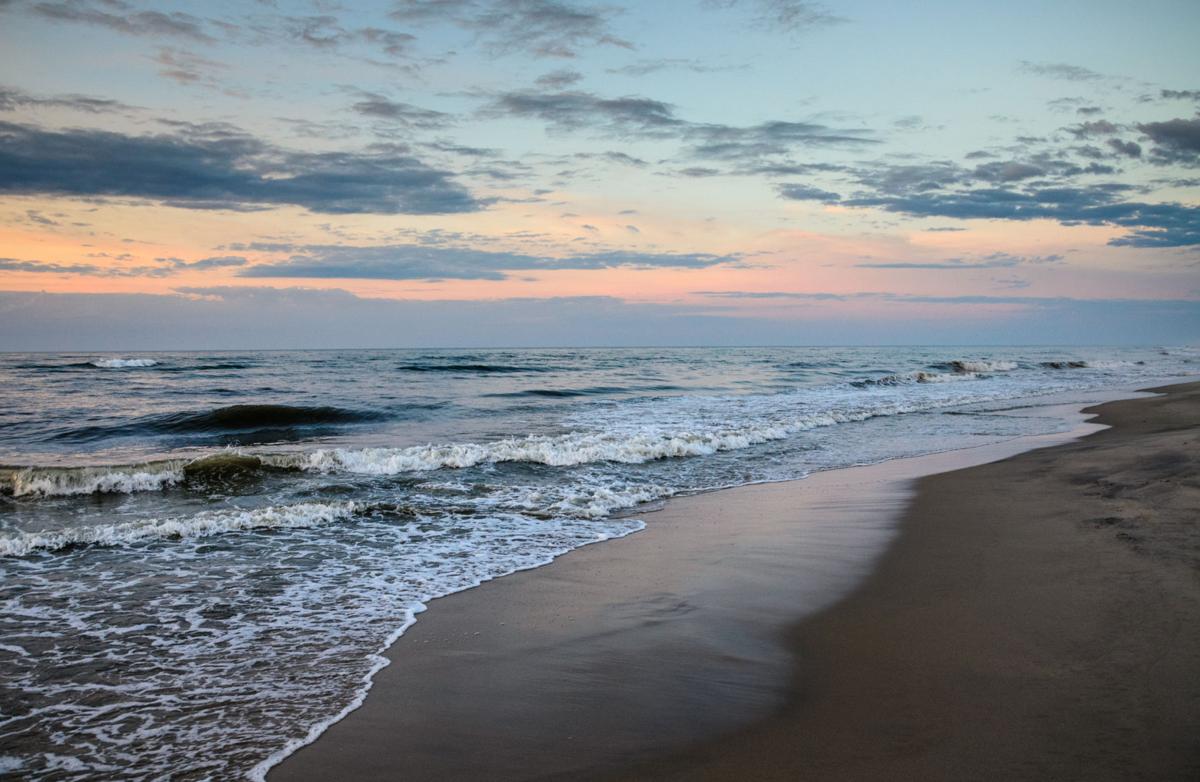 THE ATLANTIC rolls in, breaker after breaker peaking, curling, dashing itself upon the sandy shore, then sliding back down and repeating the process over and over. Sandpipers and sanderlings skitter at water's edge, dodging the waves. My grandchildren do, too, mimicking the little birds, laughing when they are caught by the foamy mustache edge of a wave.
It is late July and I am in my happy place: Assateague Island, just off Virginia's Eastern Shore. This beach lacks boardwalks, hotels, popcorn and carnival rides. And that's one reason I love it.
My earliest memory involves the beach—a family vacation to Fenwick Island, Del. There was no Bay Bridge, so we took a ferry across the Chesapeake Bay. Family legend is that my Dad had four flat tires on that trip. I don't remember that. I do remember the sand and the sea and the sun and the wonder of the ocean, gulls and shells and crabs abounding.
We continued making trips to the Eastern Shore during my childhood, often with my mother's family. I remember standing on the beach with my grandmother letting the waves cover our feet, watching them roll in and out as they do today. My grandfather taught me to fish at the Indian River Inlet, insisting I learn to tie the knots and bait the hook myself. My grandfather was not one to be trifled with.
In 1961, my grandparents retired to Chincoteague. They bought an old house at auction, paying cash ($11,000 if I remember right). Aged 61 and 63, they set about renovating it, tearing out lath and plaster, putting up wallboard, installing indoor plumbing, and fixing a million things that neglected house needed.
My grandfather had studied the topographic maps and had noted that the house was perched on Teakettle Ridge, a section of South Main Street seventeen inches higher than the rest of the island. That fact proved crucial: The next year, the great Ash Wednesday Storm swamped Chincoteague as the combination of a nor'easter and high spring tides inundated the island.
My grandparents' house was one of only about half a dozen that wasn't flooded. They had to evacuate anyway—the rest of the island was underwater. The storm surge had thrust large fishing trawlers up onto Main Street. Uprooted coffins nudged the doors of homes and dead chickens from poultry houses floated around. The island was devastated.
The Ash Wednesday Storm was not the first difficulty my grandparents had faced. In fact, my grandmother Marie's life fit perfectly into a post someone put on social media outlining the challenges that generation saw. Born in 1900, Marie was just 14 when World War I began. By the time it ended four years later, 22 million people had died.
Next was the Spanish flu epidemic: Between 1918 and 1920, 50 million people died. Fifty million! (Just for perspective, as of the time I write this, 614,000 have died worldwide of COVID-19.)
My grandmother's twenties were busy with marriage and the arrival of two daughters, but when she was 29 the Great Depression devastated the economy. Unemployment rose to 25 percent. Her plumber husband had to leave their home in Indiana to search for work, ranging as far south as Florida before turning north and finally finding a job in Washington, D.C. Marie packed up their belongings and their two girls and traveled by train to join him. My mother was 10.
The Great Depression began to lift, but when Marie was 39, World War II began. Two years later, the United States entered the conflict. Before long, she had two sons-in-law serving in the Navy. By the time Marie was 45, 75 million people had perished in that terrible war.
But that was not the end of things to worry about. When Marie was 50, the Korean War began, and at 55, the Vietnam War started. Meanwhile, the Cold War was sending little schoolchildren, including her by-then 11 grandchildren, scurrying under their desks for bomb drills. After that came the sixties with its brutal assassinations, riots, protests and violence.
My grandfather died in 1965, and my grandmother continued to live in that Chincoteague house until she died in 1979. She had an eighth-grade education and never learned to drive. But she raised three children, stayed married to a difficult man, loved her family well—and survived crisis after crisis after crisis.
Here in the time of COVID, in the midst another round of social upheaval, I sit on the beach at Assateague, watching my grandchildren play in the sand and surf as my grandmother watched me all those years ago. For 60 years now I have come here. The breakers still roll in the same way, the sand still sticks, the gulls beg for food, and the sandpipers skitter.
The consistent rhythms of the beach bring to mind another truth: My God is the Ancient of Days. Our struggles are not new to him. He has seen nations rage, kingdoms rise and fall, plagues come and go. He is not shocked nor is he standing by helplessly wondering what to do. History is working itself out. He is still sovereign. And his great promise still stands: The best is yet to be. I take solace in that. Even in these times.
Linda J. White, a former Free Lance–Star assistant editorial page editor, lives in Fauquier County and can be reached through her website, lindajwhite.net.