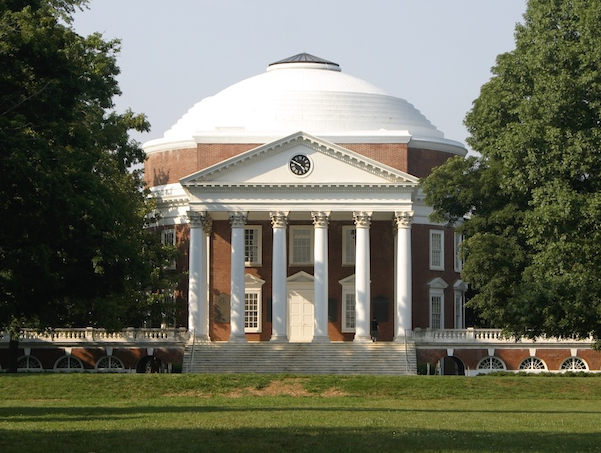 AS WE celebrate the centennial of the ratification
of the 19th Amendment to the U.S. Constitution, giving women the right to vote throughout the land, perhaps lost in the shuffle is another red-letter day for women in Virginia: The 50th anniversary of full co-education at the state's flagship university.
The Commonwealth of Virginia itself would not ratify the 19th Amendment until 1952. And it was not until a Feb. 6, 1970, U.S. District Court ruling sanctioning coeducation—stating that the University of Virginia's policies on admission had previously been unconstitutional on the basis of the 14th Amendment—that women could enter the undergraduate College of Arts and Sciences.
Already in attendance at the university were 10,000 men. A total of 450 undergraduate women were added to this total—including me, who arrived in Charlottesville in September of 1970, the first day of full coeducation.
We specifically were not replacing male attendees—as "gradual admission" of women was the goal. Five-hundred-fifty more women would enroll in September of 1971, with equal admission by gender thereafter.
Unlike the original 350 women who entered as first-year students, I matriculated as a second-year transfer student—after a freshman year at an out-of-state, mostly female, university—moving into a dormitory at U.Va. that had previously housed graduate female students.
Because I had already experienced student life elsewhere, I needed little in the way of hand-holding. The first day's biggest surprise was that there was no in loco parentis at the residence halls. I was handed a key to my room and another to the front door.
Not immediately evident was that in the short period between the court ruling and women arriving on campus—just seven months!—nothing much else specifically had been prepared for us. There were urinals in dorms, and no women's sports, no sororities, no intramurals, no women's political organizations—nothing.
According to university President Edgar Shannon—who was very supportive of the decision to co-educate and is revered by most of my cohorts today—it was thought the best course was to have us request the organizations and social life that we wanted.
Today, this may seem unbelievable, and evidence of remarkable unpreparedness, but when we soon began to ask for a collegiate women's basketball team, or a horseback-riding club, or sororities, we were never turned down.
As the 18-year-old that I was, I was naïve as to what I may have expected from my male colleagues, thinking, "Why would they not want me here?"
Happily, I encountered practically no resentment. The more conservative coat-and-tie gentlemen educated me in unknown-to-me traditions, such as "rolling" for dates at nearby women's colleges, a practice that mostly died after that first year, or its secret societies, or older organizations such as the Jefferson Literary Society and Debating Club, or university lingo, some of which is sprinkled within this column.
That I was not treated rudely by any student or professor seems all the more remarkable now, if only because my major was in foreign affairs, and I was often the only female in class.
Some of these men decried what they termed a creeping "State-U-ism," and said that even such incursions as Newcomb Hall, the student union building, had been objected to because it smacked of same. But it was too late: The old U.Va., conservative, old-boy—school tie and all—was giving way to a new U.Va., more liberal, more diverse and more accepting.
These were our "pioneering" years. Black male students had preceded us women by more than 10 years! The first African American undergraduate to take his degree (in 1962) from the College of Arts and Sciences—Amos Leroy "Roy" Willis—was also the first person of color to be awarded the university's greatest privilege: A room on the Lawn.
In 1972, a woman in my Class of '73—Cynthia "Tootie" Goodrich—claimed that same distinction for our gender.
When I study the charts of diversity at U.Va. currently, it's discouraging to report that people of color make up an entirely too small segment of the student body. By the time I reached my fourth year, I continued to reside in the same dorm I had entered in 1970, but on a long hallway that was probably 60 percent African American.
The richness of the experience yielded treasured lifelong friends of color. They were a big part of my life education.
One reason stated by powerful men in Virginia to justify their reluctance to admit women to the university was their entirely false claim that women would put "a strain" on its most cherished tradition: The Honor Code.
Fifty years ago, the importance of Honor Code was made clear. Attendance by students new to the university, at a speech presented by no less than a renowned justice on the World Court, was mandatory. At the close of his stirring remarks, we were required to sign our pledge to that noble goal.
Today, I continue to strive to live by the Honor Code's principles, to not lie, cheat or steal, or tolerate those who do.
Currently, women comprise more than 50 percent of Virginia's student body, the equal of their male comrades, and they are superior academically to many of them. No "gentleman's C" for us, then or now. The university is in full compliance with Title IX, and women have access to all aspects of life on the grounds.
That year, 1970, seems long ago, yet remarkably recent—too recent for what was at stake for the daughters of Virginia, and elsewhere, at the time. This, like full suffrage, is a milestone worth celebrating.
Karen Owen is an editor and writer, and former Viewpoints editor (2007–14) of The Free Lance–Star.
Catch the latest in Opinion
Get opinion pieces, letters and editorials sent directly to your inbox weekly!