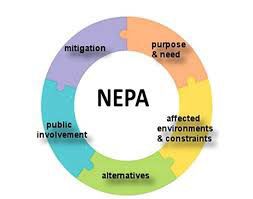 IN 1970, a new day for environmental protection was dawning. The National Environmental Policy Act (NEPA) was enacted by Congress and signed into law by President Nixon on Jan. 1.
Within the year, the Clean Air Act of 1970 was adopted; the Environmental Protection Agency was created; and the first observance of Earth Day on April 22 saw millions of people around the country rallying to demand environmental protection.
Historically, Republicans carried the conservation banner, beginning with the Teddy Roosevelt administration. They established many conservation programs, such as the National Park System and the U. S. Forest Service, while the Democrats took on the tasks of pollution control, advocating for new laws and restrictions to end toxic discharges into the air, land, and waters of the United States.
These efforts were piecemeal until NEPA established a national policy for the environment and provided for the establishment of a Council on Environmental Quality within the Office of the President.
The stated purposes of NEPA are: "To declare a national policy which will encourage productive and enjoyable harmony between man and his environment; to promote efforts which will prevent or eliminate damage to the environment and biosphere and stimulate the health and welfare of man; to enrich the understanding of ecological systems and natural resources important to the Nation; and to establish a Council on Environmental Quality."
NEPA was a remarkable piece of legislation in its scope and in its brevity. A slim seven pages in all, it covered all decisions made by the federal government and embodied the old adage: "Measure twice, and cut once."
It required all federal agencies to evaluate the environmental impact of their decisions before making them; to think through what and how they proposed to do something; to analyze alternative approaches, including a "take no action" alternative; and to document that process clearly and completely for public review.
It also established the "environmental impact statement" to report those decision details and gave the Council on Environmental Quality the responsibility to oversee the implementation of NEPA.
Many of those federal decisions, of course, are sought by private corporations seeking federal contracts to build roads, bridges, pipelines, and other large infrastructure projects. As such, those corporations are required to think through and analyze the environmental impacts of their proposed projects and present their analysis to the relevant federal decision-making agency.
Private sector corporations did not support the EIS requirement at the time of NEPA's inception, and 50 years later, some are still trying to get out from under its requirements.
Such a simple, common-sense idea has proliferated over time into a bloated bureaucracy that frustrates environmental protectors and private interests alike.
The implementation of NEPA and its EIS mandate created a huge number of consulting firms specializing in writing "environmental impact statements." Many of these "statements" ran to lengths that could easily reach hundreds of pages. The simple, elegant idea of thinking before acting has been lost in the reality of the process.
As critics come down on NEPA for extending project timelines, we must remember that the problem is not that its central concept has been tried and found wanting, but that it has gotten lost in a bureaucratic jungle.
NEPA's overarching principles of maintaining a democratic voice and substantial research is now threatened by an "act now, think later" mentality. The proposed rollbacks remove safeguards for wildlife and stifle the public's voice.
We all have so much at stake. These changes would give a green light to rushed and dangerous projects that could take place in our backyards, parks, and school yards without preserving our ability to have a say. With lowered regulations, private corporations have the most to gain, while public health and the environment have everything to lose.
Maintaining this "Magna Carta" of environmental law is essential to maintaining a nation that is democratic to its core.
NEPA helps make our roads and bridges safer, our dams more resilient, and protects infrastructure projects by ensuring taxpayer dollars are not wasted. It reduces controversy, builds consensus, and ensures that projects are done right from the start, often saving both time and money.
These changes must be opposed, or our nation will fall to a rejection of public input and lack of corporate accountability.
Gerald P. McCarthy is a former executive director of the Council on the Environment under Virginia Govs. Linwood Holton and Mills Godwin, and a former executive director of the Virginia Environmental Endowment.
Gerald P. McCarthy is a former executive director of the Council on the Environment under Virginia Governors Linwood Holton and Mills Godwin, and a former executive director of the Virginia Environmental Endowment.
Catch the latest in Opinion
Get opinion pieces, letters and editorials sent directly to your inbox weekly!