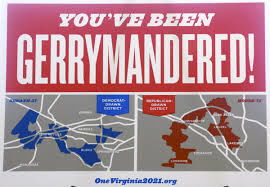 rights legend John Lewis,
Barack Obama noted that, "Democracy isn't automatic. It has to be nurtured, it has to be tended to. We have to work at it. It's hard."
Indeed, it is hard. As stakeholders of democracy, we're regularly reckoning with the functionality of our governance. More regularly than we do, we should pause to consider if our democratic systems work for the people they strive to represent.
If we want to continue down a path of bitter partisanship, divide and standstill, by all means we should continue on the path we're on. But if we want to reach for a new way forward—one with less partisanship, less extremism, and more collaboration—we may want to reexamine some of the practices of our democracy.
When examining the issue of partisan gerrymandering, it is clear: This is a system that is broken.
Gerrymandering, the practice in which self-interested politicians draw the lines of the district maps that determines who votes where, is a scourge on our democracy, and a driver of the extreme partisanship that has gridlocked our system.
Partisanship of any kind is toxic, but partisan gerrymandering is especially threatening to the values of our republic. Rather than working to diligently serve all constituents, gerrymandering allows politicians to disenfranchise voters for no other reason than to maintain power.
District maps are redrawn to create advantageous districts solely for the benefit of the politicians themselves and their parties.
While speaker of the House in Colorado, I traveled to all 64 counties in the state at least once. I didn't do this to run for higher office. I did it because I understood my first obligation as a leader was to serve.
Leading with a servant's heart requires that you place people first. Gerrymandering runs counter to this principle because the pursuit of power is prioritized over the servant-leadership we should demand and expect from our elected leaders.
It's a dangerous norm that voters around the country have come to accept, but it doesn't have to stay this way. Virginians have the opportunity to create a better commonwealth this November by voting "Yes" on Amendment 1.
Amendment 1 allows voters, not politicians, to drive the redistricting process by taking the unilateral power to redraw maps away from self-interested politicians, and instead, vesting the power in a bipartisan redistricting commission that's chaired by an everyday Virginian.
Each day, we all feel the impact of the toxic partisanship infecting politics. Our political leaders seem to be more concerned with endless partisan games rather than solving the issues that matter.
If you want a better Virginia, better leaders are needed—leaders who will reject toxic partisanship and instead put people over politics. Ending gerrymandering will empower you to elect the leaders you choose.
Amendment 1 will shift power from blatant partisanship to the people. By establishing a bipartisan commission to redraw district lines in a nonpartisan way, our elections will become more competitive and fair; both are wins for democracy.
Instead of choosing convenient voters and shaping advantageous districts, voters can feel confident that their vote is valued and that their representative will be accountable to them.
It's our democracy to nurture.
Terrance D. Carroll, the 54th speaker of the Colorado House of Representatives, is the only African-American to have served in that capacity. He is currently a director at Unite America, which is working for electoral reforms that increase competition, voter participation, and accountability.
Catch the latest in Opinion
Get opinion pieces, letters and editorials sent directly to your inbox weekly!