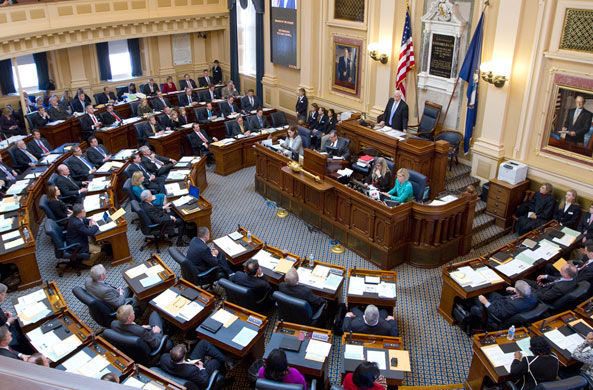 IN THEIR haste to enact far-reaching gun control legislation, the new Democratic majority in the General Assembly inexplicably failed to advance a bill this session that would have increased jail time for people who use a firearm during the commission of a felony.
The bill (HB 1175), which was patroned by Del. Charles Poindexter, R-Franklin, would have increased the mandatory minimum sentence for a first offense of using or displaying a firearm while committing certain felonies from three to five years. It would also have doubled the punishment for subsequent offenses from five to 10 years.
"This gives our prosecutors and our police an excellent tool to use to address those people that really use guns in an illegal fashion," Poindexter said in support of his bill. "It focuses on gun violence itself."
But the bill died on a 5-3 party-line vote in the House Committee on Public Safety's Firearms Subcommittee. The bill was tabled on Jan. 21, the day after tens of thousands of law-abiding Virginia gun owners rallied in Richmond to protest any dilution of their Second Amendment rights.
What was the objection to extending prison sentences for criminals convicted of armed robbery, rape or assault? If the commonwealth is serious about reducing gun violence, shouldn't offenders who use firearms to subdue their victims face harsher punishment and longer jail sentences when they are finally held to account for their crimes?
The five Democrats on the House Firearms Subcommittee apparently don't think so, or else they scuttled Poindexter's common-sense bill simply because it was proposed by a Republican. A bad decision either way.
Meanwhile, the General Assembly gave final passage to a red flag bill (SB 240), patroned by Sen. George Barker, D-Alexandria, and endorsed by Gov. Ralph Northam that would allow law enforcement to confiscate firearms from people who are deemed a potential threat to themselves or others, even if up to that point, they haven't done anything criminal or violent.
But the same legislature killed a bill that would have given convicted criminals more mandatory jail time after they've already proven to be a real threat by using a gun to commit a serious crime. If this doesn't make any sense to you, welcome to the club.
Virginia has become the epicenter of a national debate between gun control advocates and Second Amendment sanctuary proponents, with neither side willing to come to a mutually acceptable compromise.
But when Democrats in Richmond vote to preemptively take a gun from a person who hasn't broken the law, but not to increase the penalty for someone who actually used a gun to commit a crime, they send the message that their real focus is scoring points with their political base, not reducing actual gun violence in the commonwealth.
Catch the latest in Opinion
Get opinion pieces, letters and editorials sent directly to your inbox weekly!