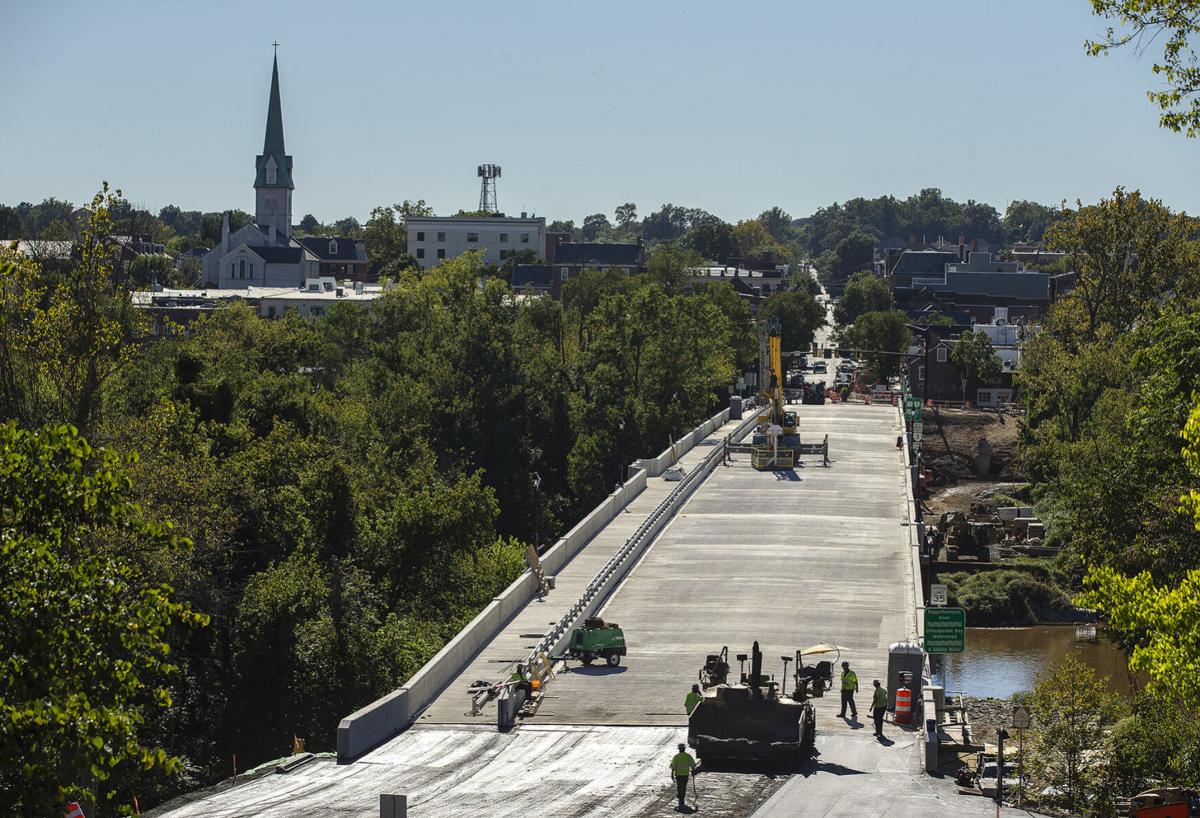 AFTER nearly 16 months of
construction, the refurbished
Chatham Bridge over the Rappahannock River will be unveiled Saturday, to coincide with the grand opening of the new Riverfront Park in Fredericksburg. For city and Stafford County residents who've had to endure traffic jams, lengthy detours and delays for more than a year, the bridge reopening will no doubt be a source of great relief.
Also known as the State Route 3 Business bridge, Chatham Bridge was closed to traffic June 22, 2020 as construction work commenced. Built back in 1941, the current bridge was not designed to handle 16,000 vehicles a day. And even if it was, 80 years is well past the functional lifespan of such structures.
So the $23.4 million the Virginia Department of Transportation spent on this major upgrade was overdue.
A 10 a.m. ribbon-cutting ceremony on Saturday morning will allow pedestrians and cyclists to cross the 1,006-foot bridge first and check out the new 10-foot wide shared-use path and scenic river overlook. It was designed to be the local link of the East Coast Greenway running from Calais, Maine to Key West in Florida, and connects downtown Fredericksburg to the Belmont–Ferry Farm Trail in Stafford.
On Sunday, the bridge's four lanes will be open to vehicular traffic.
Of course, this is not the first bridge in that location. According to the city's Chatham Bridge Project website, the first was erected in 1796 by William Fitzhugh, a delegate to the Continental Congress and owner of the nearby Chatham property. Floods swept away that bridge and several replacements, and Confederate soldiers tore down another in 1862. The current span survived a major Rappahannock River flood in 1942—a year after it was built—and several floods thereafter, so lessons were obviously learned.
Virginia has 21,154 bridges spanning rivers, streams and culverts, and nearly half were built prior to 1968, making them more than 50 years old.
There are 44 bridges over primary and secondary roads in VDOT's Fredericksburg District 6 that are eligible for repair or replacement between fiscal 2022 and 2027 under VDOT's State of Good Repair program, including bridges on Eskimo Hill and Leeland Roads in Stafford County, and northbound A.P. Hill Boulevard in Caroline County, which have been deemed "structurally deficient."
So while the Chatham Bridge reopening is certainly a time for celebration, there's still a lot of bridge work in the commonwealth left to be done.