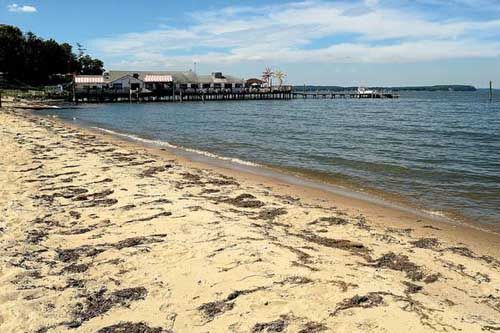 AFTER NEARLY a decade of being eyed suspiciously for causing (allegedly) bacterial contamination at the Potomac River's Fairview Beach, residents of King George County—and the county itself—have finally been absolved of any culpability. A two-year, $24,000 study by the Hampton Roads Sanitation District found that the ongoing problem there has not been caused by human waste leaking from homeowners' septic tanks or county sewer lines into King George's stormwater collection system.
There was no human waste found in 30 samples taken from the river last summer that exceeded the State Water Quality Standards for bacteria. "The take-home message here is really simple: Human fecal contamination as determined by this human DNA fecal marker is not the driver behind the recreational water quality exceedences at Fairview Beach," said Raul Gonzalez, an environmental scientist at HRSD's division of water quality.
This is good news for county officials and a huge relief for nearby residents who feared that they would be forced to pay large sums of money for repairs if it turned out that the public and private waste systems were to blame. Although that's apparently not the case, the mystery of where the bacteria is coming from remains, and the water quality at Fairview Beach is still a problem.
In fact, state advisories were in effect for 34 days last year when bacterial levels exceeded the safety limits. Swimming or even going into the water when health advisories are in place is a bad idea. According to the Virginia Department of Health, waterborne germs can cause "skin, ear, respiratory, eye, neurologic and wound infections." Swallowing just one mouthful of contaminated water can make people sick for two to three weeks.
The culprits at Fairview Beach have been narrowed down from humans to possibly pets, birds, other wildlife or some still unknown environmental source. Fairview Beach's geographical location at a sharp bend in the Potomac River may also have something to do with it, but nobody knows for sure.
Since only human waste has been ruled out so far, these are all possible sources of the ongoing bacterial contamination, which tends to rise when the wind stirs up the water there. And because these are natural sources of bacterial contamination, they will likely be even harder to eliminate than fixing leaking septic tanks and sewage pipes. So there's still more work to be done.
But for once, it's good to know that the humans are not to blame.