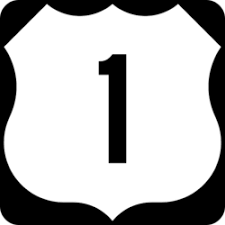 QUESTION: How many ways can you say Route 1?
Fredericksburg region, at least five.
Earlier this year, the Virginia General Assembly passed HB 2075, a bill patroned by Del. Josh Cole, D–Fredericksburg, that requires all jurisdictions to rename stretches of the 2,370-mile highway located in Virginia currently known as Jefferson Davis Highway by the end of 2021.
The road was named after the president of the doomed Confederacy back in 1922 at the request of the United Daughters of the Confederacy.
A hundred years later, localities in the commonwealth were given the option to choose a new name. "If they don't, we will change it for them," Cole told state senators during a virtual meeting of the Senate Transportation Committee, adding that the road would automatically be renamed Emancipation Highway on Jan. 1, 2022, if local officials failed to act.
The Fredericksburg City Council voted unanimously to call the section of U.S. 1 within city limits Emancipation Highway, and will provide $500 to any businesses that incur expenses changing their addresses. The city will also spend $90,000 to replace street signs.
But the surrounding jurisdictions had other ideas.
Stafford County supervisors decided to rename their section Richmond Highway, following the prior example of the City of Alexandria and Fairfax and Prince William counties. But to add to the confusion, a portion of the highway in Falmouth will still be called Cambridge Street.
But the Spotsylvania County Board of Supervisors went with Patriot Highway, and rejected a request by the NAACP, which claimed that the new name was politically divisive, to change it to Veterans Highway instead. Meanwhile, Caroline County supervisors voted 4-2 to eschew any new names and just call the road U.S. Route 1, which was their prerogative.
The Commonwealth Transportation Board has to approve all these name changes next month, and is likely to do so.
The multiple names will be confusing for motorists who find themselves on Richmond Highway, Cambridge Street, Emancipation Highway, Patriot Highway and U.S. Route 1—while still driving on the same road. For that reason, any new street signs in each jurisdiction (except for Caroline County) that opted for a name change should include the busy highway's numerical designation.
However, one of the benefits of different names is that visitors to the region will be able to know exactly where they are just by the street signs. If they're on Richmond Highway, they're in Stafford. If the road becomes Emancipation Highway, they've entered the city limits.
Not many local residents use the cumbersome Jefferson Davis Highway designation anyway, so except for the hassle and expense of changing addresses, the new road names will have more of a symbolic than a practical effect.