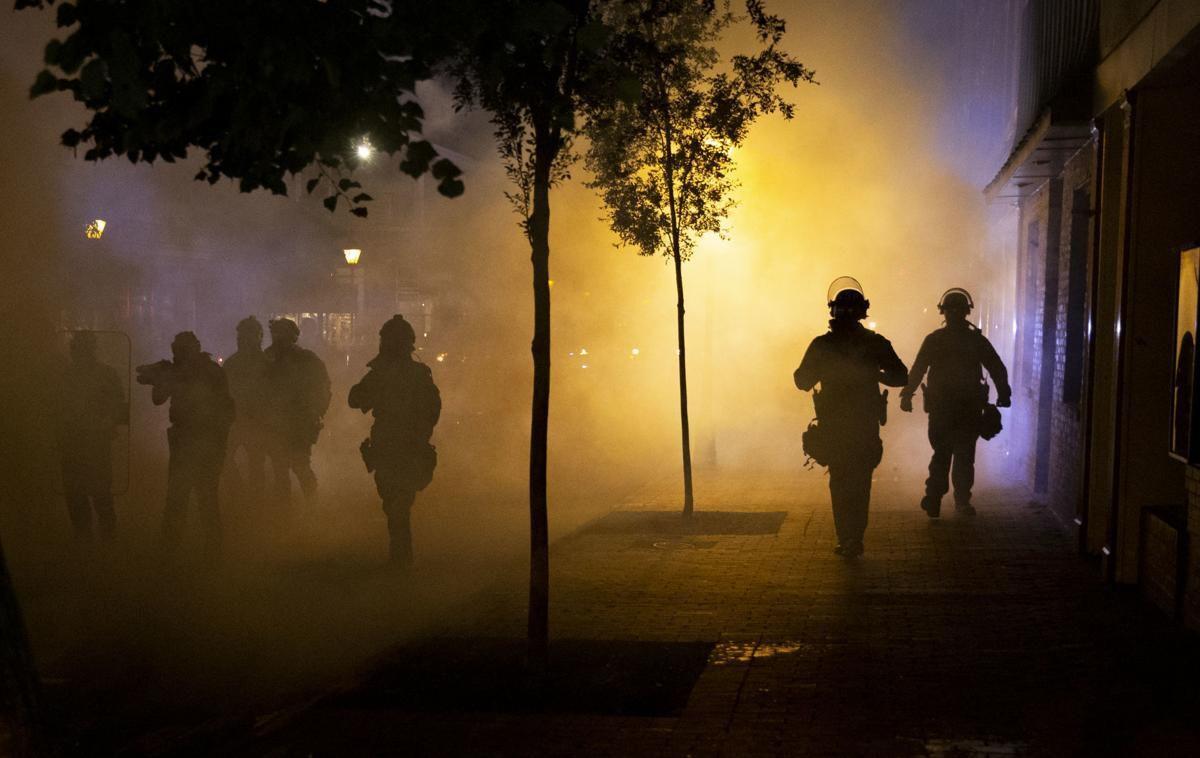 AFTER demonstrators protesting the death of George Floyd
in Minneapolis clashed with Fredericksburg police officers between May 31 and June 2 last year, the Police Executive Research Forum (PERF) was called in to evaluate the city's handling of the protests. PERF came up with a total of 66 policy recommendations on how to improve policing in Fredericksburg.
Sixty-six is a lot, and the fact that the committees tasked to review them have only approved and sent 12 proposed reforms to Police Chief Brian Layton so far should not be interpreted as an indication that the other recommendations will not be seriously considered. But the fact that only a dozen PERF recommendations have been approved so far shows that this is a tougher job than it seems.
For example, one of the committee-approved recommendations was to add language to police policy guidelines emphasizing that the First Amendment rights of demonstrators must be equally balanced with the need to protect public safety. This frankly is a no-brainer and should be thoroughly understood by every officer wearing a badge.
Peaceful protests are not only constitutionally protected forms of speech and assembly, it is actually one of the Police Department's jobs to facilitate them by diverting traffic and preventing counter-protesters from causing any problems. That's why permits for mass public demonstrations are usually required.
However, in the event that some people in the crowd (and it's usually a minority of violent trouble-makers) cross the line and turn a peaceful demonstration into an out-of-control mob, the role of police officers on the street changes dramatically. Instead of facilitating the protest, officers must immediately do a 180 and begin controlling the same crowd they were protecting just a few minutes before.
This sudden change is bound to be disorienting not only to the vast majority of demonstrators who remain peaceful, but to the officers themselves.
Preparations made beforehand, such as outfitting officers with protective riot gear, as one committee also recommended, can have the reverse effect of further inflaming passions and actually encouraging civil unrest. So can a committee-approved recommendation that officers not engage any protesters one-on-one, which can unintentionally establish a us vs. them mindset on both sides when none is warranted.
The use of tear gas, sting ball grenades, smoke bombs and other non-lethal means of dispersing an unruly crowd are still under committee review. PERF recommends that officers only use these "less lethal munitions" in proportion to the threat—something that should already be a departmental policy, as the very definition of excessive force is that which is used disproportionately to the offense.
But when officers on the ground are ordered to disperse a crowd, they must be given the means to do so without having to resort to more lethal measures. And they must be given clear, unambiguous guidelines on when and how to use these tools, including exactly how long they must wait after ordering the crowd to disperse before deploying them. The lack of such guidelines was clear during last year's curfew called by city officials.
Here's where the use of surveillance tools, such as hidden cameras, drones and undercover officers mixed in with the demonstrators, can help commanders pinpoint where the troublemakers are and send in additional personnel to neutralize them.
A committee led by Capt. Patrick Reed wisely declined to propose a policy change that would limit surveillance to times when there is "a clear and convincing threat" of criminal activity. Waiting until such a threat materializes (instead of using surveillance tools preemptively to discourage criminal activity in the first place) would make negative police interaction with peaceful protesters more likely, not less.
Also rejected was another policy proposal stating that not all mass gatherings result in civil disturbance. That's always the goal, of course, but the police must always be prepared for the times when they have to do their other job, which is to protect public safety and enforce the law.
Police officers must always be held accountable for their actions, but citizens must also realize that, as imperfect as they may be, police departments still provide the safety and security that makes the civil society possible. And while policing should always be open to civilian review and reform if needed, the responsibility to ensure public safety then devolves to the reviewers, who must take their time and get it right.