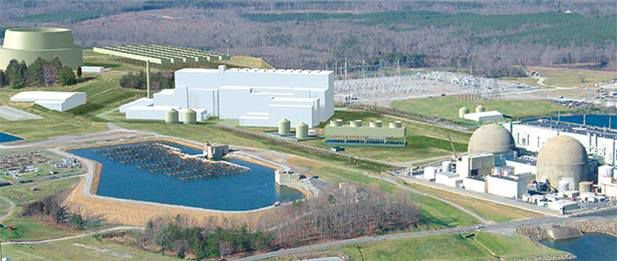 DOMINION Energy has filed a license renewal application with the Nuclear Regulatory Commission to extend the operating life of its aging North Anna Power Station for another 20 years.
The original 40-year licenses for the North Anna 1 and 2 nuclear reactors were granted back in 1978 and 1980—before President Ronald Reagan began his first term. In March of 2003, the NRC granted Dominion a 20-year extension. Now the utility is asking for another 20-year extension, which if granted would double North Anna's projected lifespan.
And North Anna is not the only one. Dominion is also seeking to extend the operating licenses of its two nuclear reactors at its Surry Power Station as well.
According to the U.S. Energy Information Administration, there were 98 operating commercial nuclear reactors in 29 states as of Dec. 2019.
In 2016, the Tennessee Valley Authority's Watts Bar Unit 2 became the first new nuclear reactor to go online since 1996, and construction of Vogtle Units 3 and 4 in Georgia are expected to be completed in 2021 and 2022, according to the EIA. However, derating and reactor retirements "will result in less total nuclear electricity generation capacity in 2050 than in 2019."
The average age of nuclear plants in the U.S. is 38 years. If Dominion's license extension application is approved and North Anna 1 and 2 continue operating until 2058 and 2060, they will be 80 years old when they're finally decommissioned.
Eighty years seems pretty ancient for any industrial technology, but especially for nuclear plants that are "subject to a number of unique forms of wear and tear, including the embrittlement of the reactor vessel from neutron bombardment over many years," according to an article in MIT Technology Review. "Pushing these plants into their seventh and eighth decades is uncharted territory."
So why are environmentalists—who vociferously opposed running the proposed Atlantic Coast Pipeline several feet under the Appalachian Trail—not raising even greater alarms about keeping these two aging nuclear power plants in Virginia operating well beyond their expiration dates?
The reason for their silence is simple: Surry and North Anna not only account for 31 percent of the utility's power generation, they also account for "95 percent of the carbon-free electricity in the state," according to the Richmond-based utility.
"Renewing the licenses for both of our nuclear units in Virginia is critical to the company meeting the Virginia Clean Economy Act's requirements for zero-carbon electricity by 2045 as well as the company's net zero by 2050 commitment," said Dan Stoddard, the chief nuclear officer at Dominion, who added that utility customers "will benefit from continuing to receive safe, reliable, affordable, and carbon-free electricity from the station through 2060."
In other words, nuclear power—not electricity generated by renewable solar or wind facilities—is the real backbone of Dominion's "net-zero carbon" program, and will remain so for the next 40 years if its nuclear renewal applications are approved. This is kicking the energy can down the road in hopes that utility-scale batteries that are able to store large amounts of intermittent power generated by solar panels and wind turbines can be developed before these nuclear plants really do have to be powered down 40 years from now.
At the very least, proponents of "net-zero carbon" in Virginia should call it by its rightful name: nuclear energy. And hope that North Anna and Surry can last that long without a major mishap.
At the very least, proponents of "net-zero carbon" in Virginia should call it by its rightful name: nuclear energy.
Catch the latest in Opinion
Get opinion pieces, letters and editorials sent directly to your inbox weekly!