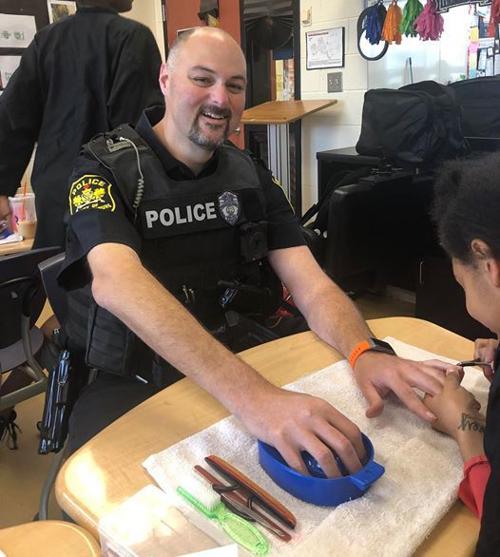 when the nation's attention
was riveted on how to protect students from school shootings? Now the pendulum of public opinion has swung in the opposite direction, and people are talking about removing school resource officers from our public schools.
The Stafford County School Board says it plans to "review" the state-mandated memorandum of understanding it has with the Stafford Sheriff's Office in the wake of protests over the killing of George Floyd in Minneapolis. But school safety policies should not be based on contradictory crises, and certainly not when public sentiment against the police in general is running high.
What's called for is a sober look at the history and purpose of school resource officers in Virginia. In 2019, in response to the horrific massacre at Florida's Parkland High School and other schools around the country, the Virginia General Assembly passed a bipartisan package of proactive recommendations made by the Select Committee on School Safety.
The legislation, which was signed by Gov. Ralph Northam, included a bill that requires all school divisions in Virginia to enter into a "memorandum of understanding" with local law enforcement that outlines the duties and powers of school resource officers.
The legislature also required the Virginia Center for School and Campus Safety to develop a statewide case management system to track interventions with troubled students—even if they change schools. The center provides training and certification in "evidence-based anti-bullying tactics," as well as "effective identification of students who may be at risk for violent behavior and in need of special services or assistance."
In 2013, Virginia was also the first state to mandate threat assessments in all K-12 and post-secondary schools following the Sandy Hook Elementary School massacre.
The system seems to be working. According to center director Donna Michaelis, "The threat of violence in our schools is actually very low. We cannot stress this enough. Even when a community is crime-ridden, the local schools are usually one of the few places students feel safe because they are surrounded by caring professionals."
Michaelis noted that more than half (56 percent) of school threat assessments statewide during the 2017-18 school year involved students threatening to harm themselves. But 39 percent were classified as threats to others only, and 5 percent involved threats directed "to themselves and others." It's the job of school resource officers to neutralize those threats before somebody gets hurt.
However, some school systems around the country are now severing their relationships with their local police departments or considering doing so. Seattle's school superintendent said that the presence of armed police officers in city schools "prohibits many students and staff from feeling fully safe." Earlier this month, the Denver School Board voted unanimously to remove all police officers from its schools no later than June 2021.
School boards in Minneapolis and St. Paul also cut ties with local police after Floyd's death even though 96 percent of St. Paul high school juniors surveyed last year agreed that it was a "good idea" to have a police officer stationed at their school, as did the principals of that city's seven high schools.
None of these school officials explained how they plan to keep students safe from armed intruders, criminal gangs and verified threats from fellow students when school resource officers are no longer there to deter such behavior and intervene when necessary.
Before Stafford or any other jurisdiction starts to dismantle or reduce the extra level of security school resource officers provide , they should at least let parents and the public know exactly what they intend to replace it with.