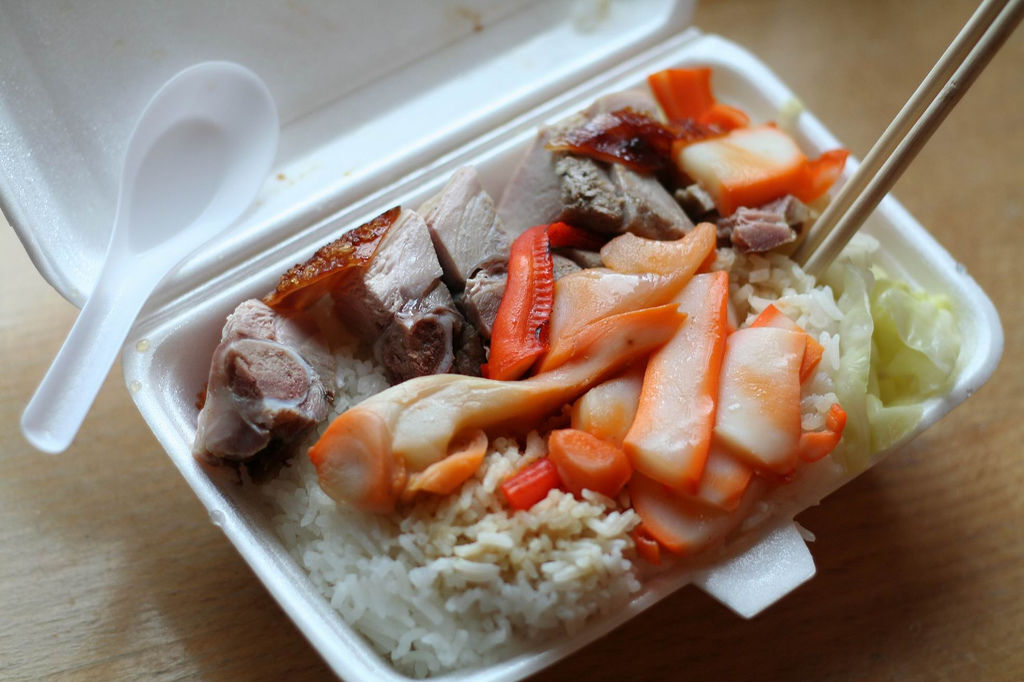 LIKE NUCLEAR waste and cockroaches, polystyrene endures.
Houses and buildings, even entire civilizations, come and go, but that coffee cup someone threw away this morning will survive. Studies indicate that polystyrene, known to most of us by the trade name Styrofoam, takes 500 years to decompose.
That in itself might not be terrible news. However, in polystyrene's long life, it does some bad things.
It is lightweight and floats, thus making it easy to pollute rivers, lakes, bays and oceans, contaminating fish and the people who eat them.
It makes up much of the litter we see along highways.
If burned, it releases dioxins into the air.
Styrene, a main element in polystyrene (you don't need to be a chemistry major to figure that one out) is carcinogenic. Food stored in it can be contaminated, especially if it's been reheated in the foam containers.
And it is very hard to reuse or dispose of. According to the Environmental Protection Agency, only six-tenths of one percent of polystyrene produced in 2018 was recycled. About 1,400 tons of Styrofoam products are buried in U.S. landfills every day. By volume, polystyrene fills up more than a quarter of all landfill space on the planet.
For those reasons, Virginia's General Assembly has sent a bill to the governor banning all restaurants and food vendors from using the ubiquitous polystyrene food containers.
If Gov. Ralph Northam approves, chains with 20 or more locations will have to comply by July 2023. Smaller vendors will have two extra years.
A similar bill was passed last year, but it had to pass two years in a row to become law.
Not surprisingly, lobbyists for restaurants opposed the ban, and it will no doubt add a few cents to some takeout items. But weighed against what those mountains of eternal polystyrene are doing to the world, the price is well worth it.
Virginia's legislature, not prone to rash decisions, is stepping tepidly into green-ness. It will still be four years and four months before that takeout carton from your local diner is guaranteed to be polystyrene free. And containers with unprepared foods, like eggs, will not banned.
Still, it's a start. And the Old Dominion is acting more decisively than most states. About 200 municipalities around the country have bans on polystyrene, but Maine and Maryland became the first to declare statewide bans only in the last couple of years. New York and Vermont now have similar laws.
Styrofoam, like so many bad ideas, didn't seem that way at the start. It was invented in the 1940s as building insulation. But then somebody realized how good the stuff was at insulating food, and the genie was out of the bottle.
Kudos to the General Assembly for taking the first step toward putting the genie back.