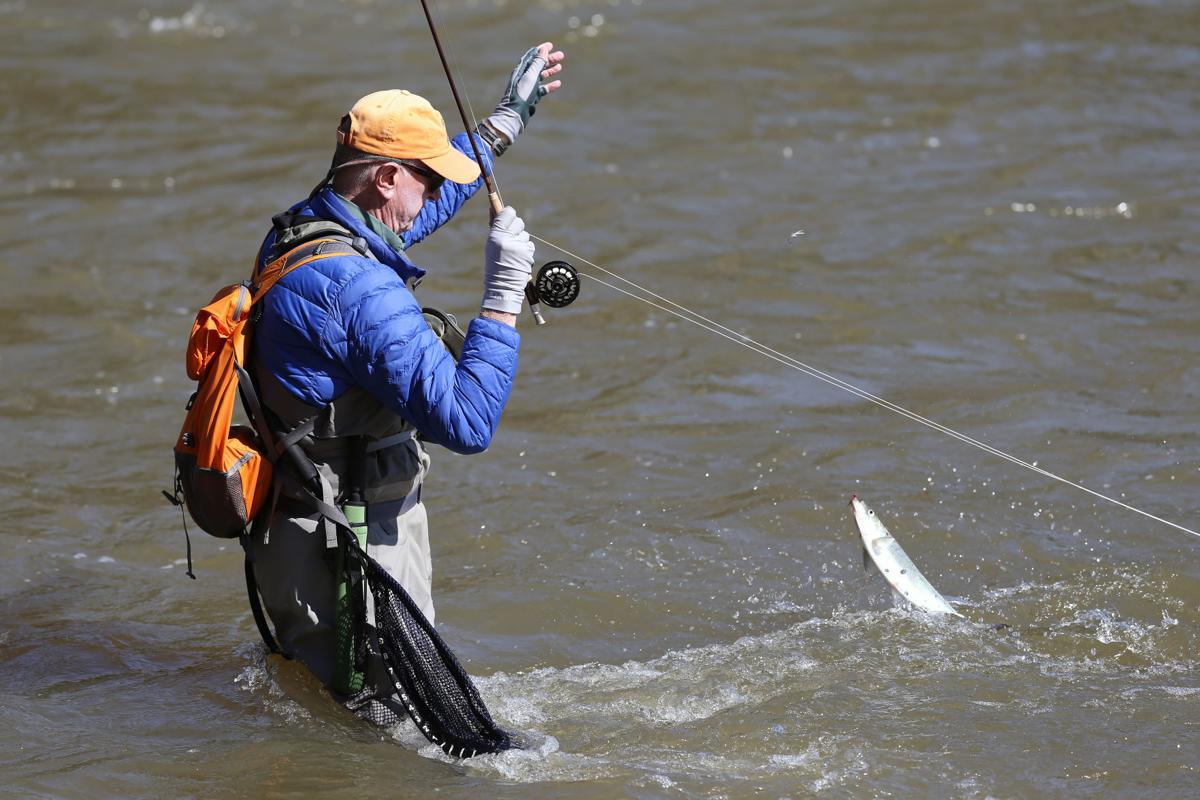 IN 2004, Fredericksburg witnessed one of the largest explosions since the Civil War. The Virginia National Guard breached the old Embrey Mill Dam. After almost 100 years, the Rappahannock River was allowed to run free again.
There were a lot of good ecological reasons for doing this. But for many, it was done with one species of fish in mind, and that was the shad. We were praying and hoping that if we opened up access to the shad's traditional spawning areas that perhaps we could bolster its numbers.
This remarkable little fish did its best to not disappoint. Using a species memory that biologists can't begin to explain, the shad made their way to spawning grounds that hadn't been visited in nearly a century. No one had to tell them, stock them or release them, they just knew. It was amazing.
However, while good for the river's ecology, removing the dam didn't revive the shad's population. Alas, shad numbers in the Rappahannock haven't rebounded as well as hoped. Indeed, farther south, in the James River, their population is now considered in danger of collapse.
There are lots of reasons. Impediments to spawning (dams and other obstructions) remain a problem, but there are there are other, perhaps even more hazardous, factors in play.
Let's put it simply. We must save these fish. We owe it to them. As a state and as a nation.
How can you have a debt of gratitude to a fish? It's easy enough if we take a moment to consider the role the shad has played in the American experience. Shad sustained our Native American populations for centuries. They were abundant, nutritious, and often began their run upstream just as winter food stocks were becoming depleted. The Algonquin word for shad is "Tatamaho"—loosely translated, this means porcupine turned inside out.
Anyone who has eaten shad knows they are full of Y-shaped bones. In other words, you eat them carefully. But like other delicacies, it's worth the effort. Oh, and by the way, the Latin name for the species is "sapidissima," which when translated into English means "delicious."
The shad sustained the early settlers in the Virginia colony. They were smoked, salted, and helped the early arrivals survive the harsh winters. Thomas Jefferson even wrote about the fish in his "Notes on Virginia."
They also probably saved the American Revolution. In the late winter of 1777–78, as George Washington's Army at Valley Forge was nearing starvation, the shad made their annual run up the nearby Schuylkill River several weeks earlier than normal. The Continental Army was saved. The soldiers at last had a continuous source of food.
Our little shad figures in our politics, too. In Virginia, for decades, the Wakefield Ruritan Shad Planking in Sussex County (the fish were nailed to planks of wood and then cooked over an open fire) was a Virginia political tradition. Candidates of all stripes made the pilgrimage to be seen at the event. While candidates might have been an attraction, the shad was the star.
Now, after all this species did for us, with typical human recklessness, we let it down. The population of this noble creature was overfished in the 19th century and then assaulted by industrial pollution in the 20th.
We've made some improvements to its ecosystem during the past 20 years, but not enough. Today, runoff from new residential and commercial developments, full of dissolved solids and chemicals, continue to spoil the water chemistry. This is a potentially fatal problem in every shad habitat.
The challenge is that there seems to be no one thing, no single magic bullet if you will, that we can use to bring the shad back from its precarious state. What's needed, and Virginia needs to lead the way, is a concerted conservation effort that attacks the challenges faced by this beloved fish, and other aquatic creatures, on a broad front.
We need to develop new regulations and new approaches to dealing with the water chemistry (herbicides and pesticides), runoff, as well as strategies for mitigating the impact of invasive species.