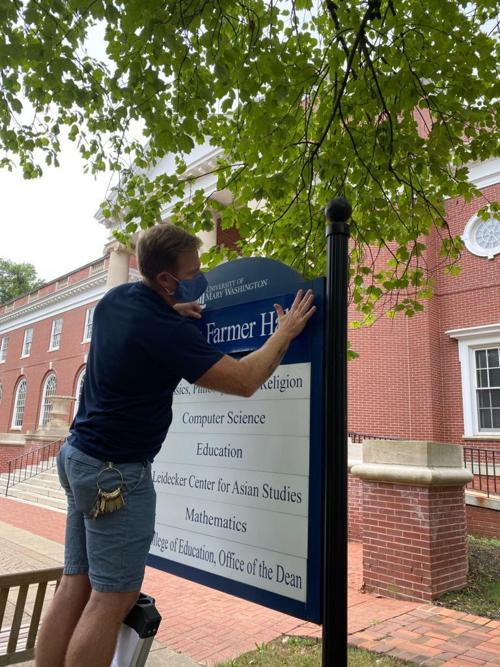 RENAMING TRINKLE HALL is not rewriting history so much as correcting it.
The decision to rechristen the academic building at the University of Mary Washington to honor James Farmer is justified many times over.
Compare the men's credentials:
Elbert Lee Trinkle, whose roots were in the southwestern Virginia town of Wytheville, was governor of Virginia from 1922 to 1926.
He was a staunch supporter of segregation and eugenics, an evil scientific endeavor that inspired Hitler's Final Solution.
He championed the Racial Integrity Act, the Forced Sterilization Act and the Racial Segregation Act.
James Leonard Farmer Jr. was one of the giants of the civil rights movement.
He organized the first Freedom Ride in 1961, in which Black and white Americans risked their lives to push for equal rights in the South.
He co-founded what became the Congress of Racial Equality, of which he was national chairman. He was one of the civil rights movement's Big Six, along with Dr. Martin Luther King, John Lewis, A. Philip Randolph, Roy Wilkins and Whitney Young. Furthermore, he was a professor of history and American studies at what is now UMW from 1984 to 1998.
With monuments and other memorials honoring everyone from Robert E. Lee to Christopher Columbus tumbling, James Farmer Hall is a laudable change.
If we can assume that humankind becomes more enlightened as we stumble along, the sins of a 15th-century explorer or a 19th-century general are more excusable than the actions of a governor who served some 60 years after the Civil War ended.
In addition to the racial backwardness exhibited by Trinkle, there is eugenics, a practice that should have made any decent human squeamish even a century ago.
Until the year 2000, the Virginia Press Association's W.S. Copeland Memorial Award for Journalistic Integrity and Community Service was the VPA's most valued award. Then, it was revealed that Walter S. Copeland, longtime Virginia newspaper publisher, had, like Trinkle, been a devoted supporter of segregation and eugenics.
The Copeland Award was renamed almost immediately.
It has been said that newspaper articles are the first draft of history. However, it should be noted that history often requires more than one additional draft.
What is written in a book or engraved on a monument or a building is not necessarily the last word. History evolves as we progress.
Welcome James Farmer Hall, whose new name sends a message of justice, decency and inclusion that does the University of Mary Washington proud.