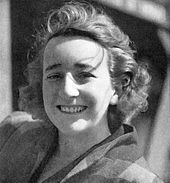 PLAYWRIGHTS hold a mirror to demand an unforgiving reflection of life while posing provocative questions and providing few easy answers. Their characters illuminate a world where equity, justice, and possibility often elude all but the truly privileged.
Few American playwrights have interrogated this truth more than Lillian Hellman (1905–1984), who made an indelible mark on mid-20th century realism, even as she found herself overlooked among other playwrights of her time—such as Tennessee Williams, Clifford Odets, Arthur Miller, Horton Foote, and William Inge.
She was born in New Orleans to Max and Julia Hellman, German–American Jews in New Orleans. Hellman's mother was from a well-to-do family and her father was a local shoe salesman.
The Hellman's entrusted their infant daughter to the care of Sophronia McMahon, an African American woman whom Hellman described as "the first and most certain love of my life."
From an early age, Hellman straddled the dichotomies that would always define her—being Jewish in the largely Christian South; observing the affluence of her mother's family while living in the economy of a shoe salesman; sensing the omnipresent injustice that Sophronia faced while cognizant of her unassailable advantage of being white; and finding a fiercely independent streak when the world had other expectations of its women.
After a brief marriage to Arthur Korber, an upstart screenwriter, Hellman began a relationship with Dashiell Hammett, a well-known writer of detective novels. Twelve years her senior, Hammett would be at Hellman's side until his death 30 years later.
They never married, but Hellman and Hammett shared a tumultuous, tempestuous relationship that gave them the freedom to pursue liaisons with others. Yet Hellman remained steadfast in her devotion to "Dash" and cared for him in his final days and beyond, turning his languishing literary estate into a sizeable asset for herself and his two children.
Hellman launched her career in the theater with "The Children's Hour." Hammett suggested that she write about a 19th-century Scottish court case involving two female teachers accused by a student of having "unnatural affection" for each other. The play opened on Broadway in 1934 to strong critical and box office success.
While Hellman was most interested in the moral consequence of the false accusation that was at the center of the case, the public pounced on the scandalous notion that the central two female characters of the play were accused of being lovers.
Hellman fought vigorously on behalf of the play when the Boston public censor banned it from being performed. When she teamed with the American Civil Liberties Union (an organization then in its infancy), the matter became the ACLU's first case focused on gay rights.
Hellman wrote eight original plays and was welcomed into the literary intelligentsia of her day, giving her ample opportunity to advocate her own political (and sometimes controversial) viewpoints. As success and fame elevated her stature and amplified her voice, Hellman took umbrage at being pigeon-holed so her influence could be squelched.
When a New Yorker profile referred to her as a "woman playwright," she fired off a response, noting that "I am a playwright. I also happen to be a woman, but I am not a woman playwright."
Hellman came into public notoriety when she refused to testify about anyone other than herself when she was called to appear before the House Un-American Activities Committee. This crusade, led by Sen. Joseph McCarthy, relegated Hellman to the Hollywood blacklist and, labeled a communist and anti-American, her means of earning a living disappeared.
Hellman's enduring legacy in the 20th century commands a second look from the lens of the 21st. As a passionately independent woman who never deferred to the power of men simply because of a role and status that society forced upon her, Hellman's reputation suffered in her lifetime, sometimes obscuring her brilliance as a playwright.
But as we reconsider the body of her work, sometimes impugned by the judgment of her character, we can applaud the complexity of her trailblazing life and recognize that Hellman lived the one she was given to satisfy herself and no one else—truly an unthinkable act for a woman of her time.
Gregg Stull is professor of theater and chair of the Department of Theatre and Dance at the University of Mary Washington. He will speak on Lillian Hellman as the concluding presentation of UMW's 2021 Crawley Great Lives Series at 7:30 p.m. on Thursday, March 18. The Zoom webinar may be accessed at umw.edu/greatlives.