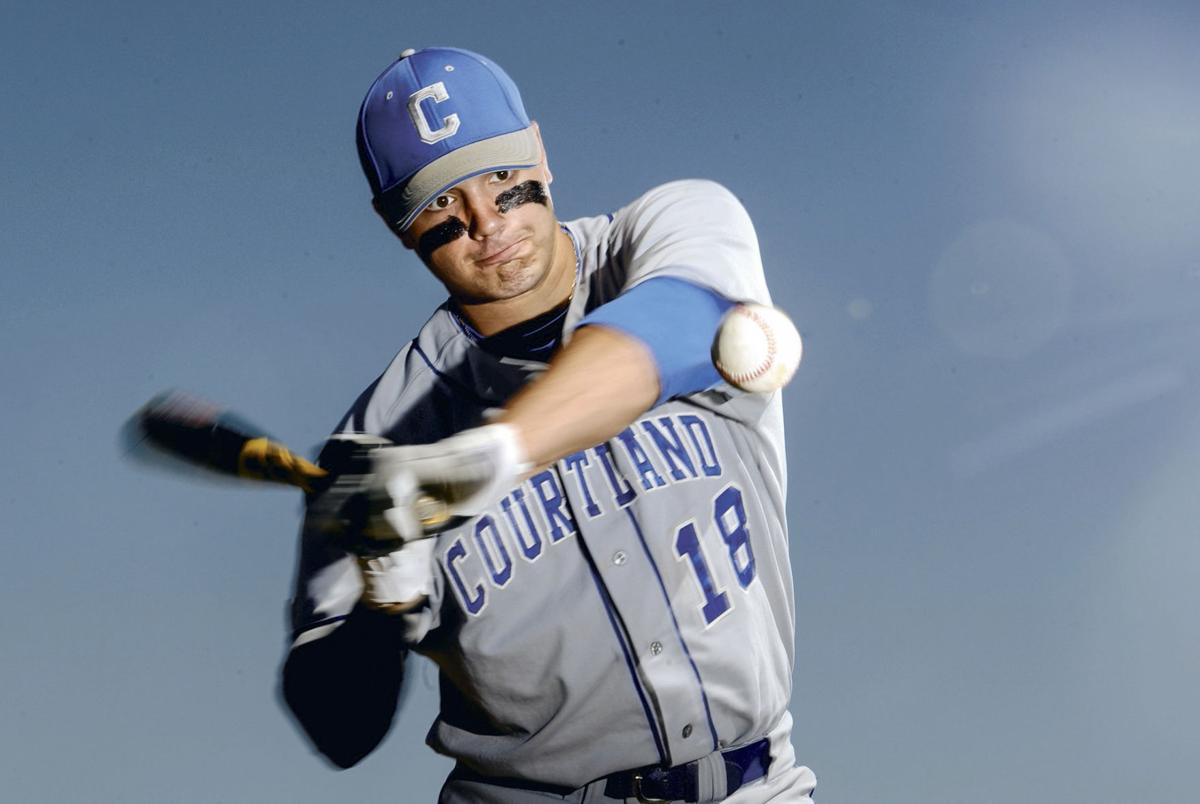 When Ryan McBroom started jogging toward the third-base coach's box, Tim Acors already knew what he was going to ask.
It was a brisk April evening in 2010, and McBroom, then a power-hitting Courtland senior, was due up in the bottom of the seventh against Eastern View with the score tied and a runner on first.
"I didn't want to do something stupid for us not to win," McBroom said. "So I went to ask him—for the team—should I bunt?"
In response, Acors pointed at his wife Val, who was sitting nearby in the bleachers.
"I said, 'No, Mrs. Acors is cold, she's freezing,'" the longtime Cougars skipper recalled. "I want you to hit it over the 347 [foot] sign and end it right here."
McBroom worked the count to 3–0, and then, much to the chagrin of Cyclones manager Daniel Nobbs, finally got a pitch in the strike zone.
"He laid one right in the middle of the plate and Ryan hit it over the left-center field fence," Acors said. "As he rounded third base, he shook my hand and he said, 'That one's for your wife.' "
Long before he made his major league début as a member of the Kansas City Royals, The Free Lance—Star's baseball player of the decade showed he was willing to sacrifice for success.
McBroom's family moved from Stafford to Spotsylvania during his eighth-grade year, and "I was coming into high school basically not knowing anyone," he said.
Sports, namely football and baseball, helped to break the ice. McBroom made Courtland's varsity team that spring and made an instant impression on his new, much older teammates.
"The first day of tryouts, you knew he was going to be a kid that was going to make the varsity team," said Jon Jones, a 2008 graduate and former Battlefield District player of the year. "Then you see a round of BP [batting practice] and you had a pretty good idea that he was going to stick around."
McBroom hit .250 as a freshman, accepting a position change from first base to the outfield in order to crack the Cougars' star-studded lineup.
"There was a little bit of fearlessness, a little bit of confidence, and a little bit of collectedness where he was able to do all those things and not be overwhelmed being in high school the first time," Acors said.
McBroom enjoyed a breakout sophomore season, posting a .377 batting average with two home runs. Over his final three years at Courtland, the southpaw also moonlighted as one of the area's best pitchers, posting a 6–0 record as a senior.
In 2010, McBroom's .457 average propelled the Cougars to a 20–3 record and the Battlefield District title. He pitched the Cougars to within three outs of the state tournament in a heartbreaking Region I semifinal loss to Powhatan.
"That was my best chance to win a state championship, and I blew it by not sending Ryan back out for the seventh," Acors lamented.
McBroom holds Courtland records for career home runs (14), walks (58) and games played (85).
With some help from Jones, who went on to pitch at West Virginia University, McBroom landed an offer from the Mountaineers. He hit .294 with 29 home runs in 213 career games in Morgantown. Those stats attracted pro scouts, and the Toronto Blue Jays selected McBroom in the 14th round of the 2014 MLB draft.
Now, he's a principal actor in the dystopian production known as the 2020 MLB season. Through 10 games with the Royals (3–10) this summer, McBroom is hitting .259 with one homer. Thanks to the coronavirus pandemic, he's doing it in front of cardboard cutouts in empty stadiums.
"It actually feels super competitive, because there's no distractions," he said of the environment. "It's basically one on one with you and your opponent. You hear them in their dugout, and they hear us."
Despite outbreaks that have impacted the Marlins and Cardinals barely a month into the season, McBroom says he's comfortable with the protocols MLB has in place to protect players. Earlier this week, the league sent out an updated memo requiring masks to be worn in dugouts.
"Major League Baseball is doing a good job of trying to confine everything and having a certain set of rules planned out, whether it's travel, housing or here in our hometowns," he said.
These days, McBroom is going deep off former Cy Young winners, not Cyclones. On Aug. 1, he hit a 2-run shot off Chicago's Dallas Keuchel for his first home run in the big leagues.
"That's just a relief, man," he said. "I have to get the first one out of the way, c'mon now, just to get on the board… It's something I'll never forget, and I'll tell my kids' kids about it one day."
But what impresses Acors most is what hasn't changed with his former player.
Not that sweet swing, capable of spraying balls from foul pole to foul pole. Not the sense of humility that once led him to propose laying one down in a big spot.
Shortly after McBroom made his major league début last season, the coach flew to Miami to see him play in person. After the game, the two shared a brief conversation in the visiting clubhouse's family room.
It was just like old times.
"There's no reason for him to keep me in his life all this many years later," said Acors, "but he does."
Joey LoMonaco: 540/368-5045
@joeylomonaco
Be the first to know
Get local news delivered to your inbox!