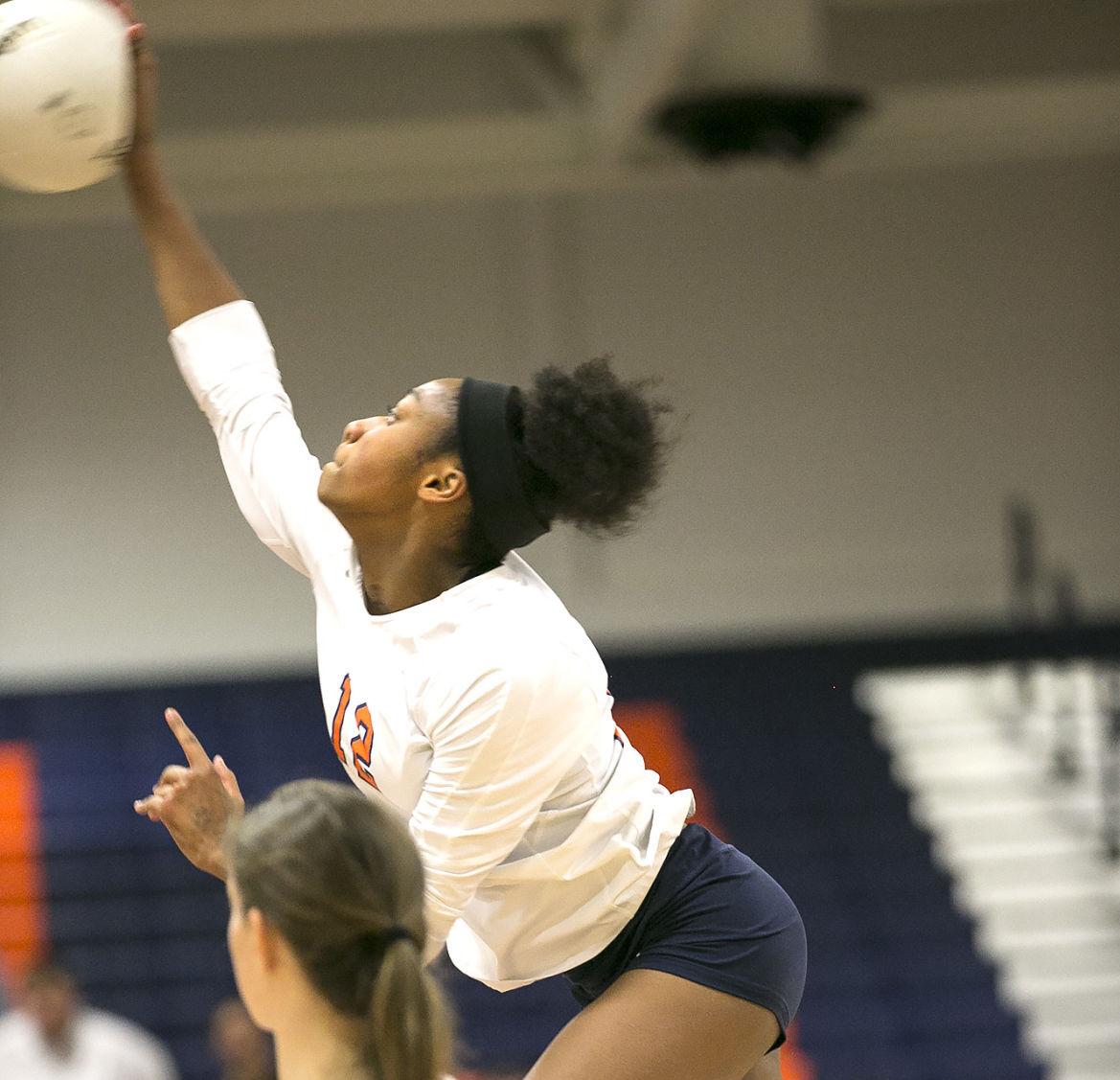 As North Stafford graduate Victoria Barrett gets accustomed to life nearly 2,000 miles away from home, the distance hasn't been the greatest adjustment.
The former Wolverines' volleyball star is getting settled in at New Mexico State University in Las Cruces, N.M., where she's a rising freshman on scholarship with the Aggies' program.
"The campus is really nice. The people are nice," Barrett said. "The main thing is just how hot it is. It's very hot."
Barrett scorched opponents on the court for four years at North Stafford. She was named Free Lance–Star player of the year after every season from 2017–19.
She set a Virginia High School League record for career and single-season kills with 2,033 and 744, respectively. She was named All-Area female athlete of the year at the end of her senior season.
And now she's been named volleyball player of the decade for 2010–19.
"She was a once-in-a-career type player to have," North Stafford head coach Nicole Candelora said. "Other coaches and I have talked about her before that this is the best high school player we've ever seen play high school … She could take over a game all by herself even though it's a team sport."
New Mexico State head coach Mike Jordan sees that potential in Barrett, as well. Jordan said Aggies' assistant coach Keith Rubio spotted Barrett at a travel tournament in Atlanta and was taken aback at her dominant play despite her relative lack of height.
Former Radford assistant Chris Hertel was recruiting Barrett for the Highlanders before he joined the Aggies' staff in 2019. Rubio and Jordan were sold on Barrett and it didn't take much convincing to get Jordan on board.
"We're excited about her athletic ability, obviously," Jordan said. "She's an elite-level athlete. She's got the hops, the arm speed and the lateral quickness. It's all there. She's just not tall. But she plays a lot bigger than she is."
At 5-foot-9, Barrett isn't the typical Division I outside hitter. But Jordan, who has guided New Mexico State for 22 years, noted the Aggies are a top-40 Division I program and Barrett should be able to compete for playing time right away.
He said many college coaches are "short-sighted" when it comes to recruiting shorter players, and that may have deterred other major college programs from offering her a scholarship.
"I think they're looking for length," Jordan said. "It certainly helps with the blocking stuff, but she plays higher than a lot of 6-footers I see … I think the thing that really made her a no-brainer for us was that she combines a lot of athletic ability with good ball control skills. She can defend. I think eventually she's going to be a very good passer at this level. So we're excited about her."
Barrett did it all for the Wolverines. She was the catalyst for a three-year run that started with a trip to the Class 5 state semifinals in 2017. North Stafford reached the state championship match in 2018 and '19 before falling to Princess Anne and Frank Cox, respectively.
Barrett recorded 34 kills, 30 digs, five aces and four blocks in a five-game loss to Cox in last season's title match. She sent video of the performance to Jordan, whose already lofty opinion of her was further cemented.
"I was really impressed," Jordan said. "She was a dominant force for sure. It was fun to watch her go at it the way she did. I like the way she competes."
Jordan said having to carry a team, as Barrett did last fall, should bode well for her at the next level. She left behind a legacy at North Stafford that includes a spike in interest in volleyball the area has rarely seen.
Candelora said when Barrett first arrived, match attendance was sparse. But by her junior year, there were community members, former volleyball players and coaches, coaches from other sports at the school and many students on hand to take in the action.
Former North Stafford football coach Joe Mangano mentioned to Candelora that Barrett could play defensive back for his team.
"She could jump out the gym and she just hit the snot out of the ball," Candelora said. "That really excited a lot of people that came to watch. It was great to be a part of."
Taft Coghill Jr: 540/374-5526