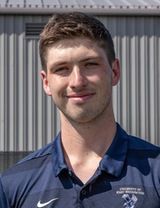 The 2020 spring sports season was short, thanks to the coronavirus, but it lasted long enough for Moses Hutchison to make his mark.
The University of Mary Washington junior was recently named State College Division men's tennis player of the year by the Virginia Sports Information Directors Association. He was 4-2 at No. 1 singles for the Eagles, including a win over Kenyon's Jake Zalenski, the sixth-ranked player in Division III. 
Hutchison also earned first-team all-state doubles honors after going 6-0 with teammate Michael Fleming. UMW freshman Andrew Watson was named second-team all-state in singles.
UMW sophomore Claire Coleman was named to the College Division women's first team in singles and was a second-team choice in doubles with Abby Moghtader.
In other all-state honors, UMW attackers Paige Haskins and Morgan Shorts were named to the College Division women's lacrosse first team, and defenders Jenny Bosserman and Rylie Cole were second-team picks.
Bridgewater senior Calista Ariel (Chancellor) and Waynesburg (Pa.) sophomore Aubrey Wingeart (King George), both distance runners, were named to Academic All-District track teams by the College Sports Information Directors of America. 
Ariel graduated with a 3.92 grade-point average as a health and exercise major and qualified for NCAA Division III championship competition five times in cross country and track. She was earlier named female scholar-athlete of the year by the Old Dominion Athletic Conference and all-South Region track athlete of the year by the U.S. Track and Field Coaches Association of America.
Wingeart holds a 3.80 GPA as a Marine Biology major. She was named most outstanding performer at the Pennsylvania Athletic Conference indoor meet this winter and qualified for the 2019 NCAA Division III cross country championships.
Sophomore Brandon Hornung (Riverbend) was named to VMI's Elite Eighteen for having the top grade-point average on the Keydets' men's soccer team last fall.
Hornung was also part of the the Keydets' Cadet-Athlete Honor Society, which requires a 3.0 GPA,  along with fellow soccer player Richard Quispe (Brooke Point); track athletes James Granderson (Colonial Forge) and Kellen Reeves (Stafford); swimmers Jack Sheehan (Colonial Forge) and Ryan Schmitz (North Stafford); football player Rohan Martin (Colonial Forge) and lacrosse player Jon Fant (Colonial Forge).
 Northern Virginia Community College announced on Monday it will suspend all intercollegiate athletics for the 2020-21 academic year due to the coronavirus pandemic.
The Nighthawks field teams in men's and women's basketball, men's soccer and women's cross country, softball and volleyball. All current athletes will be given release to transfer if requested.
VMI rising junior long snapper Robert Soderholm (Mountain View) was named a preseason third-team Football Championship Subdivision All-American by HERO Sports. He was named a first-team sophomore All-American last season by HERO Sports.
Be the first to know
Get local news delivered to your inbox!