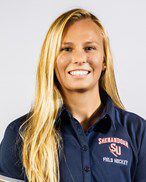 She already has one Old Dominion Athletic Conference player of the year honor on her résumé. Kelsey Jones is playing like she wants another.
The senior from midfielder from Courtland High School was named ODAC player of the week Monday after notching a pair of hat tricks as Shenandoah routed Eastern Mennonite 11–0 Wednesday and Virginia Wesleyan 9–0 on Saturday.
Jones, who was named ODAC player of the year in the spring, added two assists Saturday and leads the ODAC in goals (15) and points (36) for the Hornets (10–1), whose only loss was to third-ranked Johns Hopkins. She holds the school record for career assists (46), formerly held by Taylor Hayes (Brooke Point).
Morgan Rigual
(James Monroe) scored her first two goals of the season in Delaware's 3–2 victory over Hofstra Friday.
Freshman Alaina McCoy (Stafford) scored twice in Randolph-Macon's 4–1 win over Virginia Wesleyan Wednesday and once in Saturday's 9–0 rout of Ferrum.
Senior Maran Lee (Riverbend) scored in each game as Centre (Ky.) topped Roanoke 2–0 Friday and Concordia (Wisc.) 7–0 Saturday.
Senior goalkeeper Sierra Espeland (Colonial Forge) made four saves in Vermont's 4–0 shutout of UC Davis Friday and eight more in Sunday's 2–0 loss to California. She has four shutouts this season.
Coen King
(Eastern View) led Virginia with eight tackles and forced and recovered a fumble as the Cavaliers rallied past Louisville 34–33 Saturday.
Senior linebacker Trey Watkins (Massaponax) made a team-high nine tackles in William & Mary's 31–24 victory over Albany Saturday.
Graduate student Jabari Allen (Courtland) caught five passes for 53 yards and a 7-yard touchdown in Towson's 21–14 victory over Stony Brook Saturday.
Senior defensive lineman Jamar Frazier (Colonial Forge) had 2.5 sacks and recovered a fumble in Virginia State's 35–7 victory over Elizabeth City State Saturday.
Freshman Jacob Romero
(Massaponax) carried five times for 81 yards, including a 75-yard touchdown, in Washington & Lee's 42–13 victory over Apprentice Saturday. Senior linebacker
Alex Andros
(Courtland) led the Generals with 12 tackles, and freshman linebacker
Uno Christopher (Massaponax) had a sack and forced a fumble.
Sophomore quarterback Madden Lowe (Colonial Forge) threw for 315 yards and four touchdowns in Catholic's 30–7 win over WPI Saturday.
Clara Robbins
(Colonial Forge) scored her fifth goal of the season in top-ranked Florida State's 5–0 win over Syracuse Thursday.
Senior Wade Hall (Courtland) netted his first career goal as Randolph (10–0–1) edged Hampden-Sydney 3–2 on Wednesday.
Sophomore keeper Alyson Kinkopf (Orange) made five second-half saves in Averett's 1–0 victory over Greensboro Saturday.
Sophomore Michael Nocera (Riverbend) came off the bench to score his second goal of the season as Virginia Wesleyan (9–1–3) blanked Ferrum 4–0 on Sunday.
Senior Audra Curtin (Colonial Forge) had a goal and an assist in Frostburg State's 3–1 win over West Virginia Wesleyan Wednesday.
Lauren Jackson
(Mountain View) had 11 kills in Kutztown (Pa.)'s 3–1 win over Lock Haven Friday and 16 more in Saturday's 3–2 loss to Bloomsburg.
Freshman setter Mya Green (Massaponax) racked up a career-high 46 assists and added 18 digs in Lynchburg's 3–1 victory over Mary Washington Wednesday.
Sophomore outside hitter Sydney Clarke (Colonial Forge) amassed a combined 33 kills as Mary Baldwin split matches with Pfeiffer (a 3–1 loss) and Salem (a 3–1 win) Saturday.
Junior outside hitter Claire Shorb (Culpeper) had 14 kills and two aces in York (Pa.)'s 3–0 sweep of Albright Wednesday.
Devin Bateman
(Stafford) helped Washington & Lee's men win last weekend's season-opening ODAC Relays by swimming a leg on the victorious 3x50-yard butterfly relay (1:10.33) and participating on three second-place relay squads.
Other local swimmers who had a hand in event wins were Lynchburg junior Parker Hayungs (Stafford) in the men's 3x25 dolphin kick (46.12) and Roanoke sophomore Davis Wheeler (Stafford) in the men's 3x100 IM (2:46.41).
In her first college meet, George Mason freshman
Anka Whelan
(Mountain View) swept the women's 200-yard backstroke (2:05.47) and 200 IM (2:09.59) in the Patriots' dual-meet loss to Delaware Saturday.