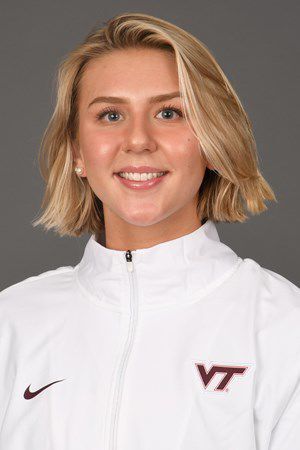 Neither a gap year after high school nor the challenges of training during a pandemic seemed to take a toll on Caroline Bentz.
The King George High School graduate made a memorable début for Virginia Tech's swim team in Saturday's season-opening dual meet at Duke. She swept the women's 100-yard backstroke (54.47) and 200 back (1:56.92) as the Hokies tied the Blue Devils 150–150. She also swam on the winning 400 free relay team (3:23.21).
Bentz was The Free Lance-Star's swimmer of the year as a junior at King George in 2018. She took the 2019–20 season off, then used a gap year to train with her club team, National Capital. She has qualified for the COVID-delayed 2021 U.S. Olympic Trials in both backstroke events.
Also making his first college appearance in the same meet, Duke freshman Luke Johnson (Colonial Forge) placed third in the men's 100 butterfly (50.18). Junior Dylan Eichberg (Stafford) placed third in the 200 fly (1:48.71) for the Hokies, who won the men's team competition 171.5–120.5.
Jack Sheehan
(Colonial Forge) won the men's 100-yard breaststroke (1:08.08), 200 breast (2:34.37) and 200 individual medley (2:15.86) as VMI routed Division II West Virginia Tech 210–51 in a dual meet Saturday. He also swam on two winning relays.
Stafford County resident Keven Stahl won three events in Division II Missouri-St. Louis' 214–29 dual-meet romp over Maryville Friday: the 200 free (1:51.53), 200 fly (1:59.19) and 200 breast (2:14.17).
Freshman Kennedy Darensbourg (Riverbend) finished third in the women's 500 freestyle (5:22.41) and 1,000 free (11:00.83) in Eastern Illinois' season-opening 165–92 dual-meet loss to Ball State Friday.
Redshirt sophomore Kaleb Smith (Louisa) caught his second career touchdown pass, a 17-yarder, in Virginia Tech's 38–35 loss to Liberty Saturday. He finished with two receptions for 26 yards.
In his college début, Kent State freshman defensive lineman
Adin Huntington
(Mountain View) made one tackle and broke up a pass in Wednesday's 27–23 win over Eastern Michigan.
Sophomore kicker Jonathan Kim (Massaponax) registered nine touchbacks on nine kickoffs in North Carolina's 56–24 win over Duke Saturday. For the season, only three of Kim's 50 kickoffs have been returned.
Sophomore linebacker Brandon Smith
(Louisa) made five tackles, including a sack for the second straight week, in Penn State's 35–19 loss to Maryland Saturday. Sophomore
Devyn Ford (North Stafford) led the Lions (0–3) with 36 rushing yards on nine attempts.
Senior defensive specialist
Tiaralyn McBride
(Mountain View) is featured on Christopher Newport's "Captains on the Clock" feature on the school's athletic website (cnusports.com). She answers a variety of questions in the video feature.
Be the first to know
Get local news delivered to your inbox!