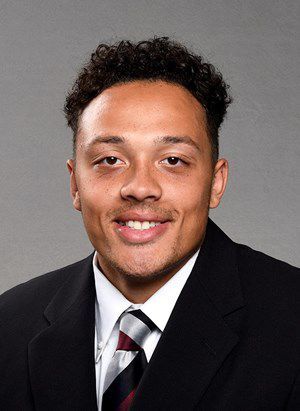 When the football season began, Jason Brown was a third-string quarterback and South Carolina was coming off a two-win season with a rookie head coach.
Brown helped the Gamecocks earn bowl eligibility with his second victory in three starts, 21–17 over Auburn Saturday night. The redshirt senior from Chancellor High School completed 10 of 15 passes for 157 yards and three touchdown passes, with one interception.
He'll lead coach Shane Beamer's team into this week's season finale against Clemson, then a likely bowl game.
In his third game since regaining his starting job, sophomore
Jadon Redding
(Colonial Forge) kicked five extra points and a 26-yard field goal as Utah routed third-ranked Oregon 38–7 to clinch the Pac-12 South title Saturday night. Redding is 8 for 11 on field goals and 28 for 30 on PATs this season.
Blake Leake
(Eastern View) made a career-high 16 tackles, including a sack, in Bucknell's 45–6 loss to Holy Cross Saturday.
M.J. Hampton
(Stafford) made eight tackles and broke up a pass in James Madison's 56–10 romp over Towson Saturday. The Dukes (10–1) received a first-round NCAA FCS tournament bye and will host Florida A&M or Southeast Louisiana on Dec. 4.
In his final college game, senior linebacker
Trey Watkins
(Massaponax) made nine tackles in William & Mary's 20–17 loss to Richmond Saturday.
Senior linebacker Alex Andros (Courtland) closed his career with eight tackles in Washington & Lee's 52–0 NCAA Division III playoff loss to Mount Union (Ohio) Saturday.
Doug Newsome
(Orange) made a career-high five tackles in Charlotte's 24–17 loss to Marshall Saturday.
West Liberty (W.Va.) sophomore linebacker
(Riverbend) and West Virginia State junior defensive back
Christian Thompson
(Brooke Point) were named to the Division II all-Mountain East Conference second team. Christmas made 42 tackles, including seven sacks. Thompson intercepted five passes and made 35 tackles.
Catholic sophomore quarterback
Madden Lowe
(Colonial Forge) was named second-team All-New England Women's and Men's Athletic Conference after passing for 2,926 yards and 27 touchdowns while leading Division III with 29.6 completions per game.
Colorado Mesa senior linebacker Remington Green (King George) earned honorable mention on the Division II all-Rocky Mountain Athletic Conference team after making 67 tackles, second-most on the team.
Senior Conlan Beaver (Massaponax) was awarded Montana's Paul Weskamp Award, given to the team's best offensive lineman, for the second straight year. He has started 36 games for the Grizzlies (9–2), who will host an FCS playoff game on Dec. 4.
Shakira Austin
posted two double-doubles for Mississippi last week: 20 points and 13 rebounds in Tuesday's 71–37 rout of Lamar and 13 points and 13 boards in Friday's 62–44 win over Louisiana Tech.
Sophomore Arkese Claiborne (Massaponax) had 15 points and seven rebounds in Messiah (Pa.)'s 84–73 win over Wilkes (Pa) Saturday after scoring 23 in Tuesday's 55–54 loss to Dickinson.
Senior guard Camille Downs (Colonial Forge) scored 13 of her team-high 15 points in the fourth quarter of Norfolk State's 66–62 loss to the College of Charleston Friday.
Junior guard Maggie Sharp (Mountain View) hit six 3-pointers and scored 20 points in Frostburg State's 63–56 loss to Lock Haven (Pa.) and added 14 points in Saturday's 73–67 loss to West Virginia Wesleyan.
Reigning Old Dominion Athletic Conference player of the week Oma Aguolu (King George) had 14 points, nine rebounds and six steals in Hollins' 55–48 victory over Guilford Wednesday, its first over the Quakers since 2004.
Clara Robbins
(Colonial Forge) assisted on teammate Jody Brown's goal as top-ranked Florida State defeated No. 19 Pepperdine 1–0 Sunday to reach the NCAA women's tournament elite eight. The Seminoles (19–1–2) will host No. 9 Michigan on Friday.
Lizzie Hamlett
(James Monroe) and Liberty lost 2–0 to Northwestern in Sunday's NCAA championship game. Hamlett had nine goals and five assists for the Flames (20–2).
Aubrey Wingeart
(King George) placed 105th out of 292 finishers (22:30.1) at Saturday's NCAA Division III women's championship in Louisville, Ky.
(King George) finished fifth in the women's 100-yard backstroke (52.88) at the weekend's 10-team Ohio State Fall Invitational. Senior teammate
(Stafford) was ninth in the men's 100 butterfly (47.66) and 13th in the 200 fly (1:46.42). Indiana senior
Brandon Hamblin
(North Stafford) was 13th in the 50 free (20.31).
Georgia Johnson
(Mountain View) earned a provisional NCAA champion ship cut by placing 13th in the women's 200 breaststroke (2:13.55) at the Tennessee Invitational.
Levi Englman
(Colonial Forge) went 3–0 at 133 pounds at the weekend Star City Open in Roanoke, with two pins and a major decision.