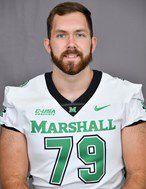 Marshall's football season isn't over, but Josh Ball's nomadic college career is.
Ball, a fifth-year senior offensive tackle from Stafford High School, announced via social media Sunday that he is skipping the Thundering Herd's Christmas Day Camellia Bowl matchup against Buffalo to prepare for the NFL draft.
Ball (6-foot-8, 309 pounds) is considered to be a mid- to late-round draft prospect. He was named first-team all-Conference USA on Monday after starting every game this season, mostly at right tackle, and helping the Thundering Herd (7–2) win the conference regular-season title. Marshall lost 23–13 to UAB in Friday's conference championship game.
Ball began his career at Florida State, starting at left tackle as a redshirt freshman. He left school after a woman accused him of dating violence and played at Butler (Kan.) Community College before signing with Marshall before the 2019 season.
Nick Grant
(Courtland) is one of nine fourth- or fifth-year players who will return to Virginia next fall under an NCAA rule allowing an extra year of eligibility due to the coronavirus, coach Bronco Mendenhall announced Monday. Grant made 26 tackles and two interceptions in 2020.
Jadon Redding
(Colonial Forge) kicked a career-long 44-yard field goals and six conversions in six tries in Utah's season-ending 45–28 win over Washington State Saturday. For the season, Redding was 8 for 8 on field goals and 17 for 17 on PATs for the Utes (3–2).
Brandon Smith
(Louisa) made a team- and career-high eight tackles (three for loss) and recovered a fumble in Penn State's 56–21 win over Illinois on Saturday. Smith finished the season with 37 tackles for the Nittany Lions, who won four straight after an 0–5 start.
East Carolina junior linebacker Xavier Smith (Brooke Point) earned honorable mention in voting for the all-American Athletic Conference team. He led the Pirates in tackles for the second straight season, with 72.
Playing close to home, Fredericksburg native
Shakira Austin
scored a season-high 24 points (including her first career 3-pointer) and had seven rebounds in Missisissippi's 64–34 romp over George Mason Sunday in Fairfax. She also had 22 points, 12 rebounds and three blocked shots in Wednesday's 89–65 rout of Jackson State. She's averaging 17.8 points for the Rebels, who are off to their best start (6–0) since 2008–09.
Chris Shelton (
Louisa) hit five 3-pointers and scored a career-high 21 points in Hampton's 81–76 loss at Howard Friday. He added eight points in Monday night's 67–55 win at Charleston Southern.
and Stafford County resident
Christian Torres
were named to Randolph-Macon College's men's soccer team of the 2010s. Oakes had 15 career goals and was twice named to the all-Old Dominion Athletic Conference third team. Torres, who attended Hylton High School in Woodbridge, had three career goals and six assists.
Eastern View graduate Alisha Holcombe was named to the Gardner-Webb (N.C.) University 2020 fall honor roll, which requires a 3.5 grade-point average. She has started 30 of 39 career games, notching a goal and four assists.
Keven Stahl
finished second in the men's 500-yard freestyle (4:41.86), third in the 1,000 free (9:45.07) and fourth in the 400 individual medley (4:13.23) in Missouri-St. Louis' dual-meet loss to Missouri S&T Friday.