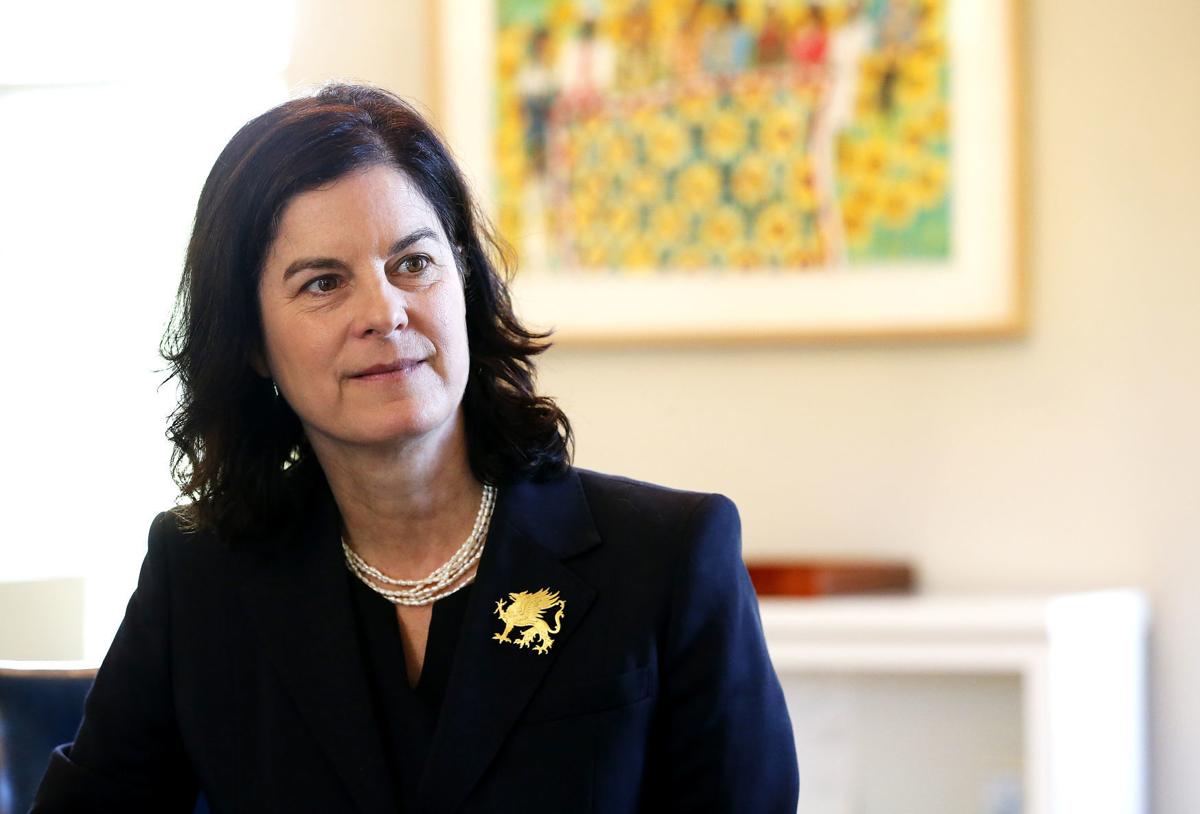 Falling in line with a trend accelerated by the COVID-19 pandemic, the College of William & Mary will eliminate seven sports because of financial reasons, the school announced Thursday. Men's and women's gymnastics, men's and women's swimming, men's indoor and outdoor track and field, and women's volleyball will be discontinued following this academic year.
The cuts will leave William & Mary with 16 sports, which is about the norm for comparable Division I schools in Virginia. The University of Richmond has 16, James Madison University has 17 and Old Dominion University has 18. Division I schools are required to have a minimum of 14 teams (seven for men and seven for women, or six for men and eight for women).
The cost of competing at the Division I level continues to climb, particularly in coaches' salaries and facility upgrades, causing steady cuts nationally in recent years. For many years, there have been strong indications from various sources that W&M was struggling to support 23 sports, an unusually large number for a mid-level Division I program.
JMU dropped 10 teams in 2006, largely to bring that school in compliance with Title IX guidelines, and since the spring, the pandemic has forced schools to rapidly address budgetary shortfalls that affect long-term planning.
According to an Associated Press report issued in July, Division I schools have discontinued 51 sports, Division II schools have dropped 56 sports, and Division III schools have eliminated 52 sports as a result of the pandemic's impact.
In Virginia, ODU cut wrestling in April, and Hampton University dropped men's and women's golf in June, though a fundraising effort to save those two HU teams was announced at the time of the discontinuations.
An open letter to the W&M community from the school's president, Katherine A. Rowe, and other school leaders reads in part, "Although the Department of Intercollegiate Athletics just concluded one of its strongest fundraising years in history, the harsh financial realities of COVID-19 on the entire university, as well as on athletics, have led us to conclude that sustaining our current offering of 23 varsity programs is no longer possible."
The seven programs include about 120 student-athletes and 13 coaches. W&M will honor all athletic scholarships of impacted student-athletes while they're undergraduates at the school. The changes will assure Title IX compliance, according to W&M.
The 2020 NCAA men's basketball tournament was scheduled to result in a distribution of about $600 million to 350 Division I schools. Its cancellation reduced the pool to $225 million, with $50 million of that coming from NCAA reserves. As a state school, W&M is required by law to fund its sports through student fees, endowment funding, philanthropy and revenue generated from ticket sales and sponsorships. All sources of athletics revenue have significantly decreased, according to school.
W&M said its endowment funds are "generally restricted to a specific philanthropic purpose or effort. As such, we are not permitted to utilize these funds on anything except what is strictly noted in the endowment agreement. Unrestricted endowment dollars are not usually available and typically utilized on student scholarships."
Savings from the discontinuation of the seven sports will eventually be $3.66 million annually, and those savings will reduce the deficit W&M faces, according to the school.
A W&M release stated, "Other cost-saving measures were considered, and many have been implemented, including a voluntary salary reduction for the director of athletics as well as select head coaches and senior administrators, limiting travel, reduction in the number of competitions, a department wide hiring freeze, and a reduction in operating budgets across the entire department.
"The resulting cost savings did not come close to covering the projected financial deficit facing William & Mary Athletics."
Among the factors W&M considered when identifying sports that will be eliminated were goals of the school's strategic plan, proven and/or potential for competitive success, viability as an NCAA sport, number of competing programs in the mid-Atlantic region, dedicated NCAA Division I-caliber facilities, operating costs, compliance with Title IX, alumni and donor financial support, and ability to generate revenue.
Many of these teams being cut compete without a full complement of scholarships, coaches and resources, and W&M saw no clear path to changing that. W&M elected to announce the cuts now to allow for a final season of competition for the teams, and to give those individuals involved time to determine their futures.
Some teams that were cut across the country have been saved by surges of financial support, but according to W&M, "The decisions to reduce our sports offerings are final, and any future philanthropic gifts intended for these sports may be directed towards supporting scholarships and existing programs to help promote the future success and financial sustainability of W&M Athletics.
"We are taking these actions with the goal of positioning William & Mary Athletics for long term, sustainable success. These are the only permanent changes we expect to make to our varsity sport offerings for the foreseeable future."
(804) 649-6233
@RTDjohnoconnor
Be the first to know
Get local news delivered to your inbox!