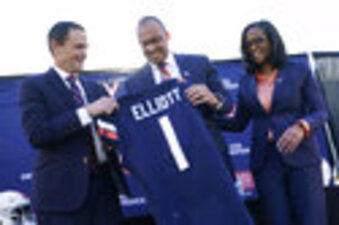 Tony Elliott's résumé and reputation are impeccable. He's young, energetic, organized and respected, and and his reviews are glowing, as you would expect of any coaching hire.
In short, on paper, he's exactly what the University of Virginia's football program needs.
But the only paper football I remember came in the lunchroom in elementary school. (Kids, ask your parents. This was long before video games.)
No, to become the leader of the "model program" he described on Monday, Elliott needs to surround himself with a quality staff. Even more importantly, he needs to recruit the Commonwealth's high schools far better than his predecessor, Bronco Mendenhall, did.
And it won't be easy. In recent years, national powers like Ohio State and Alabama and established programs like Penn State and North Carolina have lured away most of Virginia's four- and five-star recruits. In 2015, the Cavaliers and Virginia Tech both hired coaches with no state ties nor institutional knowledge of VHSL schools, and neither program made it a priority to keep the best teenage players at home.
The Hokies' new coach, Brent Pry, already has begun trying to remedy that, and he's had a week's head start on Elliott. Pry once worked for Frank Beamer, and he's fully aware that neither Tech nor Virginia has ever been an elite program without a huge influx of in-state talent. Pry's staff reportedly has scoured the state in the past week, mending fences and getting acquainted with state coaches and their best players.
Elliott is trying to catch up. He was introduced as Virginia's new man in charge on Monday, less than 48 hours before the NCAA's early signing period begins. He's got miles to go before he sleeps.
According to 247sports.com, Elliott inherits a recruiting class that's ranked an abysmal 62nd in the nation and 12th in the 14-team Atlantic Coast Conference. Of the 11 players the website describes as "hard recruits," only two play for in-state high schools.
Elliott and his staff (a work in progress) need to ensure those 11 sign the letters of intent that they agreed to when Mendenhall was in charge. They also need to work on "softer" commitments like Matoaca defensive end Keyshawn Burgos, whom the Hokies reportedly have been working vigorously to "flip" before Wednesday.
On very short notice, they also need to try to identify uncommitted prep players who might be impressed by Elliott's track record and want to play in Charlottesville. After all, as Clemson's offensive coordinator, he did work with Trevor Lawrence, Travis Etienne, Mike Williams. Hunter Renfrow and (in his more innocent days), Deshaun Watson, among many others. Perhaps his last-minute shopping list can include a recruit or two from the Southeast region de described as his "honey hole."
Offense is Elliott's forte, but a porous defense is Virginia's No. 1 issue, so the Cavaliers' new staff has to find some quick upgrades—either from the high school ranks or the transfer portal.
Speaking of the portal, even if he succeeds on those fronts, Elliott won't be done recruiting. He inherits a roster full of players who were loyal to Mendenhall, some of whom have been noncommittal on their future plans.
That list starts with record-breaking quarterback Brennan Armstrong, who has two years of eligibility but has submitted his name to NFL evaluators for a recommendation as to whether he should enter the 2022 draft. The answer is likely to be that he wouldn't be a first- or second-round pick; one can imagine that with a year or two of Elliott's tutelage, he might become one.
Other Cavaliers who have entered their names into the transfer portal include starting offensive linemen Olusegun Oluwatimi (a finalist for the Remington Award as the nation's top center) and Bobby Haskins, plus linebacker Noah Taylor. Losing all of them would complicate Elliott's reconstruction plans. His staff must re-recruit those players, as well as the next generation of Cavaliers.
Fortunately for athletic director Carla Williams, Elliott's reputation should carry some heavy weight in that regard. Mendenhall left Virginia's program in better shape than he found it, and the school just pledged $10 million towards facility upgrades.
Still, Elliott has a lot of work to do in a short period of time. The next few weeks are critical. We'll likely know a lot more about Elliott's chances for early success long before the Cavaliers take the field in the 2022 season.