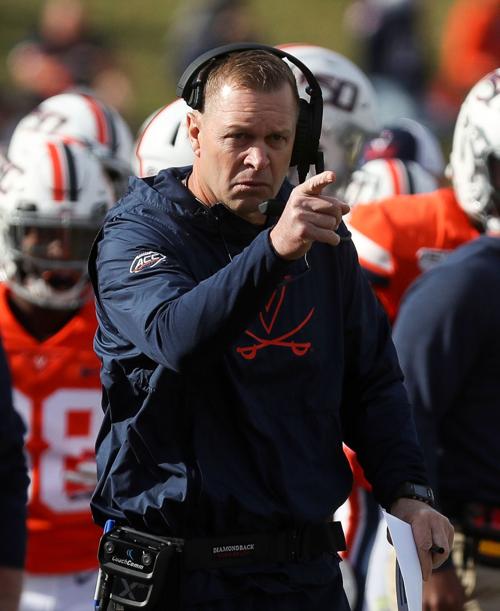 CHARLOTTESVILLE - ACC football fans spent much of Wednesday poring over the conference's plan for the fall schedule, examining their team's home and away matchups and pondering who their plus-one non-conference matchup might be.
Virginia football coach Bronco Mendenhall wasn't nearly as caught up in the hoopla, disinclined to worry about a 'what-if' schedule in the face of the worsening COVID-19 pandemic.
"It appears to me that the numbers are going up, not down," Mendenhall said, offering a sobering dousing of cold water in advance of the day's hot news. "It appears the crisis is gaining momentum, not losing momentum. It appears we're struggling more, not less. And so, the number of games, right now, really isn't as relevant to me."
During a 25-minute phone interview Wednesday morning, hours before the ACC unveiled its proposed schedule of 10 league games plus one non-conference matchup, Mendenhall said he worried about the state of the nation's fight against the virus and stressed that the decision to play or not play impacts the health of more than just the players, coaches and staff of college football programs.
"Not only the health of my team, but it's the UVA community," said Mendenhall. "It's Charlottesville, it's the nation in general. And currently it doesn't seem like we're close to having a handle on the virus nationwide."
The ACC announced the football season would start on Sept. 7
Mendenhall's players returned to campus earlier this month to begin workouts. Starting this week, coaches were allowed to do some limited football work with the players, the first such game-related coaching since the team lost the Orange Bowl against Florida.
Mendenhall compared that baby step to "their birthdays, Christmas or anniversaries" for his staff.
"It feels like we haven't played the game for years," Mendenhall said.
His team, coming off an ACC Coastal Division title and one of its best seasons in recent memory, had been preparing for its Labor Day opener against Georgia in Atlanta, the Chick-fil-A Kickoff game. But the ACC's in-state requirement for a team's non-conference game wiped that off the slate.
"We certainly understand the ACC is doing what they feel is in the best interest of the conference and the health of their teams, staff and student athletes, and as our partners, we support them in that decision," said Peach Bowl president Gary Stokan in a statement released by the organization that puts on the game. "However, we are disappointed we will lose the opportunity to host Florida State, Virginia and North Carolina and their fans in our scheduled Chick-fil-A Kickoff Games this season."
For its non-conference game, UVA could host Connecticut or - far less likely - visit Old Dominion, both contracted non-conference games already on this year's original schedule.
The ACC built in plenty of wiggle room in case complications arise – teams having to quarantine for two weeks due to an outbreak or a travel issues preventing a game from taking place. Each team has two open dates and the conference title game in Charlotte, already moved back a week, could be played on either Dec. 12 or 19.
Of course, all of this planning comes as the outlook for football in the fall, as Mendenhall astutely noted, seems increasingly bleak. Wednesday, Colorado State joined over a dozen other Division I football programs in halting their summer workouts due to positive COVID-19 tests.
At rival Virginia Tech, star cornerback Caleb Farley announced he would opt out of the 2020 season and begin preparing for the NFL Draft. Farley, whose mother died from cancer two years ago, cited COVID-19 as his reason.
"I cannot afford to lose another parent or loved one," Farley said in a video statement on Twitter.
Former UVA linebacker Jordan Mack became the first Carolina Panthers player to opt out of the 2020 NFL season, announcing he would forego his rookie year in the league due to concerns about the virus.
Not surprisingly, his former coach supported his decision. Mendenhall said his son Breaker, who is headed to play football at Utah State this season, told him of Mack's decision on Tuesday night.
"Knowing Jordan, he's well educated. He's thought about this at a very deep level before he's chosen, and so I'm supportive of whatever he's chosen, because I know who he is," Mendenhall said. "And I know the depth and the breadth and the way he goes about making decisions."
It's how Mendenhall hopes the ACC will eventually make its final decision on a 2020 season.