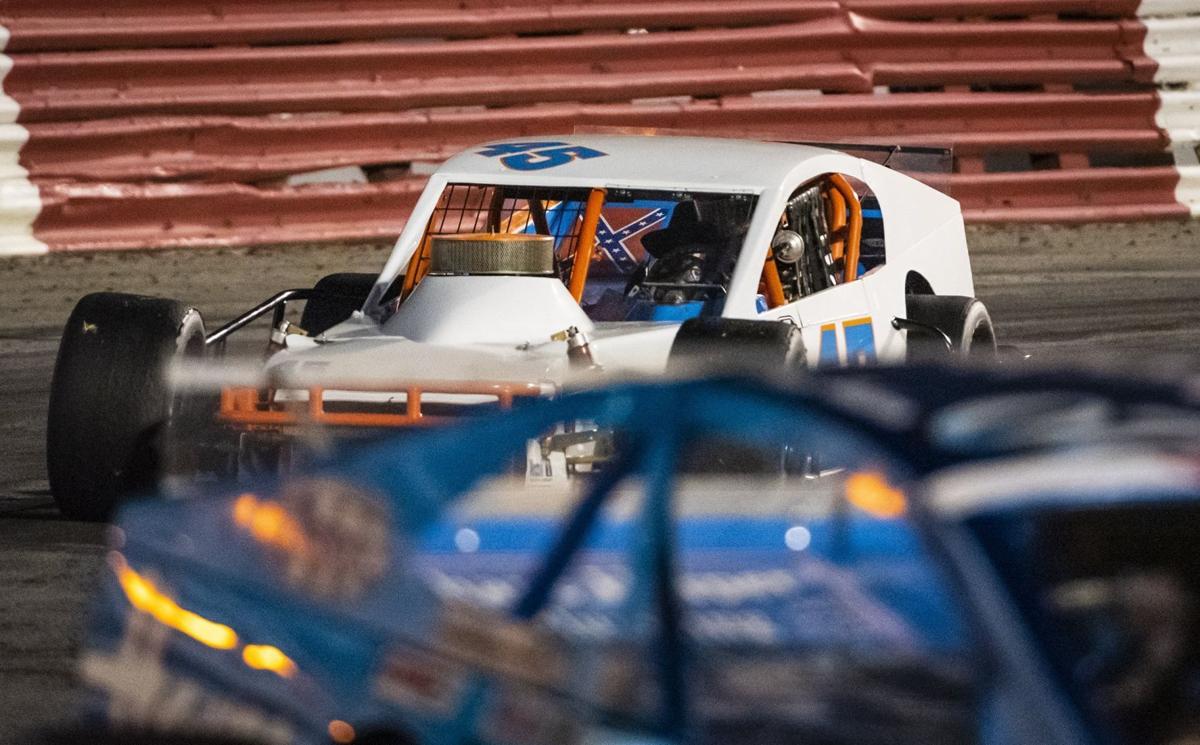 Organizers of the NASCAR series at Winston-Salem's Bowman Gray Stadium apologized this week after a car with a Confederate flag decal made it onto the track, breaching NASCAR's ban on the symbol.
"It will not happen again," Gray Garrison, a spokesman for the track, said of the decal, which was inside Lee Stimpson's car on Saturday night.
"We must have just flat-out missed it, so we did miss it, and we apologize and will talk with (Stimpson) about that," Garrison said.
Stimpson, who raced his No. 45 in the Modified Division's Hayes Jewelers 200, said on Wednesday night that he would have taken the decal of the Confederate flag off his car or covered it if officials would have asked him to.
"When you aren't around, you get behind," Stimpson said about not being a regular at the track since 2007. "I put that (decal) in there probably 10 or 12 years ago and I don't run hardly at all anymore over there, and if somebody would have come over to me and said to get that out of there I would have addressed the situation."
Stimpson said he went through the Friday practice day last week but none of the track officials said anything. And then he went through qualifying on Saturday before the race.
"Gray and them have been super, super good to me and my family," Stimpson said. "And if I would have known this would have given them some bad press, that's the last thing I would want to do. They are good people and I would hate for something I did would give them some bad press. I'm not making any excuses, but I wish somebody would have come over and said, 'You need to do something about that.'"
Garrison said he would make sure that Stimpson does not have the symbol in his car if he races again.
Stimpson said he will likely race one more time this season at Bowman Gray Stadium, and if he does will not have the decal in his car. "Absolutely I will not have it on there," he said.
Garrison said the ban on the Confederate flag covers all four divisions that race on Saturday nights: Modified, Sportsman, Street Stock and Stadium Stock.
The City of Winston-Salem owns the track.
Ben Rowe, an assistant city manager who was at the track Saturday night, said he did not see the image but heard about it Monday.
"It was simply an oversight because that's not something that is allowed to be displayed during races," said Rowe, who is responsible for the city's public facilities.
The city doesn't have an ordinance against displaying the flag, Rowe said, but the city will not allow vendors at the Carolina Classic Fair to sell items bearing images of the Confederate flag.
"We go by the rules at the track that are set forth by NASCAR and WSSI (Winston-Salem Speedway Inc.), and we support those rules," Rowe said.
NASCAR banned Confederate imagery at all tracks covering all levels of racing last June after a high-profile incident in which a noose on a garage pull-down rope at Talladega Speedway in Alabama was found in the garage assigned to NASCAR's Bubba Wallace, the only Black driver in the series. After investigating, the FBI said the noose was on the garage door rope since October 2019 and that Wallace was not targeted.
Racing at Bowman Gray Stadium, in its 72nd season, is part of the NASCAR Weekly Series.
Garrison said he and his staff try to ensure that drivers don't make political statements on their cars.
"We had a couple of drivers who had what looked like a Confederate flag blending into an American flag, and we asked them to cover them up or take them off the car," Garrison said. "We are very consistent with that policy, and our drivers know it."
Bowman Gray Stadium, which is home to football games for the historically Black university Winston-Salem State during the fall, hosted a sellout crowd of more than 13,000 on opening night, the first track activity since August 2019 because of the COVID-19 pandemic.
Stimpson, from Lewisville, placed 21st after his first race at the track in several years and won $300.
"I was hanging on by a thread," Stimpson said about his race that ended with a broken rear suspension that forced him to the pits during the long 200-lap race on a hot, muggy night. "So it was a blessing in disguise that I had to quit. It took a lot out of me, and I thought I was in better condition. I've had a bout with cancer and I was just informed I'm a diabetic so I've had some health things."
NASCAR's decision to ban Confederate symbols became a flash-point last summer, which was marked by protests over the murder of George Floyd by a Minneapolis police officer and ongoing tensions over racial divisions.
Confederate images were also taken down across the country in recent years, including the removal of the Confederate memorial in downtown Winston-Salem in March 2019.
After the Wallace incident, NASCAR took a stand against racism, with a memorable moment at Talladega Superspeedway when drivers gathered with Wallace and pushed his car to the start-finish line before the race.
"It's a family run deal with my brother and I," Stimpson said about his race team. "We're just a two-man team and I like to go over there and be with my friends and that place has always been really good to me ....
"I understand that about the rules and I know that Gray has to answer to somebody, too, and they are a NASCAR-sanctioned track. I have no hard feelings toward Bowman Gray and I hate that it slipped through the cracks like that."