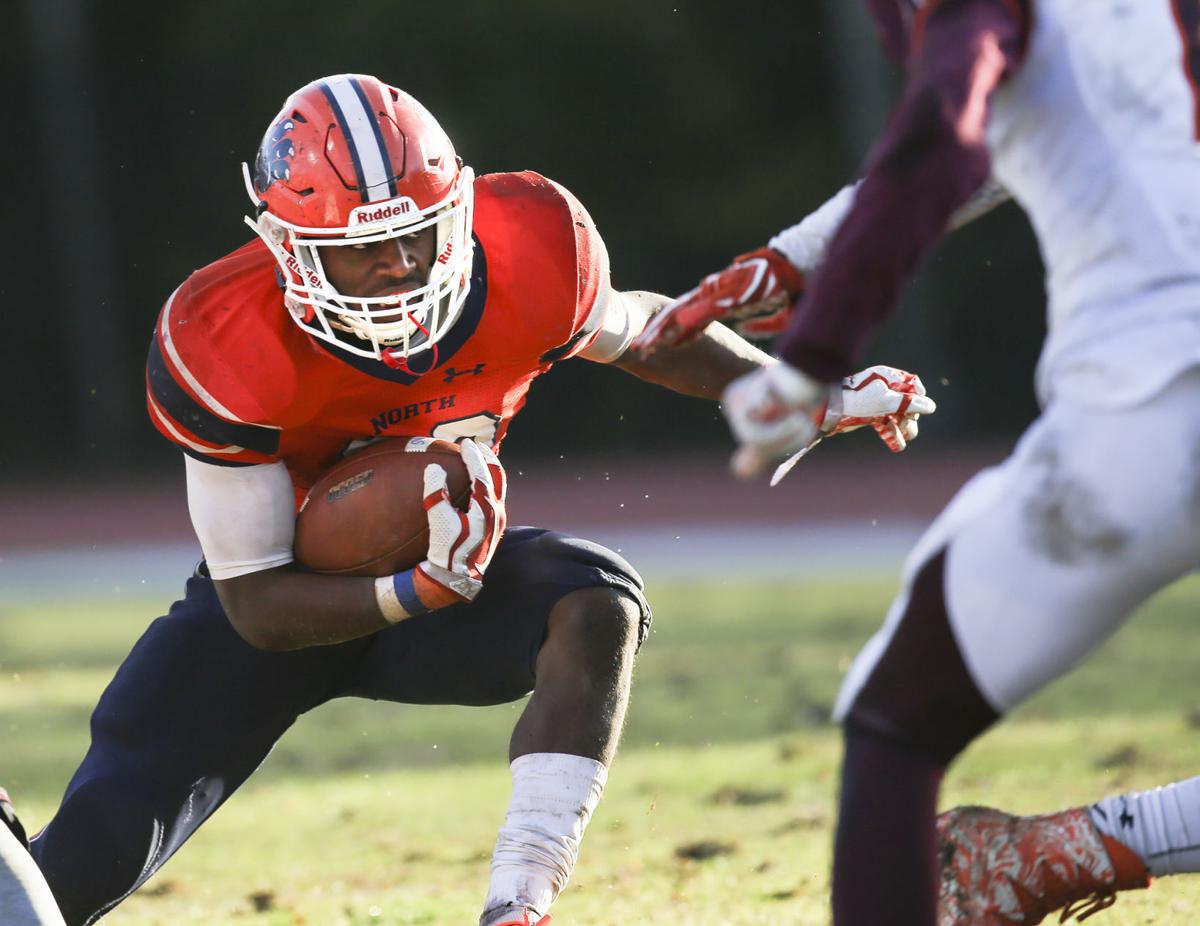 North Stafford junior Devyn Ford is the No. 1 rated running back in the nation for the class of 2019, per Rivals.com.
He's racked up 38 scholarship offers since his freshman season and on Thursday he announced his top six.
Ford plans to trim the six in half during the spring and eventually give an oral commitment in June. In a telephone interview with The Free Lance-Star, Ford explained the reasoning behind his top six choices.
Q: Clemson is the only one of the final six that's recruited you to play defensive back instead of running back. Why are they still in the mix?
A: It's just the way Coach Dabo Swinney is. That team has a good history of going back-to-back to the playoffs. They're having a lot of fun, so that would be a great team to be a part of. That's why they're still in the top six. It's a chance to play at a D-I school, so you've got to do whatever the coaches tell you to do.
Q: The Tar Heels have been high on your list for quite a while. What is it that you like about UNC?
A: I like North Carolina because I have a good relationship with the coaches and they have a good history. They have good NFL alumni coming out of UNC.
Q: How does UNC's offense fit what you like to do?
A: They're explosive. They've been gaining a lot of yards with their running backs. They're a pretty explosive team. They do a lot of stuff that we do at North Stafford so it's something I could ease into.
Q: What prompted Ohio State's inclusion in your final six?
A: It's just the environment. I fell in love with it when I went to see one of the games. The people there are really fun. I have a great relationship with [running backs coach] Tony Alford and [head coach] Urban Meyer. It's pretty cool up there.
Q: The Sooners seem to be an outlier geographically. How did they make the cut?
A: They make the list because they have a really good history of backs. So why not be a part of that and go make some history?  
Q: Penn State has recruited this area well with your teammate Nana Asiedu, Yetur Gross-Matos (Chancellor), DaeSean Hamilton (Mountain View) and Ricky Slade (C.D. Hylton). What do you like about its program?
A: They're a young team but they have a ton of potential to be really, really good. That's what I'd like to be a part of. Coach [James] Franklin, he's that man. He's a really cool person to be around and I've also got Nana. I envision playing in the same backfield as Ricky Slade, too. That would be a lot of fun. [Slade] and I have competed a little bit and that's what I like. That's how I've gotten better."
Q: It was once rumored that the Hokies are atop your list. Have you ranked your top six at all?
A: I don't have a top out of the six. Everybody's on the same level.
Q: Your coach, Joe Mangano, mentioned that the Hokies informed him from the beginning they want to build a fence around you. Does that level of commitment make a difference?
A: Yes sir it does. Tech is just Tech. They've been there from the beginning. I love the offense. It fits exactly how I want to play. It's comfortable there.
Taft Coghill Jr.: 540.374.5526
Be the first to know
Get local news delivered to your inbox!