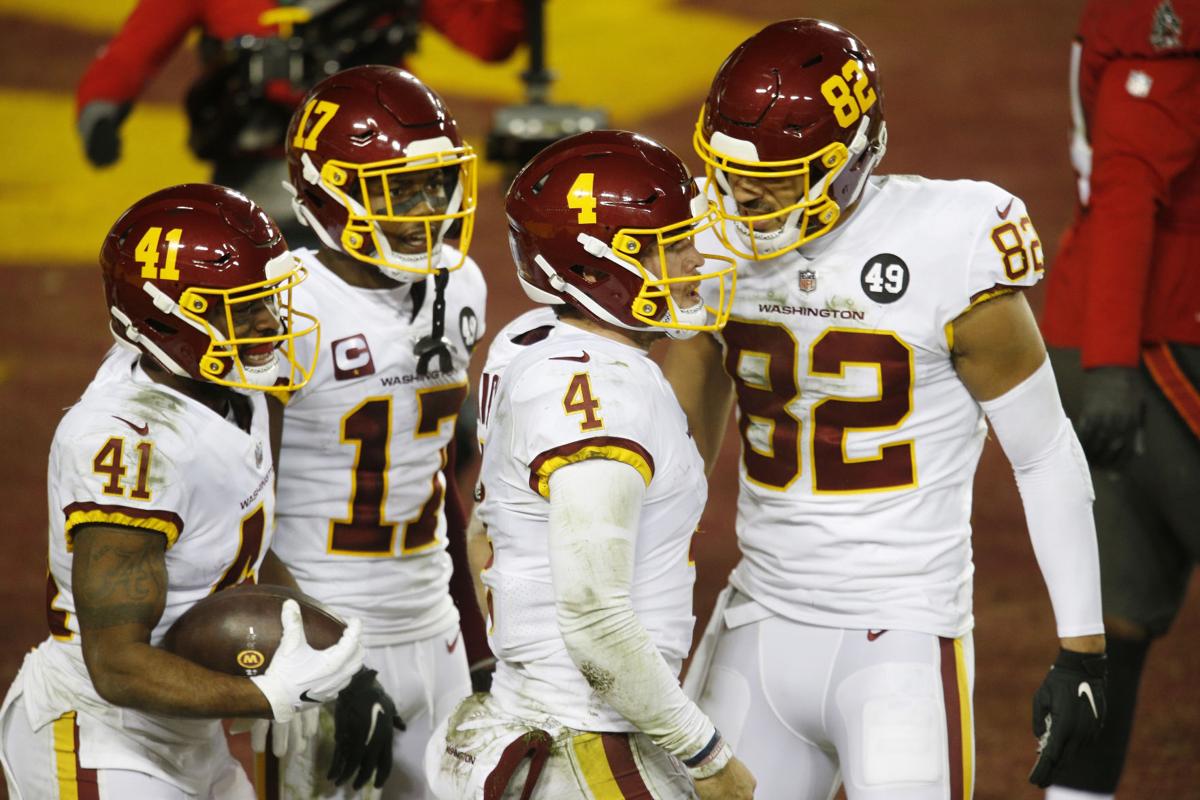 Washington Football Team quarterback Taylor Heinicke will be more than a one-game wonder in the NFL.
The former Old Dominion star signed a two-year contract extension with the team on Wednesday.
The contract's worth depends on a number of factors, including whether he makes the roster and how many games he starts. The value for playing two seasons is potentially $8.75 million, though not all of that is guaranteed.
"It still really hasn't hit home yet," Heinicke said. "Things changed very quickly in a short amount of time.
"I'm a little bit overwhelmed, but we have some time to kind of soak it all in and get ready for next year."
Heinicke spoke from his apartment on Wednesday morning, packing up to fly home to Atlanta, where he said he'd celebrate with his family.
"We'll probably go out and get a couple beers or so, a couple Heinickens," he said with a laugh, referring to how Washington fans toasted his performance in against the Tampa Bay Buccaneers in the playoffs.
Heinicke, jumping in for the injured Alex Smith, nearly led Washington to a victory over the eventual Super Bowl champion Tampa Bay Buccaneers.
Washington could have offered a one-year deal to Heinicke, a restricted free agent. Locking him down for the second season is smart business, though. There is little risk to the second year, but if Heinicke backs up his big game, he's on a team-friendly deal in 2022 or could be traded for high value.
Heinicke's agent is Chris Cabott, who also represents Patrick Mahomes. Heinicke told Cabott he wanted to stay in Washington, citing his familiarity with offensive coordinator Scott Turner's scheme.
"Scott's really the one that kind of got me into the league," Heinicke said. "He was the only quarterback coach that came to my pro day. He was the one that brought me to Minnesota. He brought me to Carolina. He's always kind of believed in me. I want to be loyal to him. He's gotten to this point, and I want to stick with him. I think it's a pretty special thing we've got going."
The quarterback, who had bounced around the NFL, went back to school at Old Dominion to finish his math degree when he didn't receive any offers before the 2020 season.
In December, Washington found itself in a pinch and gave him a call. He put his classes on hold, and four weeks later was starting the biggest game of the Football Team's season.
Heinicke said Tuesday he went back to finish his classes, and has two courses remaining before he graduates.
The contract does not mean Heinicke will be the starter in 2021, only that he will be at the team's training camp.
Heinicke will likely be joined by Kyle Allen, who is recovering from injury but is an exclusive rights free agent.
Alex Smith remains under contract but has indicated he is considering retirement, and Washington may choose to move on from Smith even if he wants to play.
Washington has also been active in the free agent and trade markets, and made an offer for Lions quarterback Matt Stafford before he was dealt to the Los Angeles Rams.
Heinicke's success against the Buccaneers is indicative of future potential, but he's also been injured during both of his career NFL starts, and he's aware that won't fly in the future.
He said he'll try to put on more weight this offseason to bulk up before facing NFL defenses.
But he can also enter the offseason knowing his team came closer to defeating the Super Bowl champs than any of Tampa's other playoff opponents.
"I thought it was pretty neat that we gave them a good shot," he said. "I go back and I look at all these games—that Tampa Bay defensive line was killer. Our offensive line was really good against those guys. You look back, and I was pretty clean a lot of that game. Those guys have a lot to do with that. Kudos to them. They worked their [butts] off. Hopefully, again, we'll roll this into next year and keep it going."
(804) 649-6546
Twitter: @michaelpRTD