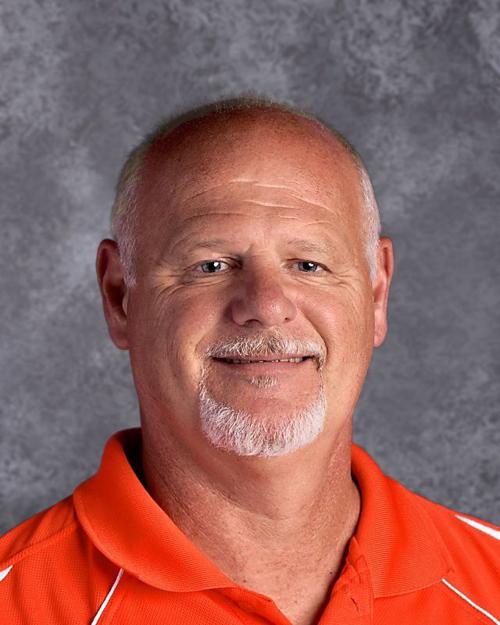 Besides his position as Mountain View's athletic director, Greg Margheim is also a proud father whose daughter, Jensen, is playing college soccer hundreds of miles away at Iowa State University. Because the college soccer and high school football seasons run concurrently, he'd rarely get to see his daughter play in person if not for Kristin Patton.
Patton is beginning her fourth full year as Margheim's administrative assistant and handles a plethora of behind-the-scenes duties, including VHSL compliance, selling season passes, scheduling and arranging volunteers on game nights for the ticket gate, concession stand and chain crew. She also works with the Wildcats' other teams and coaches.
"It's awesome," Margheim said. "Having Kristin handling everything is such a comfort, Most of my coaches come to her with questions before they come to me. She's a great buffer with parents, and the kids love her. It's such a comfort for a home game to just show up and do the game instead of worrying about everything else."
Patton, a former competitive cheerleader, joined Mountain View's staff in February of 2016 and quickly immersed herself in the school's programs. Her work begins long before tryouts start, ensuring physical forms are completed and schedules and rosters are filed.
For home games, most of her work is done before kickoff, ensuring all the booths and gates are staffed.
"The majority of my work is done before the game," she said. "For the first game of the season, I'll do a little more, like selling season passes or apparel. If there's a long line [at the gate or concession stand], I'll jump in. On homecoming or senior night, I'll help organize the kids and get them lined up. Sometimes, I get to sit there in the stands as a fan and enjoy it."
While Margheim delegates a lot of responsibility to Patton, she also has plenty of assistance.
"It doesn't feel overwhelming," she said. "We have so many great people at this school. If I'm missing someone from the chain gang or someone calls in sick from the concession stand, there's always someone willing to help."
OFFENSE
UConn-bound tight end Brendan Heatherman will miss some if not all of the season recovering from a torn ACL. Losing him means losing the Wildcats' best blocker, but Mountain View returns four starters along the line, most of whom are bigger and stronger than in 2018. Tackle Alex Kemp could be a standout there. They should give a young but talented group of skill position players time to operate. Edward Ware, a two-year starter in the secondary, moves to quarterback and can run or throw. Senior Mark Shelton is an experienced runner, and freshman Ike Daniels could be special. Akil Thomas is a small receiver with big-play potential.
DEFENSE
Three starters return up front, led by Adin Huntington, who is drawing Division I interest and will line up at various spots in an effort to create mismatches. Senior James Snead and slimmed-down junior Justin Watson are also back. Junior Ayden Cox and senior Jerome Newman are solid as linebackers, and senior Michael Madsen will anchor the Wildcats' three-safety look. Junior James Sullivan, a transfer from North Carolina, fills a need at corner along with promising sophomore A.J. Gordon.
SPECIAL TEAMS
Alex Solarzano handled kicking and punting duties as a sophomore, but is being pressed by transfer Patrick Carroll for both positions. They may share or split the jobs. Return candidates include Daniels, Thomas and Sullivan.
THE BOTTOM LINE
Last season, the Wildcats had plenty of experienced skill players but less seasoning up front. This year, they should be strong in the trenches, which should allow them to compete with the Commonwealth's top teams. Sorrentino said Heatherman's rehab is progressing nicely, and if he can return for the stretch run and playoffs, it could give Mountain View a big boost.