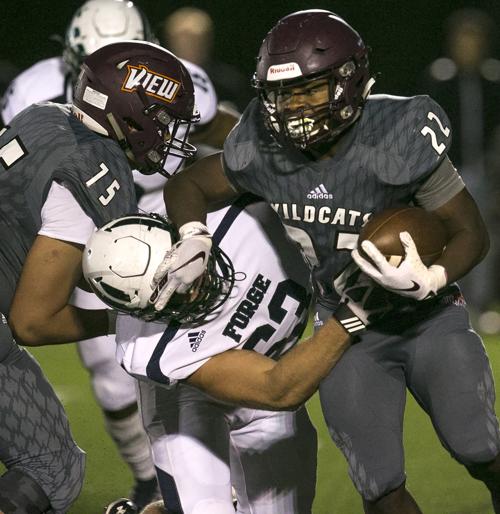 The high-powered Massaponax triple-option offense has been held to three points or fewer just three times in the past seven years. Two of those occasions came against Commonwealth District foe Colonial Forge.
Over the past two seasons, the Eagles have shown they have the formula for derailing an offensive system that has overpowered just about every other opponent. This past Friday, Colonial Forge held a rushing attack that averages 374.3 yards per game to 203 in a 21–3 home victory.
Senior two-way lineman Chase Harley recorded nine tackles, including three solos and one for a loss in that contest. He also graded out at 87 percent on the offensive line to earn Free Lance-Star player of the week honors.
"We changed up our assignments because that's an offense you don't see a lot," Harley said. "We put a lot of time in on defense and our coaches did a great job of making sure everybody knew their assignment."
After the game, Massaponax veteran head coach Eric Ludden lamented that his team's offense wasn't able to stay on schedule by averaging its goal of 4 yards per play. Harley (6-foot-1, 235 pounds) was a big reason why.
The honor student and co-captain has been a stalwart up front. He's helped the Eagles surrender just 4.4 points per game in district play. Colonial Forge head coach John Brown said Harley set the tone for the Eagles during the offseason.
"Any time you're voted captain, that says a lot because there is no input from the coaches. He has the respect of his teammates," Brown said. "He didn't miss any offseason conditioning. He's a strong kid with a high motor and that allows him to make plays."
Harley wasn't alone in wrecking the Panthers' plans. Defensive line mates Mason Rega (13 tackles) and Mike Vinson (nine tackles) were also instrumental. Outside linebacker Jordan Savoy provided nine tackles (six solo). Inside linebacker Max Kauthen had 12 tackles.
It was a performance akin to last season when the Eagles shut down the Panthers in a 35–0 victory. Brown said the entire front seven must know their assignment "inside and out" when defending the triple-option.
However, he added that stopping Massaponax isn't just about knowing assignments. Opponents also have to match the Panthers' imposing physicality.
"We just wanted to be a physical defense and play downhill," Brown said. "Just being able to play as physical as we did is a big confidence booster this late in the season."
The Eagles will now turn their attention to four-time defending state champion Highland Springs. The Springers are riding a 37-game winning streak and dispatched North Stafford 54–13 earlier this season.
"No matter what happens, it's going to be a great game," Harley said. "We're going to learn a lot about ourselves no matter the outcome."
HONORABLE MENTION
Randall Annino, Colonial Beach RB: 4 TDs vs. Northumberland
Javon Campbell, King George RB: 185 total yards, 3 TDs, interception vs. Courtland
Ty-Shaun Colbert, Spotsylvania RB: 240 rushing yards, 2 TDs vs. Caroline
Maliek Dixon, Colonial Forge DB: 6 tackles, interception vs. Massaponax
Aiden Fisher, Riverbend QB: 3 TDs vs. Stafford
Korey Hazel, Fredericksburg Christian FB: 182 rushing yards, 3 TDs vs. Nansemond Suffolk
L.J. Kelly, Washington & Lee RB: 127 rushing yards, 2 TDs vs. Rappahannock
Mason Rega, Colonial Forge NG: 13 tackles vs. Massaponax
Jalen Smith, St. Michael QB: 339 passing yards, 4 TDs vs. Broadwater Academy
Jordan Williams, Stafford WR: 119 receiving yards, TD vs. Riverbend
Shymarr Wright, St. Michael FB: 201 total yards, 3 TDs vs. Broadwater Academy
Taft Coghill Jr: 540/374-5526
He's a strong kid with a high motor and that allows him to make plays.