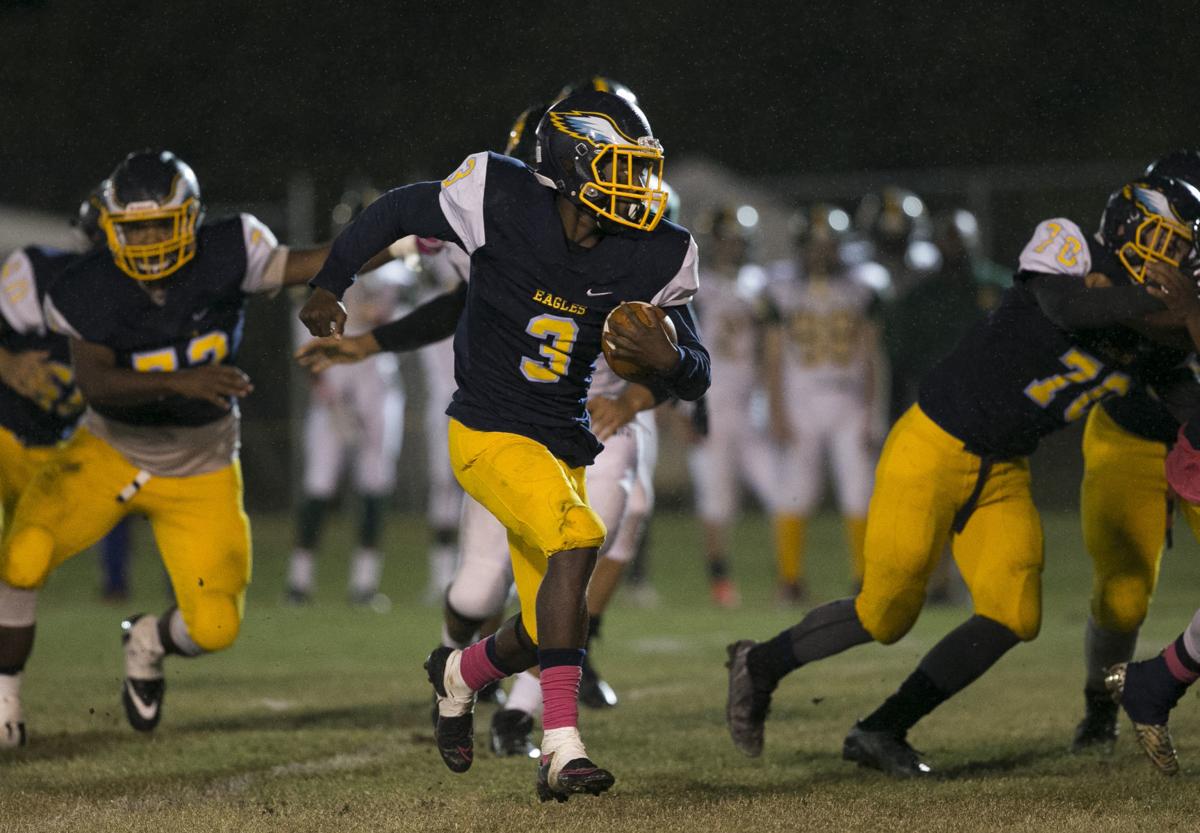 It was all aligned for Washington & Lee senior running back L.J. Kelly Jr. to have a breakout game Friday night against Northern Neck District rival Rappahannock.
Throughout the day in school, Kelly pondered a memorable night.
He received further confirmation when head coach Joe Taylor told him he envisioned a career game and allowed Kelly to speak to the team beforehand about the impact W&L football has made on his life.
"I started football my seventh-grade year and it's made me do better in school, especially when [Taylor] came my ninth-grade year," Kelly said. "It made me try even harder because he said I had a chance to play college ball. Ever since then I've been going at it."
The emotions Kelly had throughout the day manifested on the field.
Kelly rumbled for 175 yards and five touchdowns as the Eagles emerged with a 56-23 victory. Kelly's performance, particularly on a highlight-reel 64-yard touchdown run in the second quarter, earned him Free Lance-Star player of the week honors.
"It was third-and-13 and we called midline to try to get a positive play and maybe punt the ball," Taylor recalled. "But he shot through the line of scrimmage like he was shot out of a cannon."
When Kelly was 15 to 20 yards away from the end zone he was grabbed by at least three Rappahannock would-be tacklers.
But that's when the 500-pound squatter's weight room habits paid off. He escaped and made his way to pay dirt.
"He broke out of there like the Incredible Hulk or something," Taylor said. "He tripped coming out of the crowd and some type of way kept his balance and made it into the end zone."
That was Kelly's third touchdown run of the night, and it gave the Eagles (2-1) a 20-0 lead. He added two more touchdown runs from 34 and 4 yards out.
"This was definitely one of the best games of my high school career," Kelly said.
Kelly's junior season was hampered by injuries and he appeared in just five games. But he's consistently been one of the program's hardest workers in the weight room.
At 6-foot, 180 pounds, Taylor said Kelly is built like an "action figure." He was naturally strong when Taylor arrived as head coach before his freshman season, but he's added to it.
"He's put in a lot of hard work on top of what he naturally has," Taylor said. "He's worked his tail off the last two years and it's really showing out on the field."
The Eagles are hopeful Kelly's emergence is two-fold. Kelly said he aims to impress college coaches and earn a scholarship offer. If his play continues, the Eagles could ride his back to a winning season and alleviate the bitter memories of a 3-6 2018 campaign.
"We just need him to continue to focus in practice, continue to work hard and continue to be the leader he has been for this football team," Taylor said.
Washington & Lee will be back in action Friday at King William.
HONORABLE MENTION
Elijah Christopher, Massaponax FB/LB: 124 rushing yards, TD vs. Penn Wood (Pa.)
Ike Daniels, Mountain View RB: 106 rushing yards, 3 TDs vs. James Monroe
Corvion Davis, Colonial Beach QB: 227 total yards, 4 TDs vs. Sussex Central
Trevin Edwards, Chancellor QB: 270 total yards, 3 TDs vs. Riverbend
Thor Hanlon, Courtland FB: 122 rushing yards, 2 TDs vs. Orange
Alex Kemp, Mountain View OG: Helped pave the way for four 100-yard rushers vs. JM
Madden Lowe, Colonial Forge QB: 217 passing yards, 3 TDs; rushing TD vs. C.D. Hylton
Sivon Pleasants, Caroline RB: 4 TDs vs. King William
Mark Shelton, Mountain View RB: 133 rushing yards, TD vs. JM
Jalen Smith, St. Michael QB/DB: 389 total yards, 5 TDs; 7 tackles vs. Fuqua
Edward Ware, Mountain View QB: 259 total yards, 3 TDs vs. JM
Shymarr Wright, St. Michael FB: 190 total yards, 4 TD catches vs. Fuqua
Taft Coghill Jr: 540/374-5526