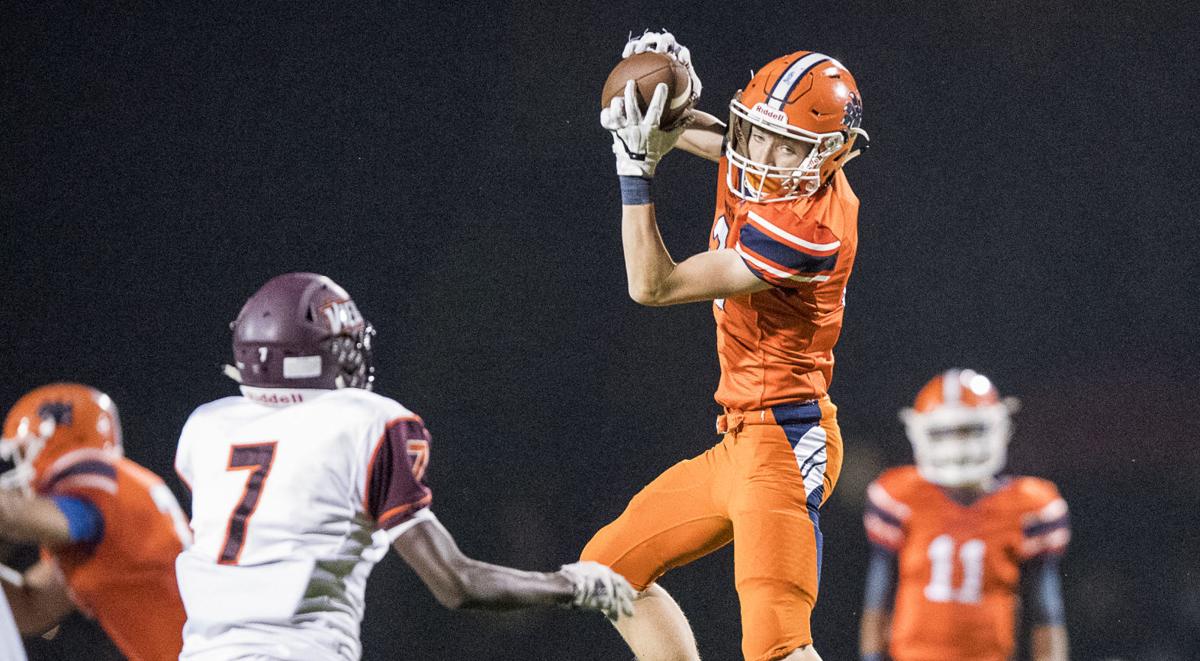 North Stafford senior wide receiver Holt Egan admittedly went into Thursday night's season-opening contest overlooking the visiting Potomac Panthers.
Since Egan was a freshman in 2016, the Wolverines had defeated Potomac three straight times by an average of 24.6 points per game. Egan assumed he'd catch a few passes early and then relax on the sidelines as North Stafford's backups finished Potomac off.
But Egan and the Wolverines were in for a rude awakening. The Panthers battled from start to finish as North Stafford escaped with an eye-opening 32–30 victory.
Egan hauled in nine receptions for 144 yards and four touchdowns, including the game-winner from 34 yards away with 44 seconds on the clock. Egan's efforts earned him the season's first Free Lance-Star player of the week honor.
"Going into the game we didn't think much of Potomac," Egan said. "We thought we were going to go out there and it was going to be easy. But they punched us in the mouth."
It's a good thing the Wolverines were able to counterpunch. They amassed 20 penalties for 169 yards and had to do extra running on Friday in practice because of it. However, they overcame the sloppiness as senior quarterback Jamir Boyd passed for 333 yards and four scores.
The Wolverines fell behind 12–0 before they got on the board in the second quarter with Nick Woodard's 42-yard touchdown run.
When Potomac scored to go ahead 30–26 with 2:24 remaining, Egan was alarmed.
"I knew I had to make a plan then," he said.
Boyd completed 4 of 5 passes on the game-winning 71-yard touchdown march. He and Egan connected on a post pattern to secure the victory.
Boyd said it was the result of an offseason spent perfecting the chemistry between the two.
"Holt's one of the hardest working players on the team," Boyd said. "He's been working since the state semifinals [in 2018] to be the best that he can be. He gained 15 pounds in muscle mass. We started working on the connection last year and we've been building on it. He's gained my trust."
Egan (6-foot-3, 180 pounds) is slowly gaining the trust of college coaches, as well. He's picked up scholarship offers from Long Island (N.Y.) University, an FCS program, as well as Division II of Virginia-Wise and West Liberty (W.Va.) State.
With one of North Stafford's top receivers from 2018, Shawn Asbury II, out with a torn ACL, Egan said it is imperative he steps up this year.
Fellow receiver Javon Swinton, an Indiana University commit who battled cramps on Thursday, said Egan picked up him and the entire team.
"Holt's just a flat-out ball player," Swinton said. "He's real detail-oriented. He goes hard at everything he does. He makes everything easier. I didn't have one of my best nights [Thursday] and he stepped up big time."
Jaylen Alexander, Orange RB—196 total yards, 3 TDs vs. King George
Jamir Boyd, North Stafford QB—333 passing yards, 4 TDs vs. Potomac
Dimario Brooks, James Monroe WR—87 total yards, 2 TDs vs. Stafford
Kim Carruthers, Chancellor RB—108 receiving yards, 3 TDs vs. Massaponax
Elijah Christopher, Massaponax RB—116 rushing yards, 2 TDs vs. Chancellor
Ty-Shaun Colbert, Spotsylvania RB—201 rushing yards, 3 TDs vs. Monticello
Corvion Davis, Colonial Beach QB/DB—4 total touchdowns vs. Charles City
Trevin Edwards, Chancellor QB—236 passing yards, 4 TDs vs. Massaponax
Jarett Hunter, Louisa RB—216 rushing yards, TD vs. Courtland
Luke Morley, Massaponax QB—153 rushing yards, TD vs. Chancellor
Charles Mutter, King George QB—341 passing yards, TD; 2 rushing TDs vs. Orange
Sivon Pleasants, Caroline RB—173 rushing yards, 2 TDs vs. J.R. Tucker
Eddie Ware, Mountain View QB—3 total TDs vs. Albemarle
Von Whiting, King George WR—181 receiving yards, TD vs. Orange
Taft Coghill Jr: 540/374-5526