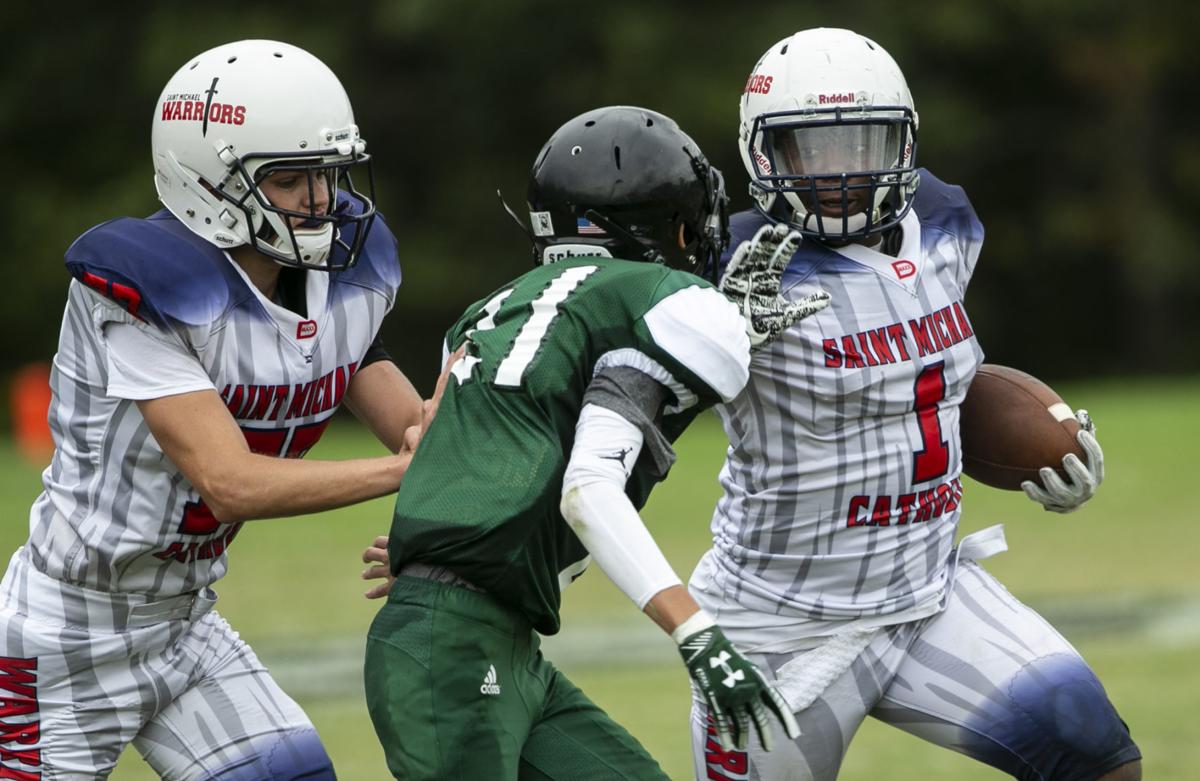 The St. Michael coaching staff went into the VISAA Division III semifinal against Fuqua Friday determined to throw the ball.
But after uneven results in the first quarter, junior fullback Shymarr Wright went to head coach Hugh Brown to offer a little advice.
"He said, 'Give me the ball,' " Brown recalled. "That's the first time I've heard him say 'me.' "
Wright wasn't being selfish. He'd studied film of Fuqua and believed he knew how best to attack its defense.
He proved prophetic, rushing for 271 yards and five touchdowns in the Warriors' 39–22 victory. He also recorded nine tackles and put Fuqua's quarterback under pressure from his linebacker and defensive end positions.
The Riverbend transfer's performance earned him Free Lance-Star player of the week honors.
"They couldn't tackle him," Brown said. "He was running kids over. On his 50-yard run, their fastest player had an angle on him but he found another gear and outran that kid by 10 yards. He would not be denied."
Wright has been battling an undisclosed injury since early in the season but Brown said he's now close to 100 percent. It showed on Friday.
Wright's now excited about the private school's first opportunity to win a state championship. The Warriors (9–1) visit three-time defending state champion Roanoke Catholic (9–1) on Friday. St. Michael is in just its third year of existence while the Celtics have won four of the past five state crowns.
"I feel very confident," Wright said. "I feel like our team can get it done. We've just got to work hard and stay focused. Roanoke Catholic is a real good team."
Wright (5-foot-9, 215 pounds) helped the Warriors avenge their only loss of the season, a 43-41 setback to Fuqua on Sept. 20.
He joined the program this season after spending his freshman and sophomore campaigns at Riverbend. He started for the Bears in 2018. He was interested in St. Michael when the school started its football program but decided to test playing for the Bears against Commonwealth District competition.
He said he decided to transfer because of uncertainty in the program that eventually led to the resignation of former head coach Clark Harrell after one season.
Brown is certainly thankful. He said Wright is one of the toughest players he's ever coached. He awarded a game ball for the first time in his coaching career on Friday because Wright was so dominant and gritty.
"I couldn't get him off the field," Brown said. "At one point toward the end I thought I should try to hide his helmet. I asked him if he was okay. He said, 'My legs, my hips, my back, my chest and my arms hurt. But other than that, I'm fine.' "
Wright and the Warriors now hope to inflict a bit of pain on the Celtics. It would be a remarkable turnaround for a program that postponed a game and considered canceling its inaugural season two years ago because of a shortage of players.
Brown said the Warriors aren't facing Roanoke Catholic's tradition on Friday.
"We've just got to be better for two and a half hours," he said.
Jaylen Alexander, Orange RB: 148 rushing yards, TD vs. Western Albemarle
Mac Bitto, King George DL: Recovered two fumbles vs. Spotsylvania
Javon Campbell, King George RB: 179 total yards, 2 TDs vs. Spotsylvania
Isaiah Daniels, Mountain View RB: 159 rushing yards, 2 TDs vs. Brooke Point
Corvion Davis, Colonial Beach QB: 214 total yards, 3 TDs vs. Washington & Lee
Jordan Hall, James Monroe LB: 15 tackles (11 solo and 3 for loss) vs. Caroline
L.J. Kelly, Washington & Lee RB: 139 rushing yards, 3 TDs vs. Colonial Beach
Raq Lawson, Eastern View RB: 117 rushing yards, 3 TDs vs. Chancellor
Madden Lowe, Colonial Forge QB: 10-for-10 passing for 165 yards, 3 TDs vs. Stafford
Charles Mutter, King George QB: 111 passing yards, 4 TDs vs. Spotsylvania
Jordan Williams, Stafford WR: 114 receiving yards, 2 TDs vs. Colonial Forge
Taft Coghill Jr: 540/374-5526