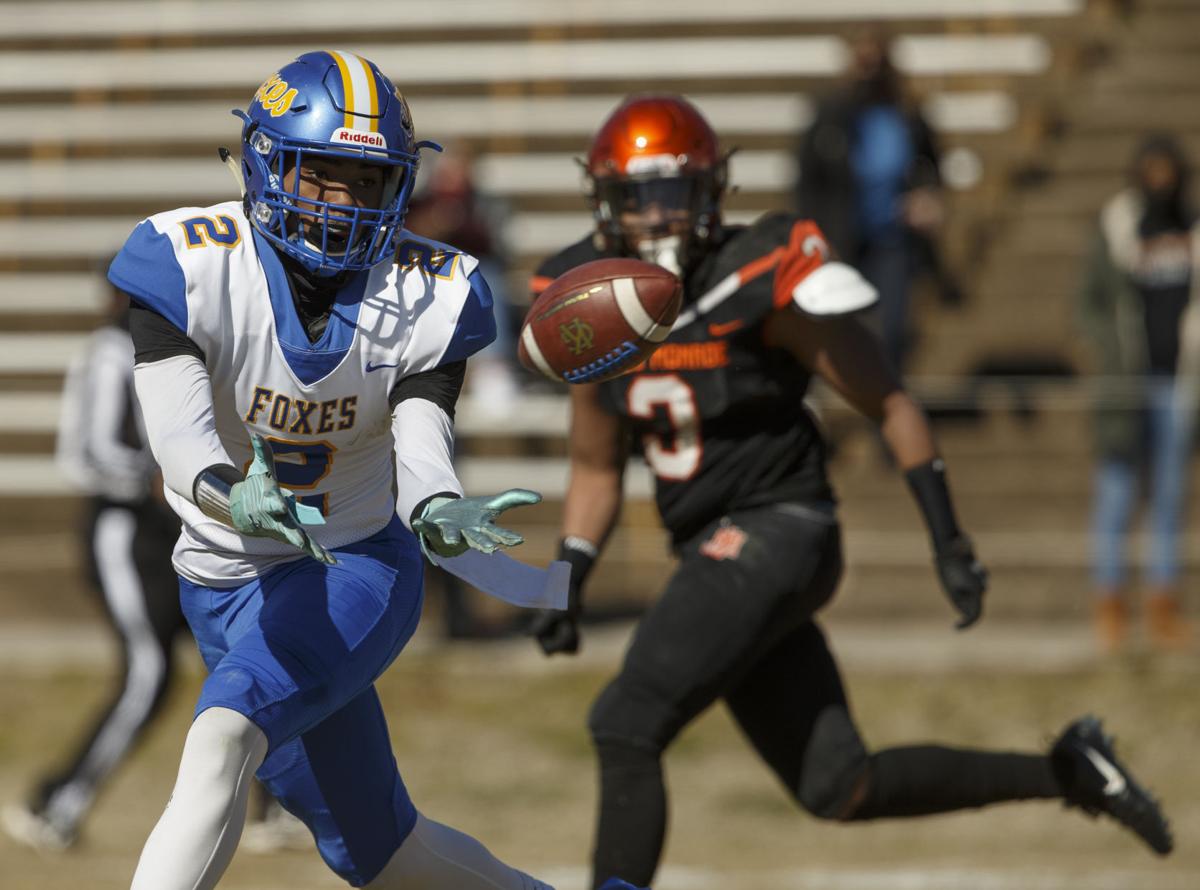 Despite earning first-team all-Battlefield District honors as a junior running back at King George High School, Javon Campbell had a feeling he had outgrown his position.
Campbell ended the 2019 season standing 6-foot-2 and weighing 195 pounds.
He believed his height made him an easy target for defenders and it was becoming increasingly difficult to lower his center of gravity to bulldoze opponents.
Campbell said the hits to his legs were taking a toll, so he sent a text message to Foxes head coach Vern Lunsford requesting a position change.
"I felt like I had gotten too tall and I was better off at wideout," Campbell recalled. "I felt like I could do way more stuff in the open field."
Campbell has been proven correct.
As a full-time receiver for the first time in his career, he's racked up 42 receptions for 723 yards and 11 touchdowns in just six games.
The connection he's formed with senior quarterback Charles Mutter is one of the primary reasons the Foxes (6-0) are still alive and will host Louisa (6-0) tonight in the Region 4B semifinals.
Lunsford doesn't take any credit for the switch as former wide receiver Von Whiting now plays running back. Whiting had a 98-yard touchdown run in a season-opening win over Chancellor.
"I think all the credit goes to those two young men for doing what was best for them and best for the team," Lunsford said. "They're very selfless and want to do whatever it takes for the team to be successful … I'm lucky to have some really good kids to coach."
Mutter has passed for 1,448 yards, 16 touchdowns and just four interceptions. He's become enamored with his favorite target.
"He's going to the NFL," Mutter said of Campbell. "He's unstoppable. He's too good. No one can guard him. You can double cover him and he'll still kill 'em."
Campbell was always adept at catching out of the backfield. He recorded five receiving touchdowns in 2019 while rushing for 783 yards and nine scores and earning second-team All-Area recognition.
Lunsford sometimes lined Campbell up in the slot last season and allowed him to take advantage of mismatches. So it was a no-brainer for the coach to honor Campbell's request to make a permanent change, especially after witnessing his dominance during 7-on-7 contests in 2020.
"He's one of the best athletes in the area, so we had to find creative ways to get him in space," Lunsford said. "He catches it so well. And with his body type college coaches like him there, too."
Campbell said he's planning to attend Fork Union Military Academy for a year and continue to play receiver to make himself more marketable to Division I programs.
Mutter, who has signed with Division II Emory & Henry, said he's seen enough to be convinced that sky's the limit for Campbell.
"As tall as he is and how big of a body he has, he's pretty physical off the line," Mutter said. "Anybody pressing him isn't really going to do a good job. We worked all offseason building chemistry throwing and that's the major reason why we're connecting really well right now."
The Foxes hope that continues against Louisa. King George's most recent season ended at the hands of the Lions with a humbling 49-12 defeat in the opening round of the 2019 playoffs.
Mutter said he's hopeful the Foxes will be able to avenge that loss just as they did 2019 defeats to Chancellor, James Monroe and Eastern View earlier this season.
"If everybody does their job on both sides of the ball," Mutter said, "it's going to be a really good game."
Taft Coghill Jr: 540/374-5526