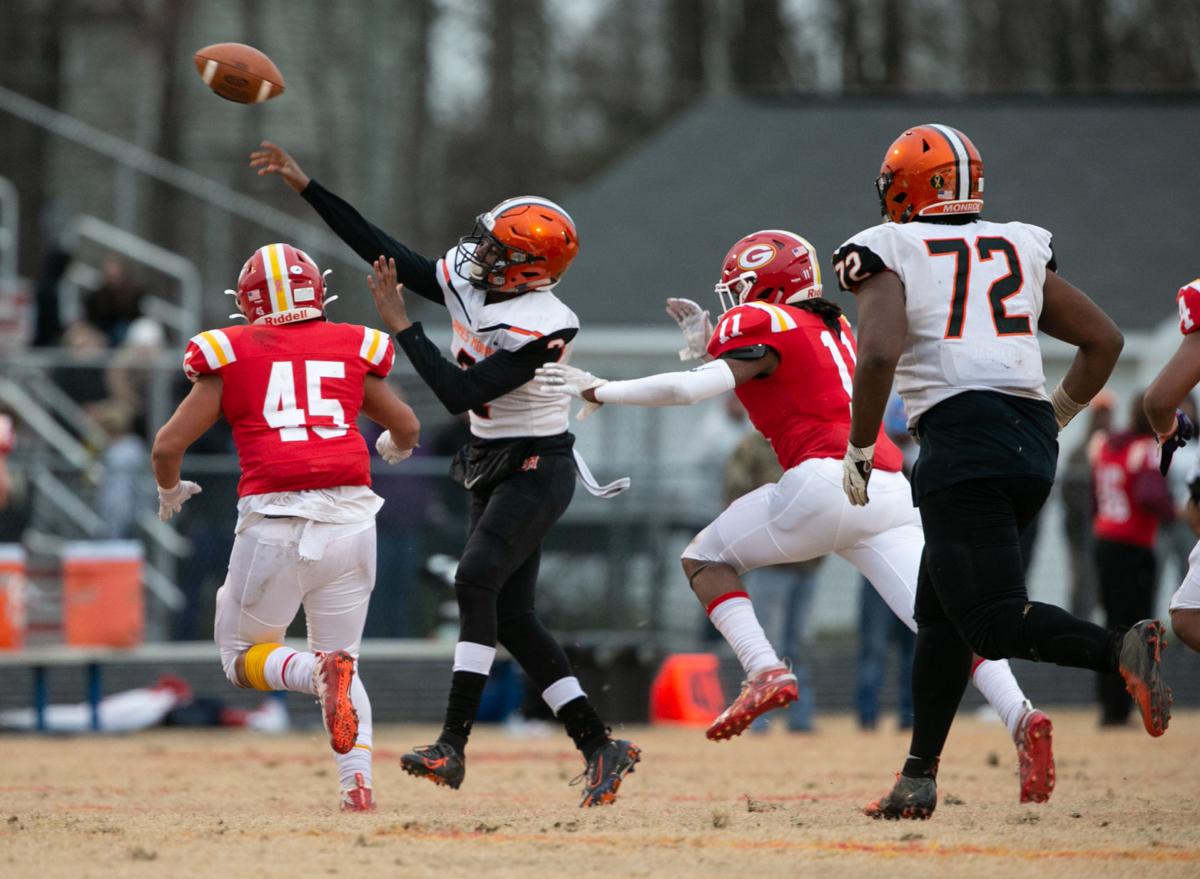 Another potential breakout star in the Fredericksburg area is moving on to a private school.
James Monroe sophomore quarterback Tahj Smith said Wednesday he has enrolled in Episcopal High School in Alexandria. Smith will join Massaponax transfer wide receiver Jaiven Plummer on the Maroon's roster. Plummer, a junior, holds several major college scholarship offers.
"We talked about the move before," Smith said of Plummer. "I knew about the school and I talked to [Episcopal's coaches] about him getting into the school. Our relationship is close. We've been good friends for three or four years now."
Smith is the younger brother of former Stafford all-state quarterback Jalen Smith, who finished his career at St. Michael and is now a freshman at West Virginia State.
Smith (6-foot-2, 190 pounds) said he'd been considering Episcopal for months. He said its offense fits his skill set and he expects to compete for the starting job right away. The Maroon will begin play in the spring and start in-person school next month.
"Over the past few months I've built a strong bond with the coaching staff there," Smith said. "I've known some of their coaches for years. I visited the campus a few months ago and I liked it. I felt like it was the best decision for me."
Smith played sparingly as a backup to Virginia commit Aidan Ryan last fall. He was expected to take over starting quarterback duties this upcoming season and Ryan was set to move to wide receiver.
Smith finished the Yellow Jackets' Region 3B title game loss to Goochland under center.
"Aidan taught me a lot, honestly," Smith said. "Just watching him play, read defenses, break down defenses and step up in big moments. He helped me feel more confident in myself believing I can make plays and go out there and show what I can do."
Smith is the latest standout who won't be on the Fredericksburg area football scene when play is scheduled to begin in February.In addition to Plummer, Colonial Forge standouts Elijah Sarratt and Mike Vinson have transferred to St. Frances in Baltimore.
Smith's former JM teammate Jordan Hall is starting at linebacker for IMG Academy in Florida. Former North Stafford lineman C.J. Van Buren is playing for Trinity Catholic High School in St. Louis.
Also North Stafford senior Virginia Tech commit Shawn Asbury and Louisa's Robert Morgan, a Howard commit, have said they're opting out of the season.
Caroline senior softball standout Jayla Hill has orally committed to Frostburg State, a Division II program in Maryland.
As a sophomore outfielder in 2019, Hill batted .469 with five home runs. She was named first-team all-Battlefield District, all-Region 4B and All-Area. She missed her junior season because of the COVID-19 pandemic.
Frostburg State's softball coaches aren't the only ones canvassing the Fredericksburg area. The Bobcats' football program recently extended a scholarship offer to King George senior quarterback Charles Mutter.
Mutter was a second-team all-Battlefield District selection last fall after he helped lead King George to a 6–5 record and a trip to the Region 4B playoffs.
South Carolina is the latest major college program to offer a scholarship to Mountain View sophomore running back Ike Daniels.
Daniels also holds offers from Arizona State, Boston College, Penn State, Pittsburgh, Virginia and Virginia Tech.
As a freshman, Daniels was third on Mountain View with 804 rushing yards (8.4 per carry) and he led the team with 22 catches. He played defensive back in the playoffs and intercepted two passes. He was named first-team all-Region 5D at running back.
Taft Coghill Jr: 540/374-5526
Get in the game with our Prep Sports Newsletter
Sent weekly directly to your inbox!