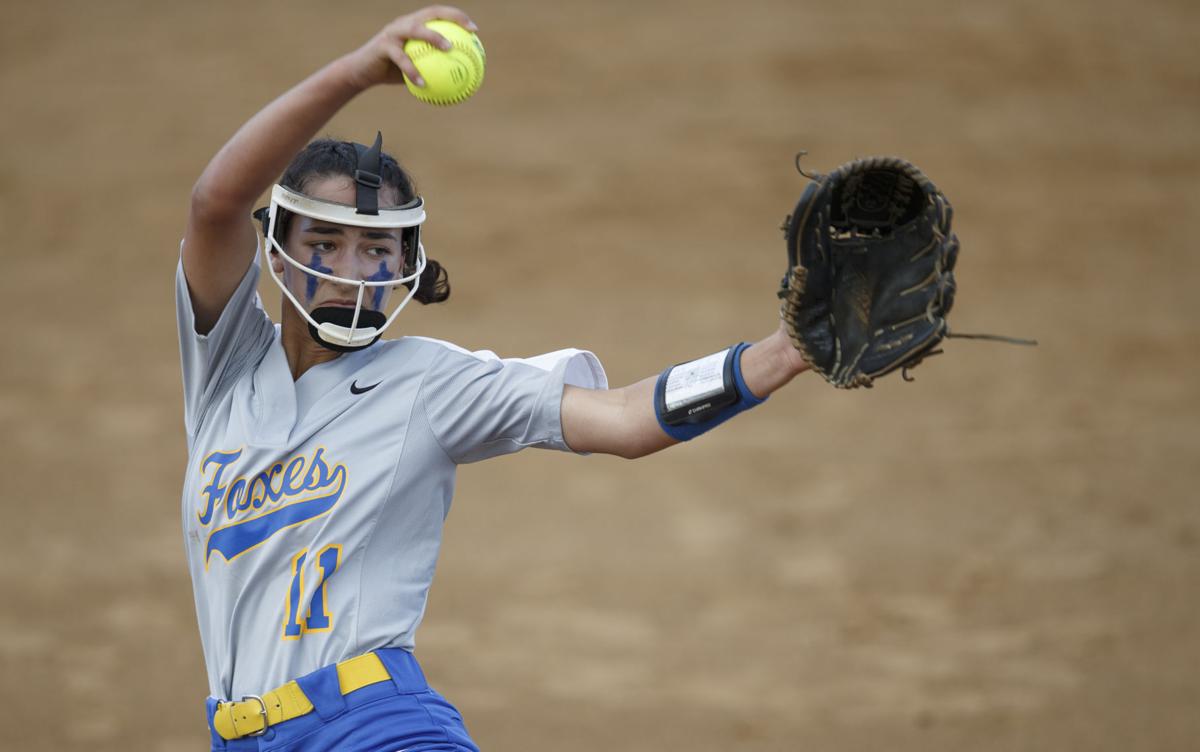 Stellar defensive plays by Lauren Sheehan, Hannah Linder and Hailey Callahan--coupled with a five-run first inning--provided smooth sailing for sophomore pitcher Abby Greenwood of King George Wednesday afternoon.
"Our center fielder [Sheehan] came into the dugout and told me I was on track to throw a perfect game. So I was thinking about it the rest of the game," Goodwood said in facing the minimum 15 batters in the five-inning contest in the Foxes' 10-0 victory over host Courtland. Her only previous perfect game occurred as a 12-year-old.
"She was right with it the whole time," said Foxes coach Neil Lyburn. "My intent, if the game went longer or if it was a different situation, I have two or three others that I was looking to use. But she was pitching so well. I didn't want to change [pitchers]."
Sheehan's defensive gem came in the third inning when she went down on one knee to catch Maile Didbute's sinking liner in center field. Courtland's other hit bid was foiled with a well-executed play by shortstop Linder and first baseman Callahan to retire Olivia George on her infield-hit bit in the fourth.
The victory improved King George's record to 3-0 in the Battlefield District, while Courtland fell to 1-2. The Foxes visit to Chancellor next Wednesday prior to turning their attention to Spotsylvania, which is also undefeated in the district.
"I was thinking possibly Spotsy might be the best team we play. So we are definitely excited to play them," said Greenwood, who struck out seven batters. "I like this team and I think we could go far this year."
Due to the pandemic, the field for the Region 4B playoff field has been cut in half this spring. The district team with the highest point rating (based on total wins) is assured of advancing, while a second club might qualify as well.
King George's aggressive style of play seemed to rattle the Cougars, who committed six errors, wrecking an otherwise decent outing by freshman pitcher Allison Thrift. "The defense has shown flashes," said Courtland coach Tom Wingert. "[With] no scrimmages, had no chance to work out the kinks. New players at new positions, not quite ready."
The Foxes were ready and willing to run the bases, totaling five stolen bases and four extra base hits. "You have to pay attention where the ball is for the extra base. For me, I'm always looking to get as many bases as I can," said Hailey Linder, who had a double and a triple for the winners.
Hannah Linder was an offensive standout as well with two singles, two runs scored and a stolen base. Callahan aided the fast start with a two-run single in the first inning.
Courtland looks to rebound next Wednesday when it travels to Eastern View.
King George 504 10 — 10 10 0
ABBY GREENWOOD and Abigail Clarke. ALLISON THRIFT and Maile Didbute
Kurt Nicoll: 540/374-5440