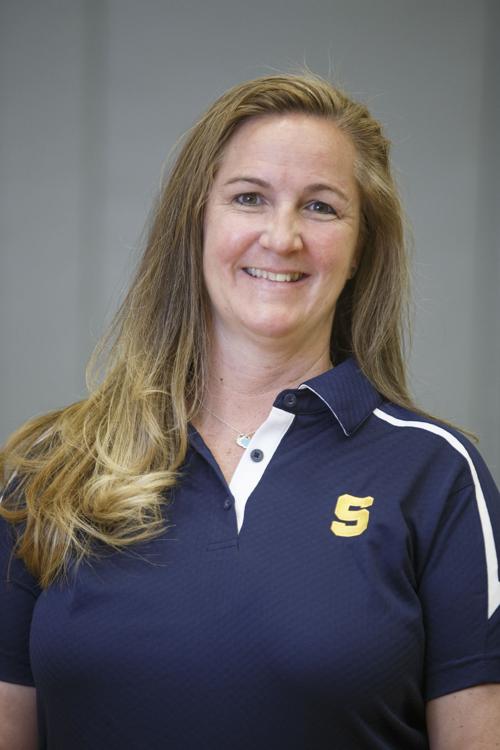 When Shawn Thurston took over as the Stafford High School gymnastics coach in 1999 after one year as an assistant, she was told by a former coach and administrator that the sport would only last three more years.
"They said gymnastics is not going to be happening in the high schools," Thurston said. "Obviously that was not true."
Thurston continued to persevere.
After 22 seasons, the veteran coach recently announced her resignation from the Indians.
Thurston said she wants to spend more time with her family. She'll continue to coach field hockey at Dixon-Smith Middle School in Stafford, where she's also a physical education teacher.
Thurston calls it a career after leading the Indians to 17 district/conference championships, 10 regional titles, one state championship in 2017 and four state runners-up finishes.
"She's amazing," Stafford athletic director Chris Dodd said. "She did an amazing job for our program and for our girls. She's one of those coaches that was all about the girls and all about the program. She just ran her program incredibly … She was there for the girls and that showed because her girls love her."
One of those girls is former Stafford standout Ashley Dingus who is Thurston's likely replacement, pending approval by the School Board.
Dingus is a 2014 Stafford graduate and was named All-Area honorable mention on multiple occasions. She now teaches at Dixon-Smith.
"I'm in the building right here for her and will help her when she needs it," Thurston said.
Thurston is a Prince William County native and graduate of Gar-Field High School. She said the highlight of her career at Stafford was the state championship in 2017.
The Indians fell just short so many times Thurston wondered if it would ever happen. She said that moment when she learned the Indians had won is "pretty solidified in my brain."
"I couldn't believe it," Thurston said. "I couldn't believe we finally did it … To win with the group that we won with was very thrilling. We enjoyed every moment of it."
Thurston remains in contact with many of her former gymnasts.
She said she'll miss the camaraderie with future gymnasts and the atmosphere at competitions. But she's looking forward to spending more time with her family and mentoring future coaches. She believes it was her duty to step away and allow younger leaders an opportunity.
"It's not a matter of giving it up," Thurston said. "I've coached for 22 years. I just felt it was time to bring some new blood into the coaching scene."
Taft Coghill Jr: 540/374-5526