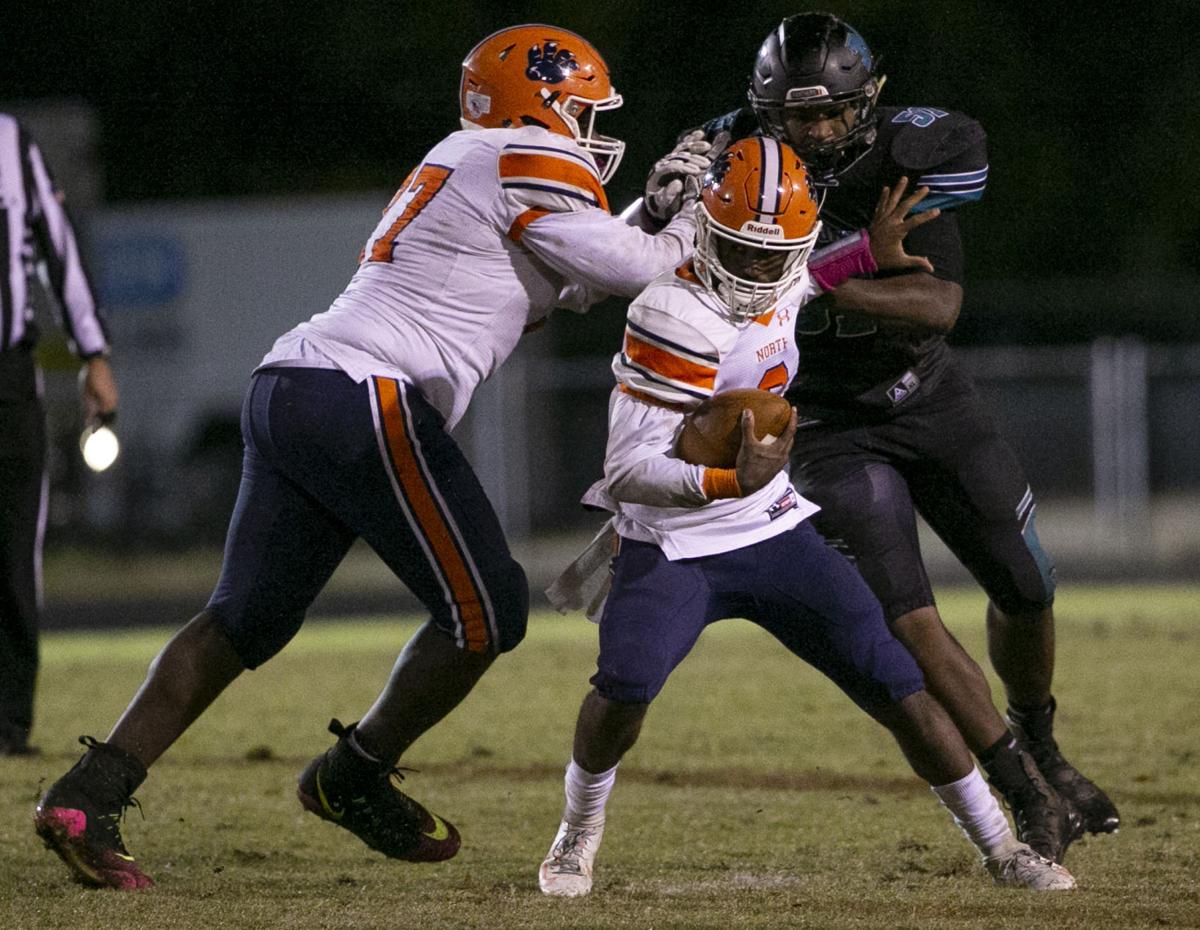 C.J. Van Buren's initial reaction was surprise. He assumed that the Virginia High School League would allow for at least a compressed football season this fall, his senior year at North Stafford.
But when the VHSL, citing the coronavirus pandemic, adopted a model that postponed all sports until spring, Van Buren turned to his father Courtney for help, and the two explored their options.
"C.J. was very adamant that he wanted to play in the fall," Courtney Van Buren said. "With every parent, you try to go to the furthest lengths for your children, no journey too far."
A few phone calls later, the Van Burens decided to put that mantra to the test. Three weeks ago, C.J. moved 850 miles from home to enroll at St. Louis-area powerhouse Trinity Catholic High School, where he's awaiting a senior campaign that is—for now—still slated to kick off this fall.
"I just really wanted to play football on time, so I can have some extra time in the spring to do stuff college-wise," he said. "It was an opportunity I couldn't turn down."
Courtney Van Buren, a former NFL offensive tackle with the San Diego Chargers and Detroit Lions, was born and raised in the St. Louis area and played college football with Trinity head coach John Randle at the University of Arkansas—Pine Bluff. The two kept in touch over the years, and Randle didn't need much convincing from his old teammate after a quick glance at C.J.'s film.
"He just jumps off the field," Randle said in a phone interview. "Anyone I line him up in front of, offensively or defensively, he just dominates. He reminds me of his father."
The 6-foot-4, 320-pound Van Buren is expected to start at both left tackle and defensive tackle for a Titans program that won Missouri state championships in 2016 and 2018.
Trinity was originally expected to open its season last Friday, but phased reopening in the area means Van Buren likely won't see the field until October. Right now, Titans are looking at five regular-season games followed by playoffs, Randle said.
In the meantime, Van Buren is staying at an aunt's house in the area, adjusting to his new teammates and school alike. He's attending class according to a hybrid model that splits in-person and remote instruction. Randle said Van Buren is on academic scholarship at the Catholic school, which lists tuition at $10,500 on its website. Trinity does not offer football scholarships, he added.
"As soon as I got there, the team treated me like I'd been there the past three or four years," Van Buren said. "They've accepted me like I'm a brother."
At North Stafford, Van Buren had emerged as a captain who helped lead the Wolverines' remote workouts during the coronavirus-tinged offseason. He agonized over telling his teammates and coaches about his decision to leave North Stafford, but said they understood.
"The one thing we told him and his dad is that we support him 100 percent," North Stafford coach Neil Sullivan said. "It's a tough situation that he and other kids like him have been put into by this whole thing."
Van Buren currently holds offers from UVA-Wise and Lake Erie College, both NCAA Division-II schools. After earning second-team all state honors as an offensive lineman last season, his recruitment was starting to pick up momentum.
"We really felt like, had he had a normal spring and a normal summer where he was able to get to some camps and get in front of some coaches, there's no doubt he's a Division-I player," Sullivan said.
Van Buren said he plans to return to Virginia for the second semester. If he plays so much as one down at Trinity this fall, he'll be ineligible to suit up for the Wolverines during the VHSL's football season, which is scheduled to begin Feb. 15. He would, however, have the opportunity to participate in other sports; he won a region wrestling title at heavyweight this past winter.
There are no assurances that Van Buren will experience a poetic ending to his high school football career, that his senior year film will command the attention of top Football Bowl Subdivision programs.
But both father and son agreed: he had to try.
"The whole premise is that fortune befriends the bold," the elder Van Buren said, quoting Emily Dickinson. "Sometimes success is there, and you just have to reach for it."
Joey LoMonaco: 540/368-5045
@joeylomonaco
Get in the game with our Prep Sports Newsletter
Sent weekly directly to your inbox!