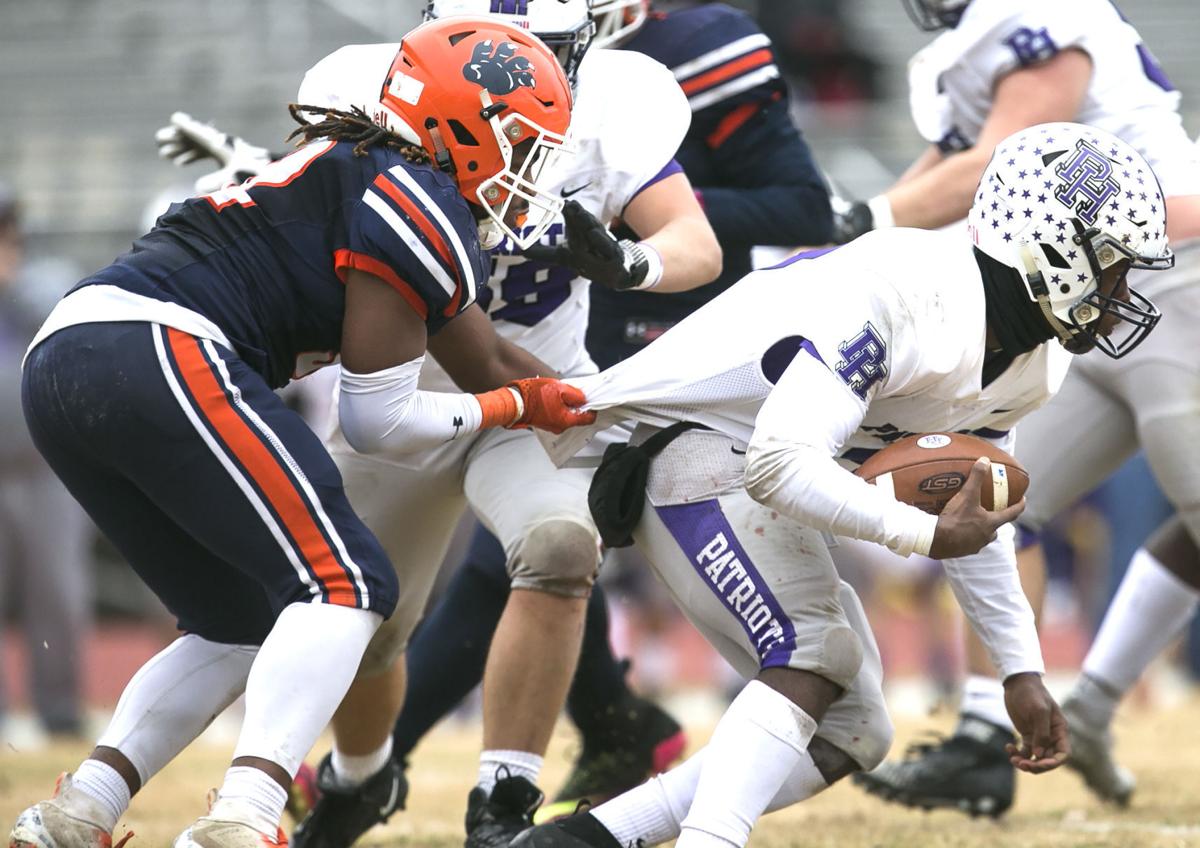 Last fall, Jamar Frazier navigated a full 14-game football season without so much as missing a rep on the practice field.
The hardwood would prove far less forgiving.
During the first day of basketball tryouts at North Stafford—some 48 hours removed from his Wolverines' loss to Stone Bridge in the Class 5 state semifinals—Frazier found himself dribbling on a fast break with one defender to beat.
"It was a 1 on 1," he recalled. "I tried a Euro step and when I planted my right foot to try and go up, that's when it buckled on me and popped out of place."
Frazier initially believed his displaced knee was only sprained. It wasn't until two weeks later that an MRI revealed the extent of the damage: a complete tear of both the ACL and meniscus.
He underwent reconstructive surgery in February, with a recovery timetable that would put his senior football campaign in serious jeopardy.
"We were really expecting not to have him until mid-season," North Stafford coach Neil Sullivan said.
But expectations, especially those set in the early days of 2020, aren't always reliable. When the coronavirus pandemic caused the Virginia High School League to postpone fall sports until February, most athletes were left feeling deflated.
Frazier had a different reaction.
"Me and my [physical] therapist were actually talking about that—we were excited," he said. "It's more time to get stronger in my leg and craft my game back."
Added Sullivan: "He's one of the ones that it's going to actually work out in favor of."
Cleared for a return to full contact just in time for Stafford County's recent decision to allow out-of-season workouts, Frazier is eager to build on a junior season that saw him earn second-team all-Region 5D honors at defensive end and offensive tackle.
Even while rehabbing, Frazier embraced a leadership role in team meetings held over Zoom. He possesses an in-depth understanding of North's defensive scheme that's bound to rub off on less-experienced teammates this winter.
"Having him as new guys are stepping into new spots, he's a great stabilizer," Sullivan said, "a force for stability."
Unless, of course, you're an opposing ballcarrier. As a junior, Frazier racked up 13 sacks, including three in a regional victory over Patrick Henry. He forced four fumbles, recovering one in the state semifinals to halt a Stone Bridge drive near the goal line.
"He had a lot of plays like that, where he'd get the ball out at the right time or he'd get a sack," Sullivan said. "He always seemed to come up with the big play."
At 6-foot and 230 pounds, Frazier also emerged as a mobile offensive tackle who excelled at pulling while still holding up in pass protection.
Frazier is unabashedly emulating his older brother Javon, a former Colonial Forge standout who started his college career at Liberty University before transferring to Virginia State.
"I've looked up to him my whole life because I wanted to do everything that he could do," Frazier said. "When he went to college for D-end, I went to high school and had to play the same position. I'm following in my brother's footsteps."
For his part, Javon Frazier isn't surprised that his younger sibling has blossomed into a fearsome prospect in his own right. He's come a long way from the kid who used to hang on the fence at Forge games, or who would dap him up as he emerged from the tunnel at Liberty's Williams Stadium.
"He started out playing soccer," he said of Jamar. "Ever since he was young, he's always been one of the best if not the best on the team, no matter what sport he was playing."
The brothers haven't discussed Jamar's injury much. Javon doesn't want his younger sibling to dwell on it at the expense of his performance.
"He's a strong-hearted dude," Javon Frazier said. "When he goes out on the field, the injury will be the least thing on his mind. He'll be going out and making plays."
Frazier should have one less thing to worry about this winter. Asked if he plans to take the floor for basketball season, which begins Dec. 14, he chuckled.
"I think I'm going to take a break from that," he said.
Joey LoMonaco: 540/368-5045
@joeylomonaco
Get in the game with our Prep Sports Newsletter
Sent weekly directly to your inbox!