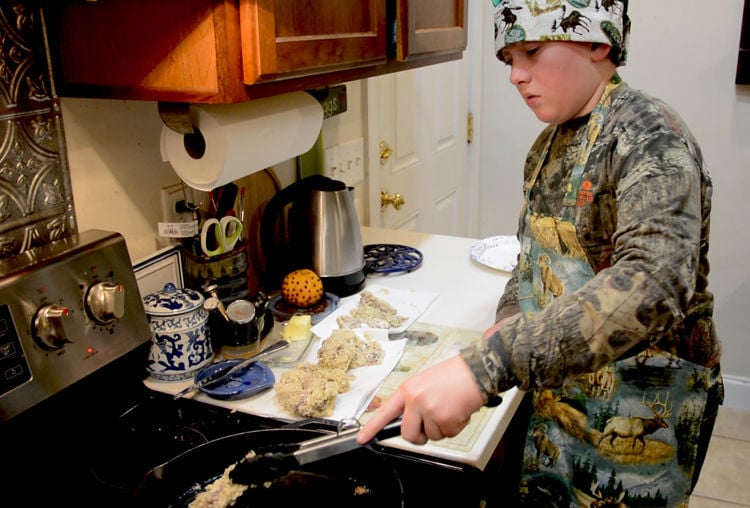 TO THOSE listening nearby, it may have sounded remarkably akin to a Sergio Leone "spaghetti western" like Clint Eastwood's "The Good, the Bad and the Ugly." Those movies often had scenes with the camera in extreme closeup mode while grimy actors lustily chomped into plates or bowls of the daily special at some austere cantina.
Our blue-plate special was gray squirrel, along with a couple of pieces of cottontail rabbit. We attacked the leg sections, which were fried to a golden brown after being tenderized in a pressure cooker.
It's hard to believe a 13-year-old boy and an old man can make so much noise sinking their teeth into sections of a one-pound rodent, but that's how my neighbor Colton Josselyn and I roll. Jim Crumley's prized squirrel preparation technique delivered the goods just as advertised: delicious.
Crumley, who lives in Botetourt County with his wife Sherry, is the visionary, the not-so-mad scientist who looked at hunter camouflage options in the late 1970s and figured we could do better than the typical military battle dress uniform patterns most people were wearing.
Crumley grew up in Bristol and became a teacher in Alexandria after graduating from Virginia Tech. He was, and remains, an avid bowhunter.
In a 2016 interview with bowhunting.net, Crumley explained he began tinkering with clothing in an effort to make himself less detectable in the woods. He bought gray Dickies shirts and pants and tie-dyed them in brown dye. Figuring that most hunters sat next to a tree trunk, whether on the ground or in a stand, Crumley created a pattern on the clothing that resembled tree bark. The Trebark® pattern and company were born.
By 1980, he was exhibiting at outdoor shows and eventually got his product listed in the Cabela's catalog. He quit his teaching job in 1981.
A solid, 20-year run ensued. Other camouflage companies sprouted and flourished, notably Realtree and Mossy Oak. Crumley sold all rights to Trebark® to Haas Outdoors Inc./Mossy Oak in 2000.
Like Crumley, Colton started squirrel hunting at age 8. At 13, he's a dedicated hunter of not only squirrels, but deer, dove and more. His preferred squirrel tools are a .22 rifle or a high-velocity pellet gun that's easily capable of cleanly taking the small target out to 30 yards or more. The kid hates to waste any meat so he worked on his skills to ensure every squirrel drops quickly with a clean head shot.
Squirrel hunting has been a family tradition on his mother's side for generations and family lore tells of the elders eating not only the meat, but the brains and cheeks. I'm not sure if eating squirrel brains is advisable today. I've heard it can cause a person to dart in and out of streets, often toward incoming traffic.
Colton has long cooked a squirrel recipe my wife Maria and I developed for Virginia Wildlife magazine a decade ago. We called it "Baby Back Squirrels," mainly because the meat becomes very mild and tender and easily falls off the bone.
Colton was eager to expand his squirrel culinary repertoire and during some email exchanges with Sherry Crumley about how they age venison, she noted that Jim had an incredible, delectable squirrel recipe. Jim emailed me his favored squirrel preparation technique soon after. In some respects, it isn't so much a recipe as it is a preparation technique. The steps are simple and you use whatever seasonings suit your fancy.
I gave Colton the mission, which he readily accepted. He thawed out three, dressed, immaculate squirrels and, just to see how they may compare, a couple pieces of rabbit.
The steps are simple. Joint the squirrels and then pressure cook them in an inch of chicken broth. Then, dip them in an egg wash, dredge in flour, re-dip in the wash and then dredge in panko before quick-frying to a golden brown.
Jim said they like to use Big Springs Mill seasoned flour, but sometimes mix their own. Colton and I tried two seasoning variations. One saw a Hi-Mountain Seasonings Salmon Rub added to basic white flour, while the other had a little salt, pepper and a Maryland concoction called "Todd's Dirt" original recipe. Both were great. Of course, I've found the salmon rub is excellent on just about everything. I thank my friend Scott Leysath, The Sporting Chef, for sharing that little nugget with me.
It's wonderful to see youngsters so dedicated to hunting, developing outdoors skills and then following through to create "trophy-quality-on-the-plate" outcomes. Such experiences are a main reason I have major concern with some firearms legislation bills filed for the upcoming Virginia General Assembly session, but that's a topic for next week.
Until then, take a youngster hunting. Teach them safety and conservation. And, please, try the squirrel. Happy New Year!
Fishing Regulations
The Department of Game and Inland Fisheries is beginning its biennial process for changing the regulations guiding recreational fishing, aquatic wildlife management and boating. New regulations will go into effect Jan. 1, 2021.
This process lets citizens suggest potential regulatory changes directly to DGIF during the scoping period, which runs through Feb. 28, 2020. DGIF staff will summarize and present submissions on March 18 to DGIF's Wildlife and Boat Committee and March 19 to the full Board.
The preferred means of submitting comments is to complete them online at dgif.virginia.gov/regulations. Written comments can also be mailed to: Department of Game and Inland Fisheries, Attn: Fisheries Division – Scoping, P.O. Box 90778, Henrico, VA 23228-0778.
For a video of Colton preparing Crumley's recipe, as well as the Baby Back Squirrels recipe and more outdoors adventures, see Ken Perrotte's weblog at outdoorsrambler.com.